Needing a win to salvage pride and confidence, and split the opening weekend series, the Buckeyes overcame another early deficit Monday to beat UConn and get it done.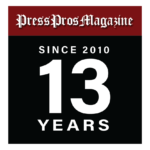 North Port, FL – There was little doubt as to the meaning of Bill Mosiello's words following Sunday afternoon's disappointing 8-6 loss to UConn, a game in which the Ohio State Buckeyes had battled back from an early 4-0 deficit to take a 5-4 lead in the sixth inning…only to see the bullpen give the lead, and the game, right back to the Huskies over the final three innings.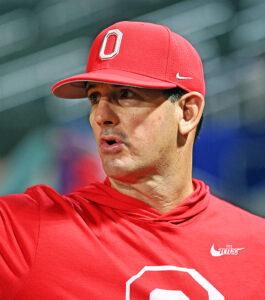 A veteran of more than three decades of coaching and managing at both the college and professional level, Mosiello calmly put it on the line when he said:  ""It's hard to keep confidence in guys who've struggled before.  That's always the biggest fight for a coach. You want them to get off to a great start so they won't have memories of what they've done in the past."
Strong words for this day, and this culture of if you do the best you can…what more can anyone ask?
And given that those words were there for anyone to read, and consider, it was questionable how the 1-2 Buckeyes would respond twelve hours later in Monday's finale of the four-game series with the Huskies.
Questionable, after sophomore starter Gavin Bruni saw his first pitch – a 92-mile-per-hour fastball – clobbered by UConn leadoff hitter David White for a 420 home run to dead center. Even more questionable when two hitters later cleanup man Ben Huber picked on another Bruni heater and drove it over the trees in right field for a second solo homer.
But Bruni was unfazed, retired the side, then pitched 3.1 innings of 3-run (two earned), five-hit baseball on the way to an eventual Ohio State 10-5 win, a series split, salvaged pride, and some blocks of confidence for another tough four-game series this coming weekend against Gonzaga and Grand Canyon State in Phoenix.
Mosiello left little doubt that he was asking for something better;  and he got it.
Bruni, who looks like a freight train on the mound when his 6'3″, 230 pound frame uncoils towards home plate, was tougher than 3 runs on 5 hits might indicate.  Touted as Ohio's top pitching prospect in 2021, he struggled last year to find his footing, pitching just 10.1 innings, striking out 13 and walking 13 while assembling an ERA of over 8 runs per 9 innings.  He became a project, and one with no specific timetable.  Now, pitching coach Sean Allen has him right on track.
Monday he mixed pitches – fastball, curve, slider, and change – and executed them all into the fourth inning, when Allen took him down in favor of University of San Francisco transfer Jonah Jenkins to protect what had become a slim OSU 3-2 lead.
In the bottom of the third the Bucks put together singles by Henry Kaczmar, Hank Thomas, Josh McAlister, Marcus Ernst and Kade Kern to push past that 2-0 UConn lead and take Bruni off the hook.
Jenkins came on with a runner at third, and did allow that inherited runner to score on a sac fly to right.  But after that….crickets!  The Parker, Colorado native pitched the next 4.2 innings without allowing a run, just one hit, while striking out 4 and walking 1.  For his efforts he earned his first win as a Buckeye.
And as a sign of leadership being contagious, the heretofore sulking Ohio State bats came to life in the fifth inning.  Tied at 3-3, the Buckeyes erupted for 5 runs in the bottom of the fifth, 2 more in the bottom of the eighth, pounded out 13 hits for the game, and coasted to the 10-5 win and the split.  And two days after Mosiello had said that their weak hitting was no cause for concern, his prophecy came true.
For the day…Ernst went 2 for 3…Kern went 2 for 5…Okuly went 1 for 5…Henry Kaczmar went 2 for 3…Nick Erwin went 1 for 3…Matt Graveline went 1 for 3…Hank Thomas went 1 for 2…and Josh McAlister had a hit in five trips.  13 hits in all.
The Buckeyes used three pitchers, Bruni, Jenkins, and a mop-up appearance by Jacob Gehring (2 runs on 3 hits in the ninth) and won it on 10 runs, 13 hits, and committed 2 errors – an enormous win to go 2-2 prior to this weekend's challenge against two more unfamiliar teams from the West Coast.
Grand Canyon split a four-game weekend series, beating San Diego State (12-4) and Tennessee (4-3), then losing to Michigan State (4-6) and Michigan (1-7).
Gonzaga lost four straight to Texas Tech…8-4, 10-3, 12-3, and 9-8.
So clearly Mosiello was looking for something better in Monday's finale before flying cross country and taking his chances on memories from the past.  Glass half full…he got a quality start from Isaiah Coupet and a competitive start from Bruni, along with the batting order coming to life by weekend's end.
Glass half empty…well, there really isn't any except for those who don't heed the handwriting on the wall.  He's clearly looking for something better every day…until they forget the past!
Game Notes:
If there was concern about freshman shortstop Henry Kaczmar getting off to a good start, perish that thought after the UConn series.  The Walsh Jesuit grad hit .308 with 3 RBIs and played a commendable shortstop on natural grass and dirt surfaces.
As a whole the Buckeyes hit .273 for the weekend, with Nick Erwin on fire at .538 (7 for 13).  Right behind him is Kade Kern at .462 (6 for 13), Marcus Ernst at .375 (6 for 16), and Cole Andrews at .333.  In all, the Buckeyes have seven hitters at .300 or above, albeit with limited chances.
Without question UConn will be one of the better teams Ohio State will see all season.  But the hard-hitting Huskies batted just .238 against the Buckeyes, in large part due to an improved Buckeyes ERA of 4.50 over those four games.  By comparison, OSU pitched to a 6.58 in 2022 and while the offense averaged nearly 8 runs per game.  The average of the four starters over the weekend – Coupet (0.00), Eckhardt (5.40), Timmerman (10.80), and Bruni (5.40) – was a full run better (5.40) than last year's aggregate.
Press Pros will be on the trip to Phoenix and you can follow the daily action on these pages.  Many did over the weekend, totaling 170,248 reader views for Buckeye baseball.