Coldwater senior Jasmine Schulze has her eye on history, and the future, as she closes in on historic individual distinction…and the next step in her bowling future.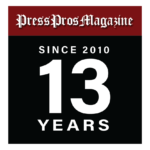 Coldwater, OH – If Coldwater senior Jasmine Schulze wins the Western Ohio High School Bowling Conference Girls Bowler of The Year award this year (if?)…she's going to do something that borders on history-making.
In fact, there's no border to it.  Winner of the award in 2020-'21, and 2021'22, Schulze would become the first female bowler to win the award in three consecutive years;  and her statistical data is compelling.
She currently leads the MAC in average at 200.1.  And in a sport where 'good' and 'great' are often separated by less than two pins, she leads the league's second best in average, New Bremen's Marina Nelson, by ten pins.  Nelson sits at 189.7.
What's it all mean?
Well, bowling is by no means a default activity for Schulze.  She's been doing it for years, and not just as a hobby.  She's improved in each of her four years at Coldwater, so much so that she inked a letter of intent this week to bowl at Wright State University next year for Raider coach Jeff Fleck.
"It would be pretty cool,"  said Schulze earlier this week, speaking of a possible three-peat as Bowler of The Year.  "It would leave behind a reputation where other girls could see it and see opportunity to achieve something like that for themselves.  And to our program (at Coldwater) it would mean a lot.  Rick (Hartings) works hard to get us where we're at, and I think that winning it would be a good reflection on him and Coldwater (women's) bowling.  Hopefully, it would inspire others."
OHSAA bowling has been an official varsity since 2007, and since 2007 the Coldwater girls have captured the state title five different times – 2012, '13, '15, '17 and '21 – and finished runner-up in 2014, '18, and '20.  Others, like Schulze, have previously inspired others by their commitment and success.  Crystal Boyer was the state individual champion in 2011;  and Erika Hartings captured the individual crown in 2013.
"I guess it would be like making the path,"  says Schulze.  "Because there's a lot of girls coming up who are even better than I was when I was their age.  Marina Nelson is really good, and Julie Bertke and Courtney May, on my team, are kicking butt.  As much as I am, they are, too.  They make me work harder to lift my own game."
She's a trail-blazer in other respects, as well.  When you talk to girls who compete against her many are complimentary of not only Jasmine Schulze's bowling skills…but her character, as well.
"She's always has a positive outlook, and she does a great job of sharing that with her teammates at Coldwater. I think she's a good model for everyone,"  says Versailles' bowler Payton Groff.
"Besides being a great bowler,  I think she's a great person,"  adds Versailles teammate, Danielle Francis.   "She (Schulze) deserves all the success she has. Most of the girls in the league are very positive and are good to tell you to keep your head up when you're having a bad game.  And when I think of that I think of Jasmine."
How important is kind of peer support to an adolescent athlete?
"I think it's important because it's easy to get down on yourself in bowling,"  says Schulze.  "And you don't want that.  It doesn't make the sport any fun.  When you have support from others it makes the sport more interesting, more fun…to be around those kind of people."
"It's not surprising to hear others compliment her,"  says Coldwater coach Rick Hartings.  "Jasmine is a very hard worker, she's conscious of the people around her, and she goes out of her way to be a good example.  She's an excellent student in school – top twenty in her class – and she's just very mature about her responsibilities.  She's grown up around the sport, her parents were bowlers, and when you coach her, or tell her something, she's like a sponge.  If she's struggling she listens because she wants to be at her best.  She never has an attitude, and I think that's why others respect her like they do."
The elephant in the room, of course, is how to wrap up her high school career…before moving on to Wright State next year – where, by the way, she intends to study pre-med chemistry in preparation for being a future orthopedic surgeon, or family physician.  Her immediate goal, however, is to go out on top by winning Coldwater's sixth state championship in girls bowling.
"It would be a dream come true, because of the group of girls we have and how close we are,"  says Schulze.  "Courtney, Julie and I (the three seniors) have been bowling together since junior high.  They're my support when it comes to bowling on the bad days, and if it wasn't for them I'd be shooting 160 on those days.  They've put up with all my crap, I've put up with theirs, and the best way for all of us to go out would be as state champions."
She smiles a lot, and it's genuine, as is her bowling game and belief in herself for the future.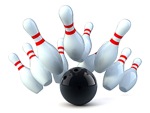 "You don't want to wrap up your last year on a down note, or with a lower average than last year,"  she concludes.  "Bowling has meant everything to me.  Rick has been like a father to me.  The girls on our team are like sisters, and if I didn't have all that I'd be lost.  Bowling keeps me stable.  It's a good pattern or routine to look forward to.
"Next year I'll probably be on the bottom of the ladder at Wright State, but if I work I think I'll be able to prove myself.  Scores are typically lower in college, but I'm accustomed to bowling on hard patterns like we have in Coldwater so I think I'l be alright.  I think bowling at that level will help me with the mental mindset I want to have in college."
Jasmine Schulze…on chasing history, one chapter closing, while another opens!