Dominating Michigan State from beginning to end, No. 5 Ohio State completed a weekend sweep of the State of Michigan and now turns its attention to top-ranked Penn State's invasion at the end of the week.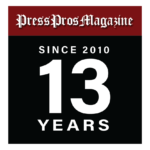 Columbus, OH – They have a lot in common, but there's also a giant chasm between Ohio State's Jesse Mendez and Isaac Wilcox, and it's those differences that make picking the better story between the two doubly difficult.
Mendez is the freshman stud whose performance so far has done nothing to question the nation's No. 1 overall recruiting ranking he brought into the Buckeyes' wrestling room.
He's risen to No. 9 nationally at 133 pounds, and this weekend validated every expectation with a 3-1 win Friday over a Michigan opponent ranked No. 12 and a 10-2 major decision Sunday against a Michigan State foe who's been a four-time NCAA Qualifier and a 2019 All-American.
"Jesse Mendez is a bad man," Wilcox said. "I wouldn't mess with him."
Of course, Wilcox would say that, even though there's a very high likelihood he would mess with Mendez under one condition – if told to do so because it could benefit the team.
That's who Wilcox has been for the Buckeyes this season, doing whatever is asked of him at whatever weight class he's needed, even though he came into Ohio State with the expectation his ability would translate into the kind of the buzz Mendez has generated.
The outcome of No. 5 OSU's 36-3 dominance of Michigan State didn't hinge on Wilcox winning Sunday, but he did win in overtime to raise his record to 4-0 in Big Ten duals so far this season.
I love that kid," Mendez said. "He's a really good friend of mine. I've tried to help him get better and he's helped me get better. Getting to see him have some success is awesome."
A three-time high school state champion in Utah, Wilcox has become the Buckeyes' Swiss Army Knife, winning twice at 165 pounds and Sunday for the second time at 174 pounds despite being a 157-pounder himself.
"Isaac is a rock star," OSU coach Tom Ryan said. "He never says a word. He's just amazing. Whether its 74, 65 or 57, he never says a word. He just goes in there and competes and wins."
Asked if he feels like a rock star, Wilcox peered over his Coke-bottle glasses with a bit of surprise and said: "Only after the matches when I win, but I wouldn't say I lead a rock star's lifestyle at all."
No wrestler does, of course, given the discipline that must necessarily rule their lives in all phases.
Wilcox and Mendez have that in common with their teammates, but the ones like Wilcox whose sacrifices come without national accolades are certainly not ignored in the locker room.
"He just continues to prove the type of competitor he is," said OSU's Kaleb Romero, a 21-6 technical fall winner at 185. "It's amazing to watch. Isaac works his butt off every day in the practice room. He's the definition of a team player."
The Buckeyes' fifth Big Ten dual meet victory was well in hand by the time Wilcox stepped in for starter Ethan Smith, whose right leg was heavily wrapped Friday when he won handily at Michigan.
Mendez's bonus-point result followed Malik Heinselman's win at 125, then falls from Dylan D'Emilio in the final seconds at 141 and All-American Sammy Sasso put the lead at 19-0.
Paddy Gallagher nearly came all the way back from a 5-0 deficit before falling to No. 13 Chase Saldate, 5-4, after which Carson Kharchla claimed a 7-2 win at 165. That triumph followed a 15-minute delay after Kharchla and MSU's Caleb Fish banged heads 30 seconds in, necessitating a medical delay to ensure both could proceed.
Wilcox, wrestling up two classes from his ideal weight of 157, pulled out his match via a decisive takedown with 14 seconds left in the second overtime.
He likely will yield back to Smith on Friday when No. 1 Penn State visits a sold-out Covelli Center.
That's the life of a utility man, or at least it was before the age of immediate transfer eligibility, which now entices athletes with Wilcox's profile to leave at the first sign of frustration to seek greener pastures elsewhere.
But he's now in his third year in Columbus, with no inclination to depart.
"Honestly, my first year here, with that crazy COVID year, it crossed my mind a little," Wilcox said. "I thought, 'Oh my gosh, I miss my mom. I miss my dog. What am I doing out here? I know nobody.'
"But I stuck through it. I trust the coaching staff and I trust the team that things were going to get better. I love being part of the Ohio State wrestling team. I couldn't imagine wrestling anywhere else. I'm just grateful to be a part of it."
Gavin Hoffman followed Romero's win at 185 with perhaps the brightest spot in a dominant performance by the Buckeyes.
Ranked No. 21, Hoffman upset No. 14 Cameron Caffey in a 3-2 decision Hoffman took control of with a takedown late in the first period. Caffey registered two escapes to tie it entering the third, but Hoffman escaped to go ahead and then spun out of danger when Caffey launched a late shot in the final 30 seconds.
"That was a big win," Ryan said. "That (MSU) kid is good. He has some huge wins. But Gavin wrestled great. He outwrestled him the whole time."
Ryan hopes for more of that Friday night, when Penn State comes calling as the clear favorite given its five NCAA team championships dating to OSU's national title in 2015.
Ryan's teams finished runner-up to Penn State in 2016, 2017 and 2018.
"I like where we are," Ryan said. "We looked really good and we're heading into a big weekend. We're healthy. We have a full lineup. We're going to put our best team on the mat on Friday night."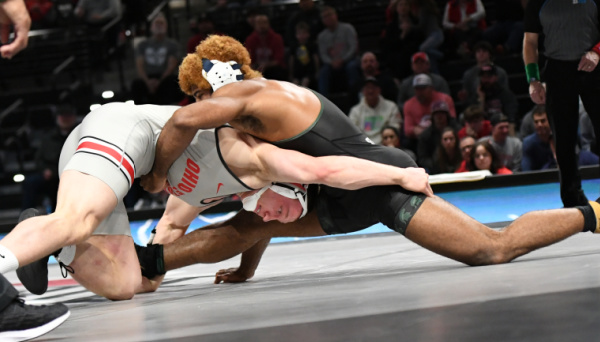 Even with Cameron Caffey's impressive flexibility, OSU's Gavin Hoffman pulled out the win over his higher-ranked opponent.

Logan Services proudly sponsors Buckeye sports on Press Pros Magazine.com.