Leading by just five points at the half, Jackson Center showed its experience, and quality, and sprinted to the finish in the second half to beat Minster Saturday night, 50-36.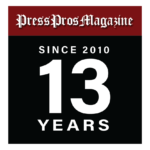 Minster, OH – The Jackson Center Tigers beat Minster Saturday night, 50-36, in a classic example of two teams at different stages.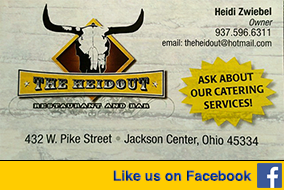 Jackson Center, behind 37 points from seniors Nolan Fark (7), Camdyn Reese (11) and Jace Mullenhour (19), gave every indication of being as good as their #2 ranking in Ohio Division IV basketball would indicate….even on a night when they clearly weren't vintage.
Minster, behind 20 points from freshmen Cole Richard and Cole Albers, would have given a lung for that kind of experience, production, and game savvy…a team at 2-15 that's simply learning how to play, and win.
But in a classic glass half-full and half-empty display, Minster did display some goods around which to build, along with some deficiencies that simply require time and growth. Coach Mike McClurg smiles at such issues – untimely turnovers, not being strong with the basketball, and finishing at the rim – and believes that the example of playing Jackson Center was a valuable object lesson.
"I told the kids that Jackson Center is where we want to be in a couple of years," he said afterwards. "You look at their guards, Fark and Mullenhour, and how easily they can score. Right now we're playing three freshmen and a lot of sophomores without a returning letterman out there.
"But to be honest, we've been in six or seven games where we had a chance to win, like last night in Delphos – where we had a chance. And not just a chance, it was a one or two-point game. So the kids are working and you want some reward for them, because they're doing a lot of the right things. But there's so many little details that we're not doing…we're not ready for, yet."
Still, McClurg's Wildcats battled to only a five-point deficit by halftime, and trailed by 20-15. As he said, they had a chance.
The second half proved their undoing.
In a span of four possessions they had three bad turnovers on which Jackson Center recovered and scored in transition.
They missed finishing on point-blank attempts at the rim, and without an offensive rebound.
Not strong enough with the ball, they were stripped of the ball while attacking an open lane to the rim.
Little things…that either win you a game, or become the catalyst for frustration.
"We've talked about this all year," added McClurg. "So by now talking about it is kinda' wearing thin. But it's a lot for them right now."
Jackson Center is noted for defense, of course, so there weren't many easy possessions, given that the #2-ranked Tigers simply did what they do best with more confidence than Minster at their present stage.
But the afore-mentioned issues gradually helped Jackson extend its halftime margin to 37-22 by the end of the third quarter. For a brief moment to start the fourth Minster's Cole Richard answered, hitting a three-point shot from the key, plus picking up a chance at the line for a four-point play.
But Jackson answered on every occasion that the Wildcats showed life, with Fark and Mullenhour running the court unabated, and undisturbed to score.
Being the more experienced team, they were also the more physical team, and simply wore down Minster over the final four minutes, maintaining that 15-point lead until the clock ran down on a 50-36 outcome.
"We expected to be in a competitive game with Minster, because bottom line…Coach McClurg's doing a helluva' job with a very young team," said Scott Elchert. "And, they're getting better. They went to Delphos St. John's last night and gave them all they wanted. Got beat by three points in a game they had a chance to win.
"Tonight wasn't our best shooting game, but that's exciting for the fact that if we're not shooting well we're still playing well enough to win games,"  he added. "Fark and Mullenhour took some things over for us in the second half, and you hope at this stage of the game that your senior leadership can give you something. You count on that, and that's what Minster's counting on a couple of years down the road."
Jackson Center improved to 16-1 for the year, and did nothing to tarnish their place in next week polls.  Jace Mullenhour led all scorers with 19 points, Camdyn Reese added 11, and Fark pitched in 7.   Lucas Heitkamp finished with 6, Reed Platfoot had 3, Grant Elchert and Lucas Hartle each had 2.
Minster fell to 2-15 with a pair of double-digit scorers – sophomore Kole Richard and 6'7″ freshman Cole Albers each had 10 points, while Logan Kohne had 7, Cole McClurg had 3, and Ian Homan finished with 4 points.
McClurg was quietly optimistic about better days ahead before turning out the lights and heading for a Sunday of watching high-stakes football.
"We went toe-to-toe last night at Delphos St. John's, and we went toe-to-toe for a half tonight,"  he said.  "So I'm hopeful that the basketball gods will turn our way in a couple of our remaining games.  Hopefully our guys can keep getting better for a couple of weeks to get ready for the tournament."
His issue is age-old, regardless of the season and regardless of the sport.
Hall of fame coach Abe Lemons, a man known for his humor, once said this about a more experienced opponent while coaching at the University of Texas.  "Their rats were just bigger than our mice.  All we need…is bigger mice."