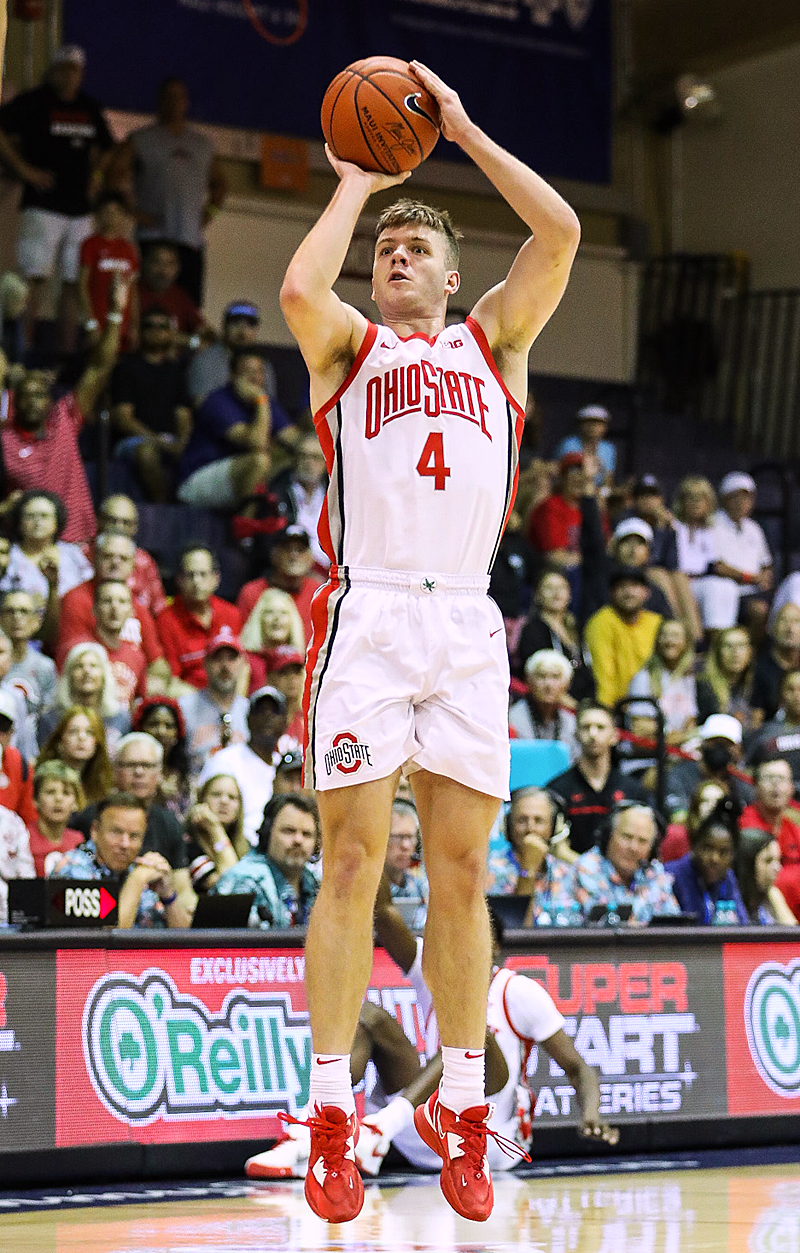 Senior transfer Sean McNeil couldn't quite find the range from beyond the arc…which kinda-sorta explains a lot about the talent on a team that's rapidly headed south. (PressPros File Photo).
A little of this, a little of that and not enough of what it's supposed to be…the same story every night, it seems, for an Ohio State basketball season that spun deeper into the abyss with a lopsided loss at Indiana.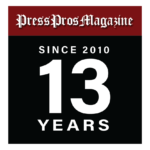 Bloomington, IN – If searching for a metaphor that accurately summarizes the inexorable march to irrelevance in which Ohio State is immersed, there were two Saturday night in an 86-70 beating at Indiana.
Walking back onto the floor to start the second half, OSU's Brice Sensabaugh came perilously close to being struck by a chunk of metal that plummeted from the mammoth scoreboard overhead.
Yes, the sky is indeed falling on the Buckeyes, who have lost seven of their last eight games, chiefly because of a second metaphorical takeaway from their latest defeat.
This team is 11-10 overall and 3-7 in the Big Ten for a reason, and the reason is because its players – outside of sensational freshman Brice Sensabaugh – aren't very good or certainly are not as good as advertised.
Proof of that showed up in the latest stat line from junior transfer Sean McNeil, who scored nine points against the Hoosers on three three-pointers.
Not three-point field goals – the specialty McNeil supposedly brought with him from West Virginia to Ohio State.
No, instead, McNeil accumulated his nine points via three old-fashioned three-point plays…while going 0-for-5 beyond the three-point arc.
That's more than a curious footnote to another pathetic Ohio State performance on the road.
It's a clear demonstration that very few OSU players are what they were supposed to be, and hence can't deliver what they were supposed to supply.
Sixth-year senior Justice Sueing is not a leader of any consequence, not by example nor by effort. He's gone dramatically backwards since his first season of eligibility at OSU in 2021, which is an indictment of the program's inability to develop its talent.
Junior center Zed Key routinely gets dominated by players who are every bit as limited as him. Indiana's Trayce Jackson-Davis was the latest to embarrass Key, getting 18 points and 10 rebounds to Key's 12 points and four rebounds.
Jackson-Davis has commentators slobbering over his supposed wide-ranging talents, which unless video cannot be believed includes a shooting touch that extends no more than arm's length from the basket. But, why venture farther away when Key couldn't move him out of his comfort zone?
So OSU is getting nothing out of its most-experienced veterans, nor is it getting much from its Transfer Portal additions of McNeil, Tanner Holden or Isaac Likekele.
Likekele, branded a multi-faceted "glue guy," would be extremely useful right now if he indeed offered any adhesive properties that could be used to keep this squad from coming apart like a hut in a hurricane.
Instead, he went scoreless, as did Holden, which means the collective 26 points from those two, McNeil, Key and Sueing barely exceeded the singular output of freshman Brice Sensabaugh.
His 23 points led OSU for a 12th straight game in a game that was never really much of a game after Indiana ended the first half with a 15-0 burst over the final 3:31.
That expanded a 31-30 lead to 46-30 and Ohio State would never cut the lead below double figures thereafter.
"That was definitely the difference,' OSU coach Chris Holtmann said. "That was definitely the difference. The end of the first half. Yeah, that was the difference."
While that may sound Rainman-like in its delivery, it's evident from the Buckeyes' recent struggles that Holtmann has no savant's solution to the myriad issues dogging his team.
Sensabaugh can get his offense against anyone, but when he is out of the game, everything else OSU does with the ball ends exactly as you'd anticipate a high-wire act of apprentice acrobats.
When Purdue started this current descent into the depths of the Big Ten standings, Ohio State was somehow ranked No. 1 in the nation in offensive efficiency.
The math geeks at KenPom have been tinkering with their formula ever since to fix that clear bug in the data set.
OSU….a bastion of offensive efficiency?
That must seem a cruel joke now when Holtmann and his staff watch tape of a team that has cracked the 70-point barrier exactly once in its eight most-recent losses and has managed a paltry 60 points in each of its last three defeats.
The assumption is that difficulty will abate at some point, but a scan of the schedule doesn't reflect a single automatic win the rest of the season.
That's not a prediction Ohio State won't win again, moreso an acknowledgement that even a 7 p.m. Thursday home game against Wisconsin, which broke its three-game losing streak Saturday against Penn State, is nothing more than a 50-50 proposition.
The Badgers are at least a good defensive team, a label that won't be lobbed Ohio State's way any time soon.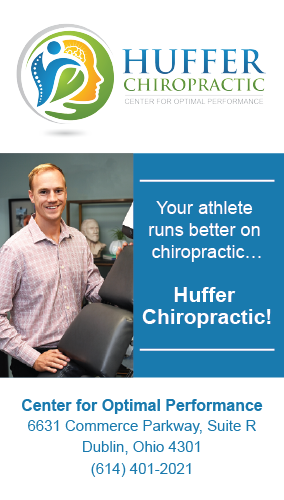 Indiana's Jalen Hood-Shifino came in having made one of his last 12 three-point attempts over the Hoosiers' five previous games and promptly made his first five against OSU, scoring 20 of his 24 points in the first half.
Jackson-Davis shot only 4-for-10 and yet scored 18 because the Key proved no impediment to him at all to him in the low post.
At least freshman Felix Okpara made Jackson-Davis work a little, for position and points, in his 15-minute stint that resulted in 4-of-5 shooting, and four rebounds…as many as Key in approximately half as much time.
With time rapidly running out on the Buckeyes' NCAA Tournament hopes, it won't be long before the wisdom of giving minutes to unproductive veterans over freshmen with higher ceilings becomes a fair question for Holtmann to answer.