Marion Local saw a 10-point first quarter lead dissolve, then defended, went bucket for bucket, and took care of business at the foul line to beat once-beaten Parkway.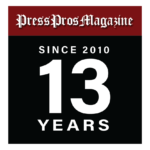 Rockford, OH – Moments following Marion Local's 51-48 win Thursday over the 16-2 Parkway Panthers, an excited assistant coach Treva Fortkamp pumped her fist and exclaimed, "Is that the best girls basketball game you've seen?"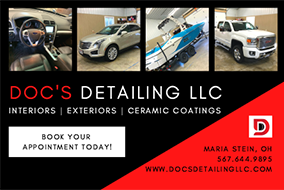 Well…best is broad, of course, but in the heat of the moment, and when you've just knocked off your closest rival for the conference title with two weeks to go, there's nothing wrong with a little hyperbole.
But to be more accurate, it was a game with a litttle bit of everything – shooting, defense, a spirited comeback by Parkway from a first quarter deficit, and a Marion finish that would have made Dr. Naismith proud.  That being, when shots needed to be made at the line to seal the deal, the Flyers gave him just what the Doctor ordered.
If you haven't seen Parkway play – and apparently a lot of people haven't because at 16-1 they weren't among the AP's top ten in last week's Division IV poll – they're talented with shooters like Gabrielle Stober, Paige Williamson, and Emiree Knittle, they've got size and rebounding force in the middle with 6'2″ Allison Hughes, and they handle the ball well and attack the rim with confidence.  And the proof of that is…they didn't let a fast Marion start and a 12-2 run in the first quarter ruin their night.
After Marion's Lindsey Koenig struck for 8 quick first quarter points, Gabrielle Stober went to work to hit a couple of 2-point buckets, combined with a Paige Williamson three-pointer, to claw back to a 16-9 deficit by the end of the period.
But Stober was only warming to the task with her opening 4 points, as she burst for a quick pair of three-point shots to start the second quarter, then hit a pair of pretty running shots from the lane to score 10 before halftime.  In the meantime, the Panthers got lined up defensively, collared Koening, and when the Panthers' Adria Miller scored in transition off a defensive rebound by Hughes with 1:40 left before the half Parkway took its first lead of the game, 22-21.  Stober scored the final two of her 14 first half points with :05 remaining to salvage a 24-23 Parkway lead at the break.
"They're really a good team,"  said Marion coach Beth Streib.  "Stober is obviously a great player, but they've got a lot of great players…girls that can make big plays, as well."
Parkway came out to start the third quarter in a 2-3 zone, forcing Marion to either shoot from the perimeter, or be patient enough in the half court to work the ball for the kind of close-in shots that they'd feasted on in the first quarter.
Marion, ranked in this week's AP poll at #7, got off to another positive start…Koening scoring on a shot at the rim and a pair of free throws, Chloe Ronnebaum on a runner inside, and Avae Unrast on a bucket and a free throw to ignite a 7-0 Marion run.  Shots that fell for Stober in the second quarter were not falling in the third, and at the 4:00 mark Marion had reclaimed a 32-26 lead.
However, those players that Streib spoke about made themselves heard.  Paige Williamson hit another three to snap Marion's 7-0 run, and then with a minute left in the quarter Allison Hughes scored off an offensive rebound to tie the game at 32-32.  After a pair of Marion free throws sent the Flyers back up by two, Hughes scored again to again tie it at 34-34 going to the fourth.
Gabrielle Stober was fantastic, scored a game-high 26 points, and when the Panthers needed her most she responded, scoring 9 of her 26 points in the fourth quarter.  But prior to Stober and her 9 points Parkway had edged its way into foul trouble, sending Marion to the line for the one-and-one bonus by the opening minute of the fourth.  The good news in this scenario is that the Panther defense would eventually hold the Flyers to just two field goals for the final eight minutes – one each from Unrast and Stella Huelsman.
The bad news is, as the fouls mounted, Marion was in the double bonus by the 6:00 mark of the fourth.  It would eventually shoot 16 free throws in the quarter, hit 13 of them…and while Stober was doing her best to keep pace, Marion simply outscored the Panthers from the foul line…17-14.
Stober would hit one final three-pointer with 16 seconds remaining in the game to draw within 49-48;  but Avae Unrast would go back to the foul line on the ensuing possession to hit a pair with the double bonus, and Marion closed out the game, 51-48.
Marion improved to 16-2 with Lindsey Koenig scoring 15, Unrast finished with 14, Chloe Ronnebaum had 11, Hannah Rose had 6, and Stella Huelsman closed the Flyers' scoring with 5 points.
For Parkway, they dropped to 16-2, but hang a star on Gabrielle Stober's 26 points, high for the game.  Paige Williamson had 9, Allison Hughes finished with 6, Brittyn Bruns had 3, Adria Miller and Emiree Knittle each had 2.
Beth Streib was pleased, obviously, with a quality win over a quality opponent, going into this weekend's tournament draw where the Flyers are almost destined to be the top seed in their sectional.
"Stober is a really confident scorer,"  said Streib.  "Stella Huelsman was assigned to guard her, and Stella's goal was to keep her under 15 points.  We wanted to make her earn it, and she earned every one her points tonight.  She got a few easy looks, but we wanted every shot to be contested and for the most part we did a good job.  We knew we'd have to play great team defense to win this game."
Except for a slump in the second quarter where some Marion turnovers allowed Parkway to crawl back from that 10-point deficit, Marion played fundamentally sound basketball at both ends…and nothing proved bigger than 13 of 16 from the line in the fourth quarter – 23 for 28 for the game.
"At times we had some stupid turnovers, but that's high school basketball for you,"  smiled Streib.  "But we responded well, you know.  They made a run and got the lead, and we came back and scored.  But the biggest lead they had was two points, and that was key.  We hung with them, we responded, and it was just a great team effort."
So to Treva Fortkamp's point, Gabrielle Stober entered Thursday's game as the MAC's leading scorer, averaging 18.5 points a game;  and she more than gave the people what they came to see, besting her average by 8 points – great shooters are going to get their points.
But when they do, and you still win because you did the little things right – free throws when they count, and great team defense – well then, yes. Treva.  It was a helluva' girls basketball game!