A month from the start of the OHSAA tournament bowling, area teams and individuals seek to sharpen their game and consistency to compete in the biggest competitive opportunity available to them.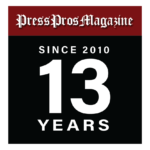 New Bremen, OH – If you're a high school bowler your season is more obscure than that of football and basketball…decidedly so.
Bowling, you see, gets no media publicity, and were it not for the OHSAA tournament that culminates in Columbus in early March…you might not even know that high school bowling exists.
The trophies on display in high school lobbies somehow don't attract the respect and attention devoted to those for football and basketball, and rarely do you see a framed photo of the state champion in bowling.  Obscure as it is to the public, the slight does not go unnoticed by those who bowl.
But hope springs eternal in late January, as area teams hit the mid-point of the regular season;  and the focusing point for preparation to qualify for the brightest star on their athletic horizon…THE TOURNAMENT!
Sectional play begins on Friday, February 17, so teams and individuals have a month to get their game in gear.  And if you're a senior bowler, just like football and basketball, it's your last chance to reach at least some degree of respect and recognition.
When we first wrote about New Bremen's Maverick Nelson three years ago, the state tournament was foremost on his list of boxes to check off in his high school career.  The team's leading bowler in average at the time, he's still a leader for the Cardinals, averaging 197, but six pins behind current team leader Carson Keller (203).
Team-minded, Nelson and the Cardinals have not broken through the sectional and district rounds to get to the state finals, but it's still on his list of boxes that he'd like to check.
"I'd love to get there (to state),"  he said back in 2021.  "But I'd rather get there as a team."
That hasn't happened…yet!
Nor has his ascension to the level of play that separates the good bowlers from the elite.  A 200 average gets you on the dance floor in modern bowling, but it doesn't guarantee you the spotlight.  That's reserved for bowlers like former Vandalia Butler bowler Drew Sacks, who averaged 250 to win the 2019 Division I individual title.  Nelson, like bowlers at every level of the sport, is currently trying to find those extra few pins that would put him at that level.  Currently he ranks 10th in the Midwest Athletic Conference standings.  The top gun is Coldwater's Austin Burden, at 224.7.
Yet, hope springs eternal when you've grown up in a bowling family, understand the eccentricities of the sport, and acknowledge that on any given day your fortunes can change…the  opportunities as bright as the rising sun.  There is a lot of luck involved with bowling, and Maverick Nelson accepts that.
Saturday morning at Speedway Lanes, his home house, was one of those days when luck did not show up.
"Bowling is hard to explain,"  says sophomore sister Marina Nelson, who herself bowls at New Bremen, currently ranks second among MAC girls with a 190 average, and observed her older brother's struggles Saturday.
"That's his goal.  He wants to get to state.  But you do what you can do,"  she adds with a shrug.  "You can't control what everyone else does."
"I'm still optimistic,"  said Nelson after bowling a disappointing 179 in Saturday's individual competition.  "I've been bowling well, but today was one of those days when my 'strike' ball just wasn't working.  Bowling, as you say, is a lot of luck.
"But I've still got a month to get things right, get on a roll, and so much of this is mental – between the ears.  As a team I'm really optimistic.  The last couple of years we had the Alig brothers to lean on.  Now I'm the older bowler, and this year we've got some other guys who can step up and bowl 200."
Saturday was just one day, the same in high school, as it is in college, or the PBA.
"It's a part of bowling,"  said New Bremen coach Brian Alig.  "Maverick has really been bowling well, and has risen in the individual standings from 17th in the league to 10th.  Splits got him this morning."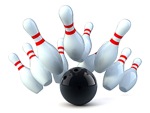 Again, he accepts that.  The only thing about bowling that consistent is its inconsistency.
"All you can do is come back next time and keep bowling,"  Nelson smiles.  "You just have to stay calm, and fundamental.  If you try to do too much it all falls apart."
He's got a month – they've all got a month – to figure it out.  Live with it.  Just play.
Hope always springs eternal with bowling.