There's two years separating them in age, but only a half pin in average.  Sophomore Danielle Francis and senior Payton Groff lead Versailles girls bowling in the hunt for a league title and some post-season tournament excitement.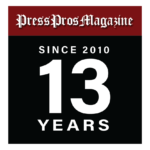 Fort Recovery, OH – If the term friendly competition is appealing to you – camaraderie and appreciation for teammates – this story pretty much personifies senior Payton Groff and sophomore Danielle Francis of the 2023 Versailles girls bowling team.
Currently the Versailles girls sit in second place of the MAC standings, behind Coldwater, but hardly out of striking distance from three-time state champion, and twice runner-up.
Coldwater is undefeated, overall, with an 8-0 record;  while Versailles is 7-1.  Both are undefeated in league play, at 4-0, tied for the lead at the halfway mark of the season, two games ahead of New Bremen, Parkway, and Fort Recovery, all tied for second.
Coldwater has the league's best individual bowler in Jasmine Schulze with a 200.5 average and a high game this winter of 242.
But Versailles has a group of girls all hovering between 150 an 160, average-wise, who eschew statistics and average for the obvious satisfaction of competing, bowling well enough to win, and the satisfaction of knowing they're improving by the week – Emma Billenstein, Dancia York, Samantha Yerick, Cora Trissell…and led by Francis and Groff.  Billenstein, Francis and Groff lead in overall games bowled, and pins…but for the sake of consistency you can hardly be closer than Francis and Groff, who are separated in average by just a half pin.
Francis averages 163.6, while Groff is just behind her at 163.  Neither of those figures are going to make the New York Times, but the story of why they bowl and the enjoyment they derive from healthy, friendly competition is inspiring…even to those who fail to appreciate bowling as a sport.
"I love it,"  says Groff, who's not bigger than your next breath.  "I started in junior high during my seventh grade year, and counting this year I've been doing it for six years.  My dad put me in bowling and told me to just do it for fun.  I didn't believe him because the first year was a struggle.  But when I got to eighth grade and high school I started to focus on it more, and it became one of my favorite things to do.  Now, I love it."
All athletes have an influential figure along the way.  Who has been Groff's?
"Other than my family, one of my biggest influences has been Mallory York, a senior last year.  She always had a very positive attitude and outlook on bowling, so I try to do the same thing [now] for my teammates."
Danielle Francis started much younger.
"I did, in the first grade,"  she smiles.  "They had little league bowling at McBo's, in Versailles, and I would just bowl for fun.  Then I kept doing it and it became a passion for me.  Now I love to bowl with all my heart."
Her biggest influence has been…..?
"I think it's Payton,"  she says with an even bigger smile.
"She always smiles when I'm upset over a bad game.  I like bowling with her because she helps me and encourages me."
"Especially during practice,"  adds Groff.  "Because a lot of the girls look to me when they don't know where to move for a shot, or when they're struggling.  I'll help them if I see something they can do better."
Groff and Francis are keenly competitive, and aware of how close to each other they are in average…just 6/10ths of a pin.  But the league, and Coldwater at present, is their biggest competition, and not each other.
"Coldwater has always been our biggest competition,"  says Groff.  "They have been since my freshman year.  But it's fun to have that kind of competition between Danny and me.  I enjoy it, but it's all in the fun of the game."
They're also keenly aware of the league's best, Jasmine Schulze, and admire her commitment to bowling, as well as being a good representative for MAC bowling.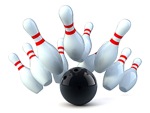 "You can tell that she works a lot at it,"  says Francis.  "And I think she's a great person.  She deserves all the success she has.  Most of the girls in the league are very positive and are good to tell you to keep your head up when you're having a bad game.  I really like that part of bowling."
"And I would agree with Danny that Jasmine sets the tone,"  adds Groff.  "She's always has a positive outlook, and she does a great job of sharing that with her teammates at Coldwater.  I think she's a good model for everyone."
If you think that bowling is something less than the wonderful attributes associated with football and basketball, consider its impact from through the words of Payton Groff and Danielle Francis.  They've found their niche'.
Competition, camaraderie, respect for opponents, and respect for the outcome…even on the tough days.
"It's fun,"  Groff repeated.  "I love it."