The Buckeyes gave the top-ranked Georgia Bulldogs everything it wanted, but they were outscored 18-3 in the fourth quarter. The season ended on a missed 50-yard field goal.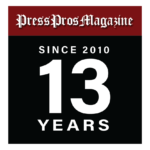 Atlanta, GA – The floor of Mercedes-Benz Stadium in the aftermath of the Peach Bowl College Football Playoff semifinal was something that the Brothers Grimm might have penned in the name of the Ohio State football team.
For the Buckeyes, it was the witch boiling the kids. It was the fox getting his meal.
It was so very cruel for a team that played with so much heart and, most of the time, so much precision on offense against a defensive giant.
As the clock was seconds from striking midnight to ring in 2023, place-kicker Noah Ruggles lined up a 50-yard field goal attempt that, if good, would have sent the team to the national championship game against Texas Christian.
Did a Georgia timeout just before he was about to kick the first time freeze him?
When he did kick for real, the ball never had a chance to go through the uprights. It was an ugly shank, far short of the goalposts and at least 10 to 12 yards wide left with three seconds to play.
The 2021 national champion Bulldogs prevailed 42-41 by outscoring the Buckeyes 18-3 in the fourth quarter to live to play another day.
It was an instant classic played before 79,330 on New Year's Eve.
"I thought our team came out and swung and played hard in this game – came up short,'' Ohio State head coach Ryan Day said. "It came down to one play. It wasn't just the last play. There were a lot of plays in the game that you wish you had back as coaches and players. That's what happens in a game like this.''
The Buckeyes were without All-American receiver Marvin Harrison Jr. during crunch time. He was in concussion protocol because of a hellacious hit he took in the back of the end zone in the final minute of the third quarter.
Tight end Cade Stover didn't play beyond the first quarter. He being examined in a hospital as a precaution for a back injury.
Yet Stroud came oh-so-close to becoming an Ohio State folk hero in completing 23 of 34 passes for 348 yards and four touchdowns in what should be his final college game before turning pro.
"I just try to leave it all on the line,'' he said. "I honestly…games like these, it's a loss for words when it comes down to one play. Honestly, it doesn't come down to one play. So many things that line up those plays (mattered).''
There was little drama with how Georgia (14-0) scored the winning points.
Quarterback Stetson Bennett jetted his team 72 yards in five gut-punching plays, with the clincher being a 10-yard touchdown pass to receiver Adonai Mitchell with 54 seconds left.
A Buckeyes defense that has been spotty since midseason coughed up a 17-yard pass to tight end Brock Bowers, a 35-yard pass to Kearis Jackson and a 5-yarder to Mitchell before the touchdown.
For the game, the defense was hit up for 533 total yards, 398 of it passing.
Buckeyes first-year defensive coordinator Jim Knowles said he changed coverages three or four times during the game.
"They got it done and we didn't, and that's the bottom line,'' he said. "Everything will bother me. Every play we didn't make has to be analyzed by me.''
Still, Ohio State was not dead.
Stroud found Julian Fleming for a 12-yard completion to his 42-yard line and with 24 seconds left he scrambled 27 yards to the Georgia 31.
Time was not on Ohio State's side after a 1-yard loss on a run by tailback Dallan Hayden.
There were 8 seconds left after an incomplete pass to wideout Xavier Johnson.
"That last drive, man, I seen how much time we had with timeouts, and I knew we could do it,'' Stroud said. "I tried my hardest to get us down here. I think I left my heart out on that field.''
Ruggles had made 17 of 19 of his attempts, including two last night, before this miss.
Day said the kick would have been far easier had the offense gotten 4 or 5 more yards.
"Two timeouts left, any couple of yards right there could add to the field goal and that was the idea. Didn't quite execute it as well as we would like to, but I wouldn't change that call.''
No one dared ask Day about this being a moral victory.
"It doesn't mean anything if you don't win, though,'' he said. "And I think that's probably what hurts the most is that when you put that much work and that much energy and that much time into something and you're right there and you just…you don't get the victory when all is said and done.''
Linebacker Steele Chambers watched Georgia celebrate at midfield. He wept openly in the interview room talking about coming up short and the team's brotherhood.
"I stayed out there,'' he said. "I wanted to watch the celebration. I felt it should have been us. We have a tight brotherhood. I would die for everyone in that locker room. I love (Ruggles). It wasn't just one play. He's a brother, too. He's a hell of a player.''
When the Buckeyes do return to Columbus and have clearer heads, they will realize that they just didn't do enough to win.
Things looked so bright when receiver Emeka Egbuka caught a 10-yard touchdown pass on third-and-two to give Ohio State a 35-24 lead with 10:37 left in the third quarter.
Mighty Georgia was staggered and bleeding.
Even though the Buckeyes upped the lead to 14 points with a 25-yard field goal by Ruggles with 31 seconds left in the quarter, it really was an opportunity lost.
They had first-and-goal at the 7-yard line after a 27-yard catch by Egbuka to the 10.
A 3-yard run by Hayden and two incompletions on passes to the end zone to Fleming and Harrison, respectively, brought on the kicking team.
The third down play, a desperation heave by Stroud under pressure, also cost them Harrison. He took a brutal hit to the head and neck area by defensive back Javon Bullard and never returned.
The play was reviewed for targeting, but Bullard's was cleared and not ejected.
That's when Georgia went to work quickly, starting with a 31-yard field goal by Jack Podlesny with 5:17 left in the quarter that made it 38-27.
There was more agony for Ohio State when H-back Mitch Rossi ran for an apparent first down from punt formation on fourth-and-one to approximately his 40-yard line.
Alas, the Bulldogs were granted a timeout just before the snap.
Another disaster followed when defensive back Lathan Ransom has a blown coverage and the result was a 76-yard bomb of a touchdown by Arian Smith that made it 38-35 with 8:41 to play. Ladd McConkey caught a two-point conversion pass.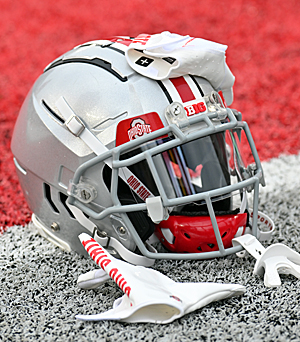 Yes, Ohio State answered with an 11-play drive, but it was a 48-yard field goal by Ruggles instead of a touchdown that made it 41-35.
The Buckeyes were setting themselves up for heartbreak.
Egbuka answered questions as if in a trance.
"I mean, guys gave it their all,'' he said. "We had a month of preparation. I love my team so much. There is not a single guy who didn't give it his all.''
He refused to use the loss of Harrison as an excuse.
"Marvin is a one-in-a-million-type athlete, but you have to be ready to step up when adversity hits,'' he said.