Projected as a battle of the 'big men', St. Marys' Austin Parks proved as good as his billing as an Ohio elite played, and a prized Big Ten recruit in a 46-35 win Thursday over Marion Local.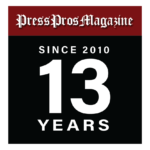 Maria Stein, OH – In retrospect, Ohio State basketball coach Chris Holtmann probably wished he could have been there.
Weather, of course, was an issue, as the Buckeyes' boss missed one of the season's marquee matchups in a holiday tester Thursday night as 6'11", 250-pound OSU recruit Austin Parks squared off against Marion Local junior, 6'9″, 230-pound Jack Knapke in front of a good crowd that braved the ominous outside forecast.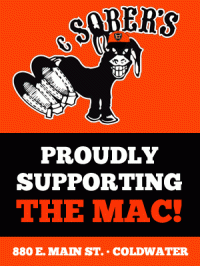 Tough, physical, well-played, and clean…Marion Local, just out of football hiatus held its own for three quarters before succumbing to a 9-0 St. Marys run to begin the fourth quarter and ultimately, a 46-35 Roughrider win.
But no one who saw it assumed anything other than had this game been played a month from now, when Marion had fully made the basketball transition, it would have been less cautiously played, with more confident shooting, along with a representation of two of Ohio's best big men and a size element seldom seen in high school basketball.
"It was fun…I enjoyed it,"  said Parks, afterwards.  "I like it much more than going against 6'2″, 6'3″ kids.  I get to go against someone my size and that prepares me for the future at Ohio State.  They're all going to be big down there, and going against someone my size means they're not going to double me as much.  It was a one-on-one opportunity tonight where I had a chance to take over."
The 6'11" Parks is a prized member of Holtmann's 2023 class, and ranked as a 4-star recruit and #11 nationally among high school centers for Division II St. Marys.
The 6'9″ Knapke is similar in size, less-heralded across the state, but after rapid improvement in his junior year, and teamed with 6'8″ sophomore teammate Austin Niekamp, gives Marion Local a rare luxury among area southwest, or northwest, Division IV basketball teams.
St. Marys was 2-2 entering the game. Marion, getting a late start because of football, was 3-1.  And neither Parks or Knapke did much in the early moments of the game to make it that interesting.  Both teams tried to establish some offense in the paint, and both big men, Knapke and Parks, denied each other opportunities around the rim.  By first quarter's end, each had 2 points and St. Marys held a 14-6 lead, primarily off the strength of three-point shooting by the Roughriders' Evan Angstmann.
Marion heated up in the second, spread 11 points between the shooting of Jadyn Mescher, Tate Hess, Brandon Eyink, Niekamp and Knapke to cut into St. Marys' lead…but St. Marys would manage just 6 points on a pair of inside buckets by Parks and one from teammate Jace Turner.
The Roughriders held a 20-17 lead at the halftime break, but to Marion's credit, Knapke and Niekamp proved capable of denying easy access and domination in the paint by Parks.
More, Marion came out in the third quarter and picked up where they left off before halftime, Niekamp and Knapke accounting for 8 of the team's 10 points.  The Flyers actually took their first lead, 21-20, at the 7:00 mark on a basket by Brandon Eyink, but St. Marys quickly answered as Parks began to flex, scoring 6 of his team's 10 points in the quarter.  The lead changed hands three times, but by period's end St. Marys still led by 3 points, 30-27.
Neither team had gotten much from its guards, offensively, but that changed quickly at the start of the fourth.  St. Marys Brayden Sullivan gave the 'Riders an immediate lift with a pair of back-to-back three pointers, which seemed to spark Parks, as well.  Getting loose, finally, from Knapke and Niekamp underneath, he threw down a thunderous dunk  at the 6:00 mark to help St. Marys to an eventual 9-0 run and a double digit lead.  It was the turning point of the game.
"Sometimes Brayden just puts his head down out there and acts like he's the tailback on the football team,"  said St. Marys coach Dan Hegemier.  "But he's been that way for us for three years and sometimes you just have to let him go.  And he hit some big, big shots tonight – big shots!"
Parks' dunk seemed to change his personality – confidence – as well, as the rest of the team fed off that boost.
"It gave me a lot of energy,"  Parks admitted later.  "It was right in front our students and our fans and suddenly it got loud.  You could definitely feel the vibe, and it made you want to play harder."
Marion was never the same, unable to answer with their own outside shooting, while Sullivan and Parks would account for 11 of the team's 16 points over the final eight minutes.  Jadyn Mescher would hit the third of his three three-pointers for Marion as a highlight – and Knapke would rebound to score 5 of his team-high 13 points in the final quarter, but the impact of Parks' and Sullivan was too much.
"We just couldn't put the ball in the basket there in the second half,"  said Marion coach Kurt Goettemoeller.  "The game was a two to three-points pretty much the whole game to that point in the fourth, and Sullivan hit those two big threes.  Give him credit, but we also made some defensive mistakes to allow those threes.  They changed the complexion of the game.
"And as the game wore on Parks began to get deeper and deeper post catches and I thought Jack had defended him well, for the most part…and he's so good.  He and Justin Ahrens are the two best players I've coached against.  I liked the physical challenge and it was just fun to compete tonight.  We really enjoyed it.  And I'm sure he (Parks) did like the opportunity to play against Jack because everyone doubles him and makes him kick it back out.  We didn't want their other guys to go off, so we were willing to let him and Jack go at it in the post…and I thought Jack did a very good job.  But he is really good."
Parks finished with a game-high 17 points, while Sullivan kicked in 10, Cobain Owens had 7, and Jace Turner and Evan Angstmann each had 6 points to account for St. Marys' 46.
Jack Knapke finished with 13 to lead Marion, while Jadyn Mescher's 3-point shooting netted him 10, Austin Niekamp finished with 6, Brandon Eyink had 4, and Tate Hess finished with 2.
There were a minimum of turnovers, St. Marys finished with an expected advantage in rebounding, but overall it was the factor of 'big' versus 'big' that kept people's attention…and probably detracted, unfairly, from Brayden Sullivan and the reality of that 9-0 run to start the fourth.
"I've always respected playing here,"  said Hegemier, speaking of Marion basketball.  "They've scouted us and you know it's going to be good, physical – clean – basketball.  There's no cheap shots thrown around.  It's clean.  But I'm always wary because their coaching staff does such a great job, so I couldn't be any happier with our kids.
"And you can't practice against the kind of physical challenge we saw tonight,"  he, like Goettemoeller, was quick to appreciate.  "You've got to grow up when you've got some new kids like we have.  That's the way it is, and that's what we're doing."
For what it's worth, what Holtmann missed Thursday he'll see for himself soon enough.  He hopes…about four years' worth!