Quiet for the first half, Tipp's Stanley Clyne ignited for 24 second half points – 31 for the game – to hand Troy its first loss of the season, 56-51.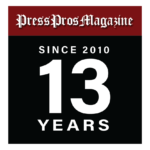 Tipp City, OH – Allow Tipp's Stanley Clyne a bit of selfishness, if you will.  It was his 18th birthday Tuesday, and he sorta' chose his own present.
The 6'3″ senior torched the Troy Trojans for 31 points – 24 in the second half – to help the Tipp Red Devils to a comeback 56-51 win over previously undefeated Troy (6-1), and there was no other gift imaginable that he could have more enjoyed.
"It was really a whole team effort,"  he said with a smile, after the fact.  "We got in the locker room (at halftime) and my teammates encouraged me to take over, because they knew what I was capable of doing.  I just locked in and as a team we rebounded well, defended well, communicated well.  It was a team effort."
But it was anything but that in the first half of Tuesday's MVL encounter in Pat Wampler Gym.  Troy came out with energy, confidence, and behind the shooting of Isaac Phillips, Kellen Miller and Hollis Terrell…along with a strong defensive effort on Clyne…the Trojans plowed to a 26-19 halftime lead.
Ironically, Clyne would hit his first shot of the game, a three-pointer on the opening possession, and then go stagnant for the next fifteen minutes, scoring just 7 points for the first half.  Credit Troy's defense for that, as the Trojans were a step quicker, communicated better, and denied Tipp anything that resembled a high-percentage shot close to the rim.
Tipp became frustrated, tried to compensate with their shooting from three-point range, and promptly went 1 for 6 from distance before halftime.  The game, in a few words, appeared to be Troy's for the taking in the second half.
That, however, proved to be a different matter.  True to his words, Clyne came out as if he had gotten a VERY BIG dose of encouragement, leading Tipp to a 6-2 run, and suddenly the momentum with which Troy had finished the first half belonged to the Red Devils.  Those same teammates were looking for Clyne to score, and he didn't disappoint, scoring 11 for the quarter –  behind the arc, slashing to the rim, and at the foul line.
"He's so good at scoring in transition,"  said Tipp first-year coach Brock Moon.  "We got some stops, we got in transition, and he made some really big plays there."
Troy, on the other hand, lost some of its shooting touch from the first half.  Phillips, Miller and Terrell became quiet, leaving senior Nick Prince to pick up the slack.  Prince responded by scoring 6 for the quarter, and Troy did cling to a 39-34 lead…but Stanley Clyne was just getting started.
He began the fourth by connecting on a wing three-pointer to cut the Trojan lead to two points.  But Prince and teammate Konyae Foster would answer on Troy's end to keep Tipp at arm's length.  But those stops, as Moon mentioned, along with some Troy turnovers, further fueled Clyne's assault on the rim, where he either scored, or got fouled.  Everything he shot seemed to go in.  For the game, he would end up seven two-point goals, three three-point goals, and converted on 8 of 9 from the foul line.
Tipp slowly closed in on the Troy lead, to 43-42 at 4:14 of the fourth quarter.  Troy turned the ball over, and Clyne scored again to give the Devils their first lead since early in the first quarter, 45-43.
Troy answered with a 3-pointer from Foster to retake the lead, 46-45.  Clyne again answered with another lead change…47-46.
Troy turned the ball over…again.  Tipp's Jackson Smith split a pair of free throws to push the margin to 48-46.
Troy turned it again.  Clyne scored again, his 26th and 27th points of the game to make the score 50-46 with 1:24 remaining.
Nick Prince wanted the ball, got it with 1:18 left and drained a three-pointer from the wing to pull the Trojans to within a point.  Trojan coach Mark Hess called a timeout to set up full court pressure, trying to force a Tipp turnover.  Instead of the turnover they fouled Clyne, who coolly hit a pair of free throws to push the lead back to three.
With 22 seconds remaining and trailing 54-51, Troy had the possession and one last chance to tie with a three-pointer, or attack the rim, score, and get fouled.  Hollis Terrell chose the latter, but found Tipp's Maddox Sivon in his path to the basket.  Sivon held his ground as Terrell went airborne with the shot, sending Sivon reeling with a charging foul.
Tipp took the ball out under Troy's basket, only to have the ball stripped from Liam Poronsky, giving Troy's Kellen Miller one last shot.  He missed, Clyne rebounded, was fouled, and finished the game at the line with his 30th and 31st points for a 56-51 win.
Tipp had outscored Troy 37-25 over the final sixteen minutes, and Clyne had come within a point of tying the Trojans' second half scoring, personally.  Whatever Brock Moon said at halftime…he should bottle and sell.
"It wasn't much of a talk,"  he admitted.  "They're fighters, they're competitors, they've been through the grind before and we talked about it at halftime…we hadn't played well, we're down seven, so let's get some stops, let our defense lead us, and get some transition baskets.
"We caught up with the pace of the game better.  We struggled some with their pressure, but we started to settle in…got used to that [basketball] speed.  We did a better job in the second half."
Clyne's 31 was joined by 10 points from Evan Manes, 7 from Jackson Smith, 6 by Liam Poronsky, and 2 by Maddox Sivon.  Tipp improved to 3-1 on the season.
Troy's Mark Hess simply shared what was all too obvious with his post-game comments.  Stanley Cline had had a heckuva' game.
"They just chipped away at us in the second half, and they were able to score inside,"  added Hess.  "They did a good job of slowing themselves down, they made some plays, and executed well in the half court.
"Clyne got hot…he made some big plays, and when he gets going he's a really good player.  He's tough to guard, he made some plays, some tough shots, and we just weren't able to make enough plays.  We settled for some shots that weren't the looks we wanted, and credit to them.
"I loved our defensive intensity in the first half, but they made a little run in the third quarter, and we needed to make a couple of plays to get some momentum.  They got some easy baskets and we didn't get enough.  We didn't execute like we wanted."
Nick Prince led Troy with 13 points, Hollis Terrell and Isaac Phillips each had 8, Noah Davis finished with 7, and Kellen Miller added 6 points.
Of course it's a big rivalry game, with Tipp having had the recent advantage over Troy, and the partisan faithful hung around the gym for a long time afterwards to enjoy, along with congratulating Clyne on a most memorable birthday.
He enjoyed the well wishes, for sure, but more…he appreciated his being able to respond to such a satisfying challenge.  Confidence is a big, big thing to a shooter in basketball.
"You could say that about anyone who's a scorer,"  he admitted.  "After you hit a couple you just keep finding the bottom of the net.  It's a great feeling to know that your work in the off-season has paid off."
And you're only eighteen once…so there's no gift greater for a shooter than a crooked number to mark the day.
He smiled at the mention.  Nothing gaudy, but 31 has a very nice ring to it.