The players were dragging mentally and physically before a practice days after the loss to Michigan, and that's when the sophomore defensive end went ballistic in the locker room about not giving up.  Mark Znidar writes for Press Pros.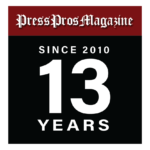 Columbus, OH – Safety Tanner McAlister probably didn't know the difference between a buckeye nut and walnut when he transferred to Ohio State from Oklahoma State after the 2021 season, but the man certainly knew the angst being felt on his new campus.
The Buckeyes were shut out of the Big Ten championship game and any shot of making the College Football Playoff last season with a 42-27 loss to Michigan in Ann Arbor in Game 12.
McAlister did reach the Big 12 championship game with the Cowboys, but his team also was locked out of the CFP because of a 21-16 loss to Baylor.
What made it maddening was that running back Blake Shapen was tackled 1 yard short from scoring the winning touchdown on the final play of the ballgame.
The matchup against Notre Dame in the Fiesta Bowl was a booby prize and not much of a reward despite Oklahoma State coming back from a 21-point deficit to win 37-35.
"Obviously, playing in the Fiesta Bowl was great,'' McAlister said. "That's a New Year's game. But you are just playing for the bowl game and not top four for the national championship. That was a different feeling. You were just playing for the team.''
It looked as though he would be going to another bowl game that would be played for pride only after Michigan laid a 45-23 haymaker on Ohio State.
That knocked the team from No. 2 to No. 5 in the rankings and set a clear path for Southern Cal to make it.
Utah, though, came from 14 points down to defeat USC 47-24 in the Pac-12 championship game to elevate the Buckeyes to fourth in the final CFP rankings.
Ohio State (11-1) has a date against top-seeded and 2021 national champion Georgia (13-0) in a semifinal on New Year's Eve in the Peach Bowl in Atlanta.
"Now, I feel like we're playing for all of Buckeye Nation, the City of Columbus and all the fans,'' McAlister said. "There's a lot on your back. That's history, man. You see all these banners all around here, and I want to be on one of those. You get to have your name on a banner. You get to make history as an Ohio State Buckeye. That's never going to change. You can't take a national championship away from me.''
That's a heavy burden to carry, right?
"There's pressure. There's intensity,'' he said. "But as a player that's what you play for. That's why everyone came here.''
Head coach Ryan Day held two practices the week after the Michigan game, telling the team to go about its business as if it would be playing for a national championship.
That message didn't resonate, and sophomore defensive end JT Tuimoloau decided to shake things up. He's the same player who took a pass on making a speech before the Indiana game.
This time, he went ballistic on teammates because they were holding a pity party.
"I woke up one day, and I just had something in my heart that I felt like I just needed to say something," Tuimoloau said. "Being a young buck and being around them, I know where we are as a team. I know what we can bring. I just wanted to come and reiterate that the job's not finished."
McAlister knew that Tuimoloau's timing was just right. He sensed the players needed a kick in the posterior.
"To be honest, I think before he spoke, nobody really wanted to be there, just because we felt like everything was done," he said. "But with him just reminding us, 'Hey, we've still got a chance. Let's not waste this day. Let's get better. So, when that chance does come, we're going to be prepared.'''
Safety Ronnie Hickman seconded that feeling.
"For him to come up in front of the whole team and kind of just open up his heart to us, it was huge," he said. "I think it opened up a lot of other guys' hearts."
It didn't take a whole lot of analytics to figure out that all Ohio State needed to get back into the top four a Utah victory over USC.
The Trojans led 17-3 in the first quarter behind eventual Heisman Trophy-winning quarterback Caleb Williams.
"It's over," right tackle Dawand Jones said of his thoughts at the time.
Then the Utes tied the score before halftime, Williams popped a hamstring and the game turned into a rout.
"My heart was racing," linebacker Steele Chambers said. "I felt like we were there. I'd say I was more stressed watching that game than like 95 percent of our games."
By the time the final four was revealed on Sunday, most of the Buckeyes had a good feeling that they were a lock to be ranked at least fourth ahead of an Alabama team that had two losses and only one notable victory over Texas.
"To be honest, personally, I think I kind of thought we were going to be in,'' McAlister said. "Obviously, there was some debate. But as soon as we saw TCU go at (No. 3) I was kind of thinking, 'All right, we're there at four. Let's go.' This is my first time in the playoffs.''
McAlister is thankful that defensive coordinator Jim Knowles brought him in something of a package deal from Oklahoma State. He has been a starter from the get-go and has 21 tackles and three interceptions
"I've come close, but had never been in it,'' he said of the CFP. "I'm grateful. I'm excited. That's a really big stage. That's what players dream of. I'm excited to get that going and prepare and be victorious.
"For sure, this is definitely why I came here. Definitely why Coach Knowles came here. This is what I wanted. That's why I'm so blessed I came here, to win a national championship.''
INJURY UPDATE
Running back Miyan Williams, defensive tackle Mike Hall and cornerback Cam Brown said they will be at full speed for the playoffs after being limited for large chunks of the regular season because of injuries.
Williams has had a number of hurts, most recently a rolled ankle. Hall's problem has not been revealed, but he did run off the field against Wisconsin with what appeared to be a shoulder problem."
As for Brown, a knee injury kept him out of five of six games during the heart of the season. He played 24 snaps against Michigan because of what he called a shoulder "stinger.''
"It's part of the game," Brown said. "If I get frustrated by it, it's not going to do nothing for me. I just try to keep a level head and go from there."
He wants to forget the Michigan game. He whiffed on a tackle, allowing wideout Cornelius Johnson to run for a 69-yard touchdown in the second quarter.
"It was just a bad tackle, a bad angle," Brown said. "It was on me. I took full responsibility for it. You got to move on from it and can't hold it against me all the time, so I just try not to focus on plays that happened in the past."