In a first, a pair of coaches claim Press Pros honors for our 2022 Coach of The Year distinction in area football – New Bremen's Chris Schmidt, and Marion Local's Tim Goodwin (above).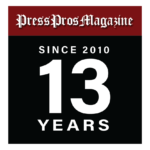 This hasn't happened before.  It's a first.
But justly, not one, but two area coaches have been selected for honors as Press Pros Coach of The Year in area high school football for 2022.  New Bremen's Chris Schmidt led the Cardinals to their second state title in Division VII, and their second in three years;  and Marion Local's Tim Goodwin led the Flyers to their 13th OHSAA state titles, spread among Divisions V, VI, and VII, to extended their amazing streak of dominance and their lead as the OHSAA's all-time leader in football titles won by a single school.
It's rare, we know.  Make a decision, some might say…one or the other.  But how do you choose?
To make the case for Schmidt, he took an underappreciated team back in August and directed the Cardinals (13-3) through the Midwest Athletic Conference to a 7-3 regular season record…then, as a #5 seed in Region 28, proceeded to beat both the #1 seed (Ansonia), the #2 seed (Fort Loramie), the #4 seed in Region 26 (Lima Centra Catholic), and capped it all off by pasting the state's #1-ranked Warren John F. Kennedy in the Division VII Final game, 38-6, streaking to a 24-0 halftime lead before JFK could even catch its breath.
"We're not accustomed to playing teams capable of making a dynamic play on every snap of the ball,"  said one representative from JFK.  "New Bremen jumped on us early and our kids could never recover."
It also marked the second title win in three years for Schmidt and the Cardinals, their second over JFK in the title game, and adds another chapter to both MAC football and the incredible cultural turnaround for football at what was once one of the conference's most-threatened football members.  As late as a decade ago there was talk of abandoning football altogether at New Bremen.
"It's one of those things where I almost have to pinch myself," said Schmidt. "To be here a second time…I mean, two years ago (amid COVID) was awesome. It was such a great memory.  For this to happen, I feel tremendously blessed."
As is the community of New Bremen, achieving its second fall sports state title in a month (they won their third volleyball title in November), and where football is no longer an endangered species.  Rather, now it's a sport teeming with enthusiasm, participation, and talent since Schmidt took the program over back in 2015.
"We were fortunate then to have some seniors who wouldn't quit back then, who wanted to prove something,"  he says.  "And there have been others since (Mitchell Hays, David Homan, and Hunter Schaefer) who have proven what you can accomplish through commitment and belief."
Tim Goodwin's story by this time is legendary in Ohio High School football, to the point of having those knowledgeable wonder what's left to prove, or accomplish.
But #1-ranked Marion Local did accomplish something in the 2022 season on their way to another record win – the 13th – by fielding a defense so formidable that it accomplished 11 shutouts over the course of a 16-0 campaign, including six in a row between September 30 and November 4, and set a school record by limiting opposing teams to just 30 points during the regular season.  In addition, they established a playoff mark of allowing just 9 points in six games, that included wins over 2021 Div. V champion Versailles, #2 seed Allen East, and six-time OHSAA title winner Kirtland (ranked #2) in the Division VI title game, 14-6.
"We knew that defense was tough,"  said Kirtland coach Tiger LaVerde.  "What makes it tough?  It's physical, it's fast, and it's well-coached."
The 14-6 win over Kirtland also evened the all-time series between the two schools to two wins apiece, and ironically Kirtland is part of one of the OHSAA's most remarkable footnotes.  With an incredible Finals record of 13-3 in their sixteen appearances, Kirtland is responsible for two of those losses, in 2015, and 2019.  Columbus Grove owns the other, back in 2003.
Counting the 2022 season, according to OHSAA records Goodwin and Marion Local now own what's an unthinkable record in playoff football of 96 wins and 12 losses, by far the most dominant winning percentage in Ohio football among teams with at least fifty playoff appearances.
Their 13th was not as dominant as the previous twelve, but that only brought a smile to his face when Goodwin talked about it after the fact.
"That's what happens when you get challenged,"  he said in the post-game press conference.
"But this is the kind of game that excites us. We like to compete.  We'd much rather win a game like this than one with a running clock. When it was announced in the spring that we'd both be in Division VI that became the challenge.  We knew we'd have to beat Kirtland if we were going to win the gold trophy."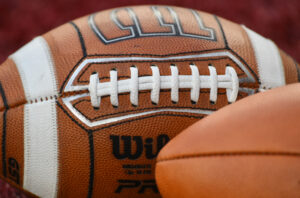 And the saga continues, with the cupboard stocked with both talent and experience for yet another campaign, another title run, Goodwin is fond of saying, "I really don't dwell on the latest title.  In fact, I'm usually thinking about the changes we'll make for next year on the bus ride home from Canton."
And there you have it – how one conference with communities as small as Maria Stein and New Bremen can own 41 football titles (149, overall) since its inception in 1973, and average two OHSAA title per year over the course of the past decade.
The impact of two football coaches, who while different in experience and time invested, are so similar in their impact, vision, and belief that success is imminent through faith and commitment…it's impossible to pick just one as Pres Pros' 2022 area Coach of The Year.
Our congratulations, and best wishes for future honors to New Bremen's Chris Schmidt…and Marion Local's Tim Goodwin!