In miserable windy conditions, dropping temperatures, and facing a near mirror-image of itself, Marion Local parlayed one offensive touchdown, 142 total yards, and a vital 'pick six' into a 14-6 win over Kirtland, and their 13th state title, overall.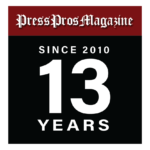 Canton, OH – It was not the prettiest of their record thirteen state titles.
It lacked offense – the power running game, and the big plays through the air that you equate with Marion Local football…just 142 total yards, overall.
It lacked what coach Tim Goodwin would later call, "the pursuit for perfection", so much a part of back-to-back perfect seasons, and of course, those previous twelve state titles.
There were uncharacteristic penalties, and the manageable mishaps that happen with football, which Goodwin later explained this way.
"Things that happen when you get challenged."
But characteristic to their identity, and the universal respect across Ohio football, the #1-ranked Marion Local Flyers persevered Saturday with their 'best-yet' defense to claim state title #13, 14-6, over the #2-ranked Kirtland Hornets.
"It was tough," admitted Goodwin, proudly.  "But this is the kind of game that excites us.  We'd much rather win a game like this than one with a running clock.  Now that's easy to say when you win, but we like to compete."
No one, in fact, believed that it was going to be easy.  Kirtland's Tiger LaVerde later said, "We knew it would be tough.  They (Marion) are such a good defensive team – they're fast and they're physical, and they're well-coached."
But to beat Kirtland, as it turned out they also had to beat 'Mother Nature', a brisk, gusty wind that sometimes reached 20 miles per hour.  Impossible to throw and kick against, it was even dicey to throw with it at your back.
It resembled a fencing match, feeling out the opponent, looking for any kind of opening.
"Any kind of play we could get,"  said Goodwin.  "We're not accustomed to struggling for four or five yards."
Kirtland's run defense made them struggle.  It became an early game of parry and punt, seeking that one opening, or mistake to take advantage of.  Marion had the wind in first quarter and couldn't capitalize.  Kirtland had it in the second…and Marion's defense took everything away.
Unable to run, Kirtland quarterback Jake LaVerde found an opening in the middle of the field for wideout Gino Blasini.  Defensive back Tate Hess closed quickly, got away with grabbing Blasini's jersey, and broke up what would have been a sizeable gain and a first down.
"There was no question I grabbed,"  said Hess later, with a smile.  "I was trying to make a play."
Teammate Aidan Eifert made another play to deny another Kirtland drive, stepping in front of a Laverde pass for the interception.
That play helped Marion flip the momentum minutes later when they finally capitalized on their second significant drive of the game.
A 23-yard run by Kyle Otte set them up inside the five yard line.  On their third try from scrimmage, Darren Meier squeezed it across the goal line for a 7-0 lead that Marion carried into the halftime locker room.
Marion got the second half kickoff, but Kirtland had the wind.  Try as they might, Kirtland could not take advantage.
Marion, for its part, made the biggest defensive play of the game when safety Nate Buschur stepped in front of another LaVerde pass, picked it off, and returned it for a 57-yard 'pick six' touchdown and a 14-0 Marion lead at 6:42.
"It (the pass) looked like it was overthrown a bit,"  said Buschur.  "I just caught it and ran."
You could have heard a pin drop on the Kirtland side, their fans understanding that the wind was about to be their nightmare in the fourth quarter.  The Marion side was delirious, assuming that the Flyers would finally make the most of that wind when they got the chance.
It didn't work out that way.  Marion continued to hold serve, but it didn't feel as secure as the usual Marion advantage – those nagging penalties,  and the threat from a quality opponent had the fans on edge.  They had cause with four minutes remaining the third quarter.
Taking a Kirtland punt, the Flyers had the ball near their 20-yard line, and on first down Darren Meier got hit, fumbled, and Kirtland pounced on it.  Short field, and with the wind, the Hornets quickly took advantage on a short pass play from LaVerde to Will Sayle for a touchdown at 3:34.  The extra point, however, was blocked, and you could see the anguish on Tiger LaVerde's face.  If and when they did score again, it would now take a two-point conversion against the wind in the fourth quarter to even tie.
But it didn't come to that.  Marion got the wind back with the start of the fourth quarter…but still couldn't move the football.  Down, but not out, Kirtland's defense continued to fight!
The teams traded punts, and possessions. as the clock became as big an opponent for Kirtland as the Flyers and the increasing wind.
With two minutes remaining, Marion punter Aidan Eifert allowed for hope, when with the opportunity to pin the Hornets deep with a mid-field punt, he mishit the ball and it went out of bounds at the 40-yard line.  A break, but again Marion's defense held.  Kirtland simply couldn't run the ball.
"That's what we do,"  said LaVerde afterwards.  "We just don't throw that much.  But today we threw it 18 times.  I think we only had 6 first downs for the game . That gives you an idea of how tough it was to run on Marion's defense."
It came down to one last Marion possession, and punt.  This time Eifert didn't miss it, and rolled the ball dead at Kirtland's one yard line.  With no timeouts, and just 40 seconds remaining, Kirtland's undefeated season and quest for its own seventh title came to a close…Jake LaVerde's fourth-down pass attempt fluttering helplessly in the wind.
The game was over, and Marion celebrated its 13th state championship – the 148th for the MAC Conference, its 40th in football, alone.
In the post-game press conference, Tiger LaVerde acknowledged two things.
One, how proud he was of the effort from his team.
"They played their hearts out,"  he said, emotion rising in his voice.
And two, with the class you'd expect from a six-time champion, he again paid tribute to Marion Local, and a defense that allowed just 36 points all year, and finished with an impressive sum of 11 shutouts!  Kirtland finished Saturday's loss with just 109 yards on the ground…161 overall.
When it was Goodwin's turn, he showed his surprise for the lack of yards.
"I knew it was tough, but I would have thought we'd be bumping at least 200,"  he shrugged.  "But Kirtland is a lot like us.  We're three and a half hours apart, and I think if we were closer, Tiger and I might hang out together."
Saturday's win also evened the series between the two small-school Goliaths – two games apiece, and all in the Division VI finals.
As Goodwin is quick to point out, and does often, it never gets old, and they never take it for granted.  Outside the Flyers' locker room, senior Darren Meier expressed his gratitude for healing up from the bruised shoulder suffered against Versailles…in time to even play in Saturday's game.
"I wasn't sure,"  he said, asked if he was concerned about getting well in time.  "We just let it heal for a couple of weeks, until last week (state semifinal game with Columbus Grove).
"But I'm very thankful for the opportunity to play today,"  he added with a smile.  "This means a lot."
No, it wasn't perfect, but football is a game of people, and where people are concerned. perfection isn't realistic.
Tim Goodwin didn't seem concerned, making the point…that it's the pursuit of perfection that defines Marion football.  They like to be challenged, he assured.  And this will be among their more memorable trips to Canton.
Number #13 was the toughest title yet!