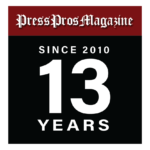 Canton, OH – The official attendance for Marion Local vs. Kirtland in the Division VI state championship Saturday numbered 3,960.
That's how many saw the game play out.
But that's only a fraction of the number who saw it coming.
Though it wasn't contested until the first Saturday in December, the heavyweight slugfest between Ohio's two most-recently dominant small-ish school programs has been on fans' mental calendars for seven months.
Credit that to the dominance of Marion, the OHSAA state record-holder with now 13 state titles after its 14-6 survival of Kirtland, which was chasing its seventh championship since 2011 in its sixth straight appearance in a title game.
"I think in May, when they put out the divisions this year, and we went from Seven to Six and they went from Five to Six, I think (we) took notice of that and said, 'Well, if we want to win a gold trophy this year, we're going to have to beat Kirtland in the end,' " Marion Local coach Tim Goodwin said.
That's interesting, because elsewhere in Division VI this season also loomed Carey, the undefeated defending champion from last season, and Coldwater, the reigning Division VI runner-up.
Who would it ultimately be, standing on the Pro Football Hall of Fame logo at Tom Benson Stadium, hoisting the title trophy?
Despite Division VI's top two teams returning plenty of talent, the smart money fell on Marion and Kirtland, and sure enough that's how it worked out after Carey suffered an early-Playoff upset and Coldwater lost dynamic dual-threat QB Marcel Blasingame to a broken leg that, even though he came back to play on it, limited him severely.
But make no mistake, Marion Local and Kirtland earned their way to the final Saturday of the season, with the Flyers pitching an incredible (and record-setting) 11 shutouts and the Hornets blasting through another unbeaten season with six shutouts.
"We knew they were on the other side of the bracket, so we had to take care of our business," Kirtland coach Tiger LaVerde said. "We knew if we did that, we'd probably have a shot at them."
Kirtland scored fewer than 30 points only once all season, and Marion fell shy of putting at least 27 on the board only once itself.
But Saturday, as morning turned to afternoon, this epic showdown became all about field position, wind and who would make a break, or break from the challenge the other inflicted.
As it played out in front of him, Goodwin was an interesting case study, walking the Marion sideline.
Always prone to mild-mannered in-game stewardship of his team, his demeanor never changed amid the toughest matchup of this season or last.
Marion has now won 32 straight games, twice going 16-0 to win back-to-back state titles in Division VII in 2021 and now Division VI this year, without really being challenged much in the process.
All that changed with Kirtland on the other sideline, which figured to be the case given the Hornets' two victories over Marion in their three previous championship games.
But as Marion committed uncharacteristic errors – going scoreless on an early possession that commenced at the Kirtland 30, later fumbling away any chance to convert a fourth-and-goal at the five-yard line, repeated illegal procedure penalties that aborted offensive possessions, throwing two interceptions, losing a fumble at its 22, punting once for just eight yards, and torching a put-the-game-away scoring chance with an intentional grounding infraction – Goodwin took it all in as if he were watching a Hallmark Christmas movie in front of a fire with a warm mug of cocoa in his hands.
That is to say, he enjoyed every minute, even if at first he wouldn't admit it.
"I don't know why that is exactly," he said of Marion's repeated mistakes. "But part of it is that we were being challenged to the hilt. Their defense is just flying (and causing) our (illegal) procedures. We were just being challenged to the Nth degree. (I) still didn't like it, though.
"We got a defensive touchdown and their one touchdown came on a short field after a fumble recovery, so it was a tough battle," Goodwin continued, pausing to look down at the final statistics. "I didn't think it was this tough, but we had 142 yards? Holy cow! I didn't think it was that bad. I thought we could have been bumping 200."
Not even close, nor did Kirtland, which finished with 161 yards and was forced into trying to be something no other opponent stressed the Hornets to attempt.
"We threw 18 passes tonight, which is more than we've thrown all year," LaVerde said. "We got ourselves behind the sticks. We couldn't get four (yards), four (yards) and four (yards). They're too good. They're fast and physical and well-coached."
And, he left out, very experienced, particularly at linebacker, where Drew Seitz is a four-year starter and Darren Meier and Aidan Eifert are three-year starters.
"Some years you have the bullets to fire," Goodwin said. "Some years, you kinda have to dance around some issues that you have."
This Marion squad didn't excel – or didn't have to excel – throwing the ball offensively. Neither did last season's edition, until it had to do so in the state title game, and did so with aplomb to rout Newark Catholic.
The wind simply would not allow that Saturday, so Goodwin stayed patient, waiting for his offense to capitalize on its numerous opportunities, all the while trusting his defense to tighten its season-long vice on LaVerde's freshman son, Jake, quarterbacking the Hornets.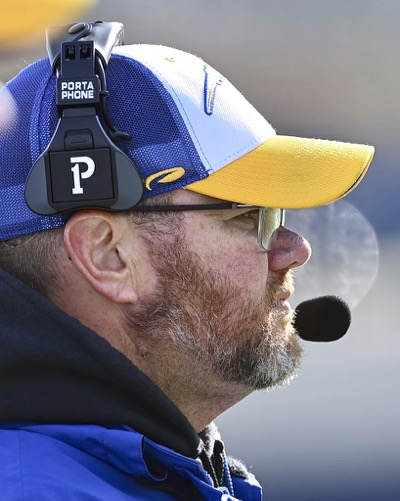 He got his team into the end zone late in the third quarter, making Kirtland the first team to score a touchdown against Marion in 11 weeks, dating to a Sept. 23 win over Versailles.
Read that again…the first team to score a touchdown against Marion…in 11 weeks!
Once that occurred, Marion never allowed Kirtland an advance past midfield, putting another trophy in the case in a fashion Goodwin will cherish, if not more, than certainly differently than the dozen that came before.
"This was a blast today, because they competed," he said of Kirtland. "This was way more fun than going out here, drilling somebody and putting a running clock on. Now, that's easy for me to say because we had the 14 and they had the six. I realize that. But that's what we live for…the competition."