Harrassed in the pocket all night, Bryce Schondelmyer willed Springfield within striking distance entering the final quarter before Lakewood St. Edward defended its Division I state championship with a second straight triumph over the Wildcats.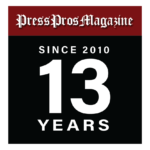 Canton, OH – Bryce Schondelmyer had everything in the proper perspective immediately after the Division I state football championship game Friday night.
If only he'd been afforded the same luxury during, the outcome might have been dramatically different.
But with no time to survey the field, no time to spy the open receiver among the array of talented options he had during Springfield's advance to a second straight title game, Schondelmeyer and the Wildcats were – literally and figuratively – scrambling all night in a 28-14 loss to Lakewood St. Edward.
"It was an unbelievable experience, this whole week," said Schondelmeyer, who played his first three seasons at Arcanum before his family moved to Springfield this past summer. "Everything was awesome.
"Obviously, we came up short, so it's going to be hard to watch the tape and look at the things I maybe could have done differently. But I'm happy, happy these guys accepted me. This loss is tough."
Sacked nine times, and chased out of the pocket numerous others on mostly modest gains, Schondelmyer willed the Wildcats within 21-14 of the parochial powerhouse until the defending champs' went on a final clinching touchdown drive in the fourth quarter.
"As far as their defensive line, it was definitely the best front we've seen," Schondelmyer said. "There were times I probably could have done something different, gotten the ball out quicker, taken a deeper drop or some other stuff like that.
"There were a few times that our guys got beaten up front, and that's going to happen. At the end of the day, they just made a few more plays than we did and that's why they won."
Schondelmyer's 206 passing yards on 21-of-30 accuracy told the story of the short, desperate adjustments Springfield (13-2) had to make to survive Ed's relentless rush in a rematch of the 2021 title game that went to the Eagles, 23-13.
With at least three Division I commits at wide receiver, the Wildcats put up 40 points and over 400 yards of offense routinely this season, and Schondelmyer averaged well north of 300 yards per-game passing.
But downfield options didn't get time to develop against Ed's Wyatt Gedeon and Michael Kilbane, a pair of defensive ends who had their way with a Springfield front that starts three sophomores and one freshman.
"They did a good job controlling the line of scrimmage on both sides," Springfield coach Maurice Douglass said. "We picked the wrong night to show our youth."
Things started swimmingly for Springfield, with a stop on a curious Eagles' fourth-down gamble at their 39 on the game's first series and the Wildcats' subsequent eight-play march to Jayvin Norman's one-yard TD run just seven minutes in.
But after that, St. Ed's physical dominance up front began causing problems.
Schondelmyer couldn't find time to throw when the Wildcats had the ball, and they couldn't find the ball on defense thanks to the crafty ball-handling of Ed's QB Casey Bullock.
Time after time, Bullock found freedom off the line of scrimmage by pulling the ball from tailback Marvin Bell's midsection, unbeknownst to Springfield's defenders.
Bullock finished with 101 yards rushing and Bell had 170, despite missing all of the third quarter while getting checked for a concussion. Together, they scored three of the Eagles' touchdowns.
"We feel we are one of the best in the state at that very thing," Ed's coach Tom Lombardo said of his team's Zone Read expertise. "They really ride that ball in there and read that defensive end. There were a couple of times, I wasn't sure who had the ball."
The first indication the sleight-of-hand would torment the Wildcats came when Bullock roamed free around right end for 17 yards on Ed's second possession.
He ended that with a 24-yard touchdown pass to Kyan Mason, who broke open slanting over the middle, gathering the ball at the five and stepping out of a tackle to score. 
The first of three first-half sacks of Schondelmyer handed possession back to the Eagles shortly thereafter, with Bullock and Bell doing almost all the work on the ground before Bullock's three-yard run moved the margin to 14-7 at 10:28 of the second quarter.
It climbed to 21-6 one minute before the half ended when Bell leaped across from the one to finish an 87-yard drive. Bell ran for 50 of those yards on eight tries on that march, frequently finding room on the right side behind 6-7, 315-pound tackle Ben Roebuck.
Hanging on by a thread at the break, Springfield suffered another gut punch when Anthony Brown lost a fumble at midfield after a 30-yard catch on the Wildcats' possession immediately after play resumed.
But after stopping Ed's at their 30, the Wildcats went on a scoring drive that cut the deficit in half and could suffice as an audition if Schondelmyer ever wants to perform as an escape artist in Vegas.
He was sacked four times on the march, chased for a two-yard gain on what would have been a fifth, and converted six third downs to get the Wildcats in the end zone.
Among the highlights…Schondelmyer converted a third-and-19 predicament at the Ed's 36 with a 19-yard scramble, then converted a third-and-goal from the 17 with a perfect strike to Brown as a barely-late-arriving defender smashed Schondelmyer to the turf.
But as hard as Springfield worked to get close, Ed's responded almost effortlessly to regain its two-score lead.
Bell returned amid a 10-play drive that gained momentum when Bullock found Grady Lentz-Pieffer for 16 yards on third-and-7 at the Eagles' 36.
"Our safety ran the wrong coverage," Douglass said. "…He was playing a different coverage. He said he didn't get the call. That play gave them an extra first down and a second wind. You can't do that in this game."
From there, Ed's went in chunks of yards on consecutive plays…Bell for 12, Bullock for 10, a 25-yard strike to Mason and Bell's one-yard TD at 8:06.
The Wildcats tried to rally, but their final gasp ran out of downs at the Ed's 22 with 4:11 to play when Schondelmyer's completion to Brown came up one yard shy of a first down and of completing the dream of winning a state championship.
"I know it's hard to handle right now, but he had such a great year," Douglass said of Schondelmyer. "Coming in behind Te'Sean Smoot, who was runner-up for Mr. Football in the State of Ohio, coming in and putting up the numbers they were all able to put up as a whole, because it took the whole group. It's a testament to those guys and the things that their hard work was able to do for us."