New Bremen took a lot of teams by surprise when it rolled to the 2020 Division VII state championship, but if anyone thought that was a fluke, the Cardinals proved otherwise Saturday with yet another running-clock domination and another title triumph.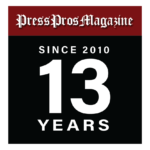 Canton, OH – Chris Schmidt stood in front of his locker, quivering in coaching gear still damp from the Gatorade shower he'd taken maybe 30 minutes before as the final seconds ticked off his New Bremen Cardinals' 38-6 domination of Warren JFK in the Division VII state championship game.
Or, maybe it wasn't the vestiges of the ice bath that caused Schmidt to shiver.
Maybe it was something else…perhaps the heady notion that this was the second state title for his team in just three years, both by running clock domination of JFK.
Or, if not that, what might have caused Schmidt to shake – his head in amazement, if not his body in the frigid clothing still affixed to him – could have been the images of quarterback David Homan doing Herculean things as the trigger man for the Cardinals' offense.
"He's a special player and he showed it again today," Schmidt said of the senior who scored four touchdowns in the rout. "I think he's the best all-around player in Division VII, maybe in a lot of divisions."
It's been that way all throughout the season — the last two seasons, really — but particularly this post-season, when Homan produced exactly what New Bremen needed under the ever-looming duress of elimination.
 Remember, New Bremen was "just" the fifth seed in its region.
It pushed aside No. 4 Riverside, No. 2 Fort Loramie and No. 1 Ansonia to get to the state semifinals, where it overcame a 14-0 deficit to defeat Lima Central Catholic and get the chance to play JFK, which ended the season ranked No. 1 in the final Associated Press poll.
Amid all those daunting challenges, New Bremen had something better than a favorable seed or a fearsome ranking.
The Cardinals had David Homan and a band of seniors who believed in both him and themselves.
"I can't really explain how I do it," Homan said of his 234 rushing yards, which included 67- and 41-yard breakaways in the first half that staked New Bremen to a 24-0 halftime lead. "I just try to go out and play for my teammates, because I know they're playing for me."
They sure do, and many of them play on both sides of the ball.
Defensively, the Cardinals are nimble, fast and tough, as evidenced by the leaping fourth-quarter interception of defensive end Carter Elking, who rose with arms up to block a pass and had the dexterity to come down with it in his grasp.
On offense, it's not just Homan that New Bremen can count on. There's an athletic line that plays as one, dangerous tailback Hunter Schaefer and capable receivers Ben Sailer, Aaron Thieman, Grant Dicke or Aaron Poeppelman.
Wait…Aaron Poeppelman?
Yes, the Cardinals senior backup tight end, who stood on the sidelines when Homan faced third-and-17 on the game's first series.
Suddenly, Sailer – who caught consequential pass after consequential pass in the last-minute upset of Ansonia in the regional semifinals – ran off the field with an equipment issue.
Poeppelman ran on and ran the route called in the huddle…only with Homan's improvisational skills, it's always best to, well, adapt.
Sure enough, Homan scrambled away from pressure toward the right sideline with no apparent options, then did what a quarterback should never do – throw late over the middle.
To Poeppelman, for 22 yards and a first down.
It was early, only the game's third play, but if you want a microcosm of the outcome, that was it – Homan orchestrating, his teammates following and New Bremen delivering under pressure to frustrate an opponent and fracture its confidence.
Homan would convert the next down-and-distance predicament with called runs on third and fourth down, then make nine yards on a third-and-eight from the JFK 25.
Schaefer scored on the next play, at 6:05 of the first quarter, and the escalation was in process.
"He plays with a lot of grit," JFK coach Domenic Prologo said of Homan. "He kinda wills his team to victory. He's tough to get on the ground. You have to get to his legs to do that. He's a heck of an athlete."
Homan didn't do everything right, of course. He fumbled a punt right after Schaefer scored, giving JFK a possession at the New Bremen 22.
But the Cardinals held, took the ball at their own 13 and Homan was off on his 67-yard TD sprint soon afterward.
Later in the half, Evan Eyink's interception blunted a JFK drive across midfield and two plays later, Homan was gone for his 41-yard score.
But the Cardinals weren't quite done.
They took over at their 25 with two minutes left, and Homan capably spread the wealth to Thieman, Sailer and Schaefer to reach the Kennedy 18 with six seconds left.
Schaefer drilled a 35-yard field goal into the wind as the half ended for a 24-0 lead, leaving the only mystery whether New Bremen would eventually exceed the 30-point lead barrier and inflict a running clock on JFK for the second time in three seasons.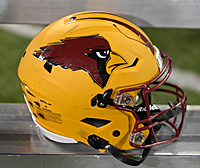 They did that when Homan scored twice more, just 17 seconds apart, late in the third quarter.
Homan's seven-yard run that boosted the lead to 31-6 at 1:57 was the first punch in that one-two combination. The Cardinals inflicted the second blow by forcing a fumble on the ensuing kickoff, which linebacker Dylan Bambauer recovered. That gave Homan and the offense another another opportunity, which they immediately redeemed with his 27-yard touchdown run on the first snap following the turnover.
That put the clock in fast motion and left Schmidt a fourth quarter to reflect, while still stewarding the final 12 minutes on New Bremen's second state title this fall sports season – joining the Cardinals' title in girls volleyball – and the Midwest Athletic Conference's second title of the day.
The first came Saturday morning, with Marion Local's 14-6 victory over Kirtland in the Division VI championship game, giving the MAC at least one football title in 13 of the past 14 seasons.
When New Bremen book-ended the Flyers' triumph with another crown a few hours later, it raised the MAC's collective record in state championship football games to 21-8 over the last 14 years.
Do the math…that's an average of more than two state championship game appearances a season for nearly the last decade and a half.
New Bremen now has two of those trophies, of course, which might be another reason Schmidt was shivering in the aftermath of the Gatorade shower and post-game interviews.
"It's one of those things where I almost have to pinch myself," he said. "To be here a second time…I mean, two years ago (amid COVID) was awesome. It was such a great memory.
"But there was a thought that I'd like to get back so everyone in our community could come out and see us play. I didn't want to be greedy or unappreciative. I hope it doesn't come off that way. For it to happen, I just feel tremendously blessed."