With no margin for error offensively, New Bremen recovered from a 14-0 deficit to score every single time it touched the ball thereafter until a game-ending kneel-down clinched its advance to a second Division VII state championship game in three seasons.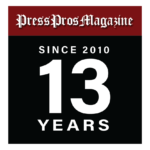 Wapakoneta, OH – It's tempting to attribute New Bremen's indefatigable offensive execution to the lingering confidence gathered during its 2020 advance to the school's first state football championship.
But while some vestiges from that Playoff push may be sustaining a select few Cardinals, it's the sour taste of post-season failure that's driven this team back to the brink of another title.
Pressured to score on virtually every possession after falling behind Lima Central Catholic 14-0, New Bremen rattled off six touchdowns and a field goal on its next seven drives to grab a 42-34 triumph Saturday night in a Division VII state semifinal at Harmon Field.
"Last year, we lost in the second round to Tri-Village and we were really disappointed," New Bremen coach Chris Schmidt said. "We were up big, didn't play well in the second half and they came back and beat us. That feeling really stuck with this group, and we wanted to make sure that however far we went, we were going to do everything we could to not walk away with that same feeling."
The only place the Cardinals are going now is Canton, to Tom Benson Hall of Fame Stadium, where they will play Warren JFK (14-1) in the Division VII state title game at 3 p.m. Saturday.
JFK is the team New Bremen (12-3) defeated to win its first title two years ago, just as LCC was the team New Bremen edged in the state semis to get there.
Quarterback David Homan completed 14-of-18 passes for 218 yards and two scores, while rushing 27 times for 207 yards and one TD to get the Cardinals the victory.
Homan had plenty of help from running back Hunter Schaefer (145 rushing yard, three TDs) and receivers Aaron Thieman (3 catches, 46 yards, 2 TDs) and Ben Sailer (six catches, 124 yards).
The Cardinals' need for a Canton itinerary looked bleak when LCC blew in front, 14-0, behind junior quarterback Carson Parker, who would torment the New Bremen defense with 239 passing yards and 110 rushing yards.
"It was definitely a shootout," said Schaefer, whose 80-yard scoring run with 6:14 to play gave New Bremen a two-score margin. "It came down to who could get enough stops, and we were lucky enough to do that."
Not for awhile, since LCC drove 99 and 75 yards for touchdowns in the first quarter to jump in front.
Sailer's 46-yard catch on third-and-five got the Cardinals going early in the second quarter and Schaefer put them on the board with a four-yard run.
But, as he would do all night, Parker struck back quickly, leading his team 80 yards in just five plays, scoring on a 31-yard run that made it, 21-6.
"We knew coming in he was a really, really good ballplayer," Schmidt said. "Seeing him up close and personal, wow, he's really good. We saw two great quarterbacks tonight."
Indeed, for while Parker amassed 349 yards total offense and accounted for four TDs, Homan managed to outduel him with 419 offensive yards, a key punt return of 29 yards, a crucial blocked extra-point and a team-high seven tackles on defense.
"Those are two outstanding quarterbacks," Lima Central Catholic coach Scott Palte said. "Two guys who put their teams on their shoulders and led them up and down the field. The defenses were in trouble tonight, because both of them played really well."
Homan's 36-yard pass to Sailer and Schaefer's 26-yard run helped New Bremen cut into the 21-6 deficit and close within 21-13 on Schaefer's three-yard run with 4:23 left in the half.
Then the Cardinals borrowed a page from their regional semifinal win over top-seeded Ansonia, closing the half with points, and using that as a jump-start for more points to begin the third quarter.
Homan's 29-yard punt return set up Schaefer's 20-yard field goal to end the half, then New Bremen took its first lead with a touchdown drive to start the second half.
"They took it right to us and scored in four or five plays," Palte said. "That put us on our heels . That was big, the way they sent the tone. I thought if we could get a stop and get the ball back, we could get a two-score lead. But they did a good job of making some adjustments."
Homan's completion of 27 yards to Thieman started the march, then he lofted a perfect throw to Sailer on third-and-seven that Sailer circled around the defender and caught, despite being held.
A quick-snap on the heels of that 18-yard gain left Thieman alone in the right flat for the go-ahead TD, 22-21, once LCC blocked the point-after.
Parker did virtually all the heavy lifting on a Thunderbirds' counter-punch scoring drive of 73 yards, which he capped with a one-yard run.
But New Bremen – scoring on every drive, as it did to keep pace with Ansonia two weeks ago – used Homan's 49-yard scramble and subsequent six-yard scoring run to reclaim control, 29-28.
"If you're looking for a quarterback who has perfect technique, Dave's not necessarily a kid you're going to watch," Schmidt said. "But his leadership and ultra-competitiveness I wouldn't take anybody else."
Homan showed why his coach holds him in that esteem after New Bremen's defense forced a punt and took over at its 45.
On the first play of the fourth quarter, facing third-and-15 from the LCC 26, Homan dropped back, stepped up into the pocket, rolled left away from pressure, ran back to the right with defenders in pursuit and threw across his body to Dylan Bambauer.
His diving catch for 14 yards positioned Homan to get the first down with a two-yard carry on fourth-and-one. Homan scored two plays later, but officials called that back and assessed a five-yard penalty for the New Bremen lineman pushing Homan into the end zone from the one.
Undaunted, he found Thieman for a five-yard scoring pass on third-and-goal and Schaefer's kick sent the lead to 36-28.
LCC elected to punt from mid-field, facing fourth-and-six, with 6:27 left. It nearly pinned New Bremen at the one-yard line, but lost track of the football while waiting to down it as it rolled into the end zone.
The Cardinals took over at the 20, where Schaefer burst through a hole on the right side and sped all the way to the end zone to supply a 42-28 lead.
"Dylan Bambauer did a great job leading up into the hole and got a hook on the defender,"
 Schaefer said. "Our wide receiver (Grant Dicke) really sealed the deal with their outside defender. He tried to spin back in, but it was too late. I was off to the races."
Parker hit Matthew Quatman with a 65-yard pass to the New Bremen five on LCC's first play after Schaefer's TD. Parker then bulled across from the four, and even when Homan broke through to block the extra-point, the Thunderbirds were within eight, 42-34, with 4:38 to play.
Homan, though, made sure LCC wouldn't get the ball back. His running, and an 18-yard reverse from Thieman, supplied the necessary first downs to maintain possession until the clock ran out.
"We were up against it early, but we were able to weather the storm," Schmidt said. "It's another game that comes down to the end and we were just able to hang on and make enough plays to win it. It was never easy, but somehow we found a way."
Listen to the Bruce Hooley Show from 11 a.m. to 1 p.m. Monday-Friday on 94.5 FM Dayton or 98.9 FM Columbus.