Columbus Grove made it tough…or, Marion Local took its time to enjoy the moment, finally wearing down the Bulldogs in the second half to advance to next week's Division VI title game with anticipated Kirtland!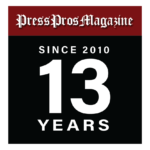 Lima, OH – There was some speculation afterwards as to whether Columbus Grove (12-3) was that stubborn…or Marion Local (15-0) was simply taking the opportunity to enjoy the ride during Saturday night's 27-0 Div. VI state semi-final win over the Bulldogs – to punch their ticket for one more title appearance, their 16th, in next week's OHSAA football finals in Canton.
After all, Columbus Grove had lost to Allen East earlier in the year, 7-0, and last week Marion Local had wiped out East in the regional finals, 55-0.
Enough, in fact, to lead one veteran writer afterwards to ask Marion coach Tim Goodwin if the trip to Stark County (or Columbus, in the case of recent tournaments played in Ohio Stadium)…if it ever gets old, routine.  It got Goodwin's attention, and an immediate answer.
"Ah, c'mon,"  said Goodwin, sounding a lot like a parody of the familiar Monday Night Football feature.  "If you're a competitor it never gets old.  But the longer you play in this thing the tougher [the competition] gets.  Sometimes it just takes a little longer to figure things out."
In a nutshell that's exactly what the 1,500 (or so) chilled souls saw that showed up to watch at Lima Stadium Saturday night…a scoreless first quarter, and eight minutes of drag in a scoreless second quarter until Marion Local finally utilized field position to score with 2:39 remaining before the half on a screen pass from Tate Hess to Kyle Otte – Otte weaving his way for 17 yards, untouched, through the Columbus Grove secondary to cross the line and put Marion ahead 7-0.  That was the sum total of the scoring for 24 minutes of 'probing' football.
Columbus Grove, who had no passing game, tried left, center, and right to run the ball against the stout Marion pursuit, whose modus operandi all season has been a torturous defense that makes it tough to get outside and turn it upfield.  Columbus Grove did its best to beat the house's hand, with quick and shifty backs Trenton Barraza and Brenton Renner, but the Flyer pursuit was always there.  Barraza finally did eclipse the 100-yard mark in rushing for the game, but it took a lot of time and a lot of beating to do it.
The odds, they knew, were long. Desperate times require desperate measures, to the extent of Columbus Grove going for a fourth and one from their own 14 yard line in the first quarter…and barely making it, a small win of sorts.  But the Bulldogs never threatened the Marion goal line.
Marion, for its part, tried a lot of the same run game with Kyle Otte, Drew Lause, and Drew Seitz (all 6'2″ and 225 lbs of him) and a game plan that would have made former Southern Cal coach John McKay smile – student body left, student body right, and right up the middle.  Obviously, Goodwin and company wanted to show as little as possible to a certain team from Lake County prior to next week's title matchup;  but Columbus Grove showed spirited pursuit of its own, ran down a lot of those sweeps and counter plays, and finally made Marion resort to a deeper page from the playbook on Otte's touchdown prior to halftime.
"It was tough sleddin', until we could figure some things out,"  Goodwin contended afterwards.   "We have the ability to wear teams down in the second half, especially when we get up two scores, and teams know that it's going to be tough against our defense.  It just wears on them mentally.
"Grove played hard the entire game.  They have nothing to be ashamed about.  Every score is important in a game like this, Tate (Hess) executed well on that drive before the half, and we needed that, for sure."
They made everyone more comfortable at 4:01 of the third quarter when Hess again found Otte on that same pass play to score from 13 yards out and go out 13-0 – Carson Bills' extra point attempt grazing the outside of the left upright.
And on an ensuing possession Hess finally showed the extended Marion passing game, finding Nate Buschur down the sideline for a contested 71-yard grab and score to push the deficit to 20-0.  There's a lot of industry and business going on around Spartan Stadium, in Lima – a lot of things lettin' off steam.  But that hissing sound you heard when Buschur crossed the goal line was simply the air leaking out of the Columbus Grove balloon across the way.  The 'wear' had set in mentally, and they knew…just a matter of time.
Twelve minutes, in fact, as Grove stubbornly continued to run the football;  and Marion, just as determined, honed their advantage of pursuit and tough tackling – a dress rehearsal, if you will.
Add to that…the re-emergence of running back/linebacker Darren Meier, who sat out last week's game with Allen East with a bruised shoulder suffered in the win three weeks ago over Versailles.  Meier, who Goodwin has previously called at times his best player, showed no ill effects – running, tackling – vintage Marion Local football.
With 53 seconds remaining Tate Hess again engineered a long, clock-killing drive to the ten yard line where Drew Seitz administered the last rites, scoring on a plowing drive through the heart of Grove's line to close the scoring at 27-0.  And perhaps most sufficiently, Marion's senior quaterback, who has steadily matriculated into the position during the course of 15 wins (and 11 shutouts), showed that he had everything Goodwin wanted to see going into what will be next week's much anticipated matchup with Kirtland – their fourth, all-time – to decide the 2022 Division VI champion.
"You're going against good teams now, and we're not hanging our heads about any win.  It's not going to be easy, and we're going to have a great game next week.
"It's easy when you can run the ball six or seven yards against an opponent, but it's tougher when you know you can't waste a play.  Everything you run has to be good, and I'm sure that's how teams feel going against us. "
Marion finished with 305 yards of total offense – 185 on the ground and 120 through the air.  The Flyers' defense held Columbus Grove to a little more than half that total, nearly all of it on the ground.
On the other side of the state six-time champion Kirtland advanced a bit more easily with a 41-6 win over previously once-beaten Fort Frye, their size and relentless ground game too much for the Cadets from Washington County.
And next week's title matchup has been one of season-long anticipation since it was announced that Marion would move up a division this year, and Kirtland would go down from V to VI.  They have met three times previously, with Kirtland holding a 2-1 advantage with wins in 2018 (16-7) and 2015 (22-20), while Marion claimed the 2017 Division VI title with a 34-11 win over the Hornets.
Something, for sure, is about to give.  Marion now owns 11 shutouts in his 15 wins, and has surrendered just 33 points, a school record.
Kirtland has six shutouts in its 15 wins, and has given opponents just 62 points, the high being 16 in a 36-16 win over Perry High School on September 30.
So…how anticipated?
C'mon man!