Buoyed by its huge offensive and defensive fronts, defending state champion Lakewood St. Edward methodically took apart Gahanna, ending the Lions' historic season, which included their first OCC title in 20 years and first final four since 1982.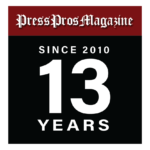 Mansfield, OH – While many of his teammates shared final hugs and cries together after a painful 31-7 loss to perennial juggernaut Lakewood St. Edward in a Division I state semifinal Friday, Gahanna senior linebacker/punter Dylan Scott tried to put the events of the past three hours – and the past four months – into proper perspective.
"Well, it didn't end like we wanted it to, but I look at it this way," Scott said. "We beat Pickerington Central twice, which crowned us as the dog (in central Ohio). We beat New Albany twice. We won our first OCC in 20 years and we won our first regional title in 40 years.
"We've always said it's going to take a great team to beat us. Let's face it: That team we played tonight was just that much better than us, and I can live with that. We're going to remember the historic things we achieved a lot longer than what happened in this one game."
Top-ranked in the final state poll and defending state champion, St. Edward – boasting NFL-sized players along both lines – simply overpowered and out-disciplined an athletic Gahanna team that damaged its chances with critical mistakes.
'We had our chances, but those two turnovers in the first half (three overall) really came back to bite us," Golden Lions coach Bruce Ward said. "We moved the ball pretty well at times, but didn't execute in the scoring zone. You can't make mistakes against this caliber of team and expect to win."
St. Edward (14-1) will face Springfield (13-1) at 7:30 p.m. Friday at Tom Benson Hall of Fame Stadium in Canton in a rematch of the 2021 title game, won by the Eagles 23-13. St. Ed's will be seeking a sixth title, all since 2010. It has an astounding 41-7 postseason record since then, which undoubtedly played to its advantage.
"I love to play that kind of competition," junior defensive lineman Elijah King said. "Honestly, I came in thinking they'd be this and that because of everything they've achieved in the past and all their scores this year. After we got our footing, I think we realized we could play with them, but those early turnovers really got us behind the 8-ball."
St. Edward marched 81 yards on 10 plays in its opening series, converting three times on third down and once on fourth down. Facing an all-out blitz, dual threat quarterback Casey Bullock barely released a 42-yard bomb to Kyan Mason, who outmaneuvered defender Makai Shahid and raced to the end zone.
Shahid got his redemption late in the first quarter, intercepting Bullock near midfield.
Gahanna (13-2) drove deep into St. Edward territory, but facing third-and-3 at the 10, a shotgun snap sailed over the head of quarterback Brennen Ward and Eagles linebacker Jonathan Slaper recovered.
On the Lions' next series, Slaper intercepted Ward near midfield.
With just 1:16 left in the half, Gahanna was victimized by another uncharacteristic mistake. Bullock found tight end Michael Balogh wide open over the middle of the field and he rumbled 48 yards to the end zone.
"That was a big communications breakdown on our part," Bruce Ward said. "That should never happen."
St. Edward tacked on a field goal to make it 17-0 midway through the third quarter.
Some observers scratched their heads when Ward opted to punt on fourth-and-1 near midfield and then did so again on fourth-and-2 early at Gahanna's own 28 early in the fourth quarter.
"We called time out before that first fourth-down play with the intention of going for it, but we messed up our personnel and decided to go ahead and try to pin them back deep and take our chances later," he said. 
Those opportunities, however, didn't materialize against a defense allowing just 10.5 points per game against perhaps the toughest schedule in the state.
Senior running back Marvin Bell, who racked up 133 yards on 26 carries, scored on an 11-yard run – his 26th TD of the season.
Gahanna got on the board with 5:42 left when Ward hit Ty Staples on a 16-yard TD pass. A Ward-to-Shahid pass of 47 yards set up the score.
St. Edward tacked on another score with 2:05 remaining on a 34-yard TD run by Josh Gribble.
Bullock passed for 140 yards and two scores and added 63 yards rushing, mostly on run-pass option dashes right up the middle.
"When we scouted them, they were 85 percent run on that play, but when you get him out behind 6-foot-7, 255-pound guys, it's hard to bring him down," Bruce Ward said. "They're got a lot of big boys on both sides of the ball and it's hard to move them out of the way."
Gahanna star running back Diore Hubbard, an Ohio Mr. Football finalist who came in with over 2,300 yards and 29 TDs, was limited to a season-low 68 yards on 15 carries.
St. Edward outgained Gahanna 394-231 in total yardage. The Eagles amassed 254 yards on the ground behind a monstrous line averaging 6-5 and 300 pounds per man.
In its past three state title runs, St. Edward has eliminated five central Ohio teams, including Upper Arlington (16-10) in a 2021 state semifinal.
"We're down in the dumps right now, but what I will take away from this season is all the love and togetherness we shared as a team and the grit we showed through many challenges we faced," King said. "I'm so proud of these guys."