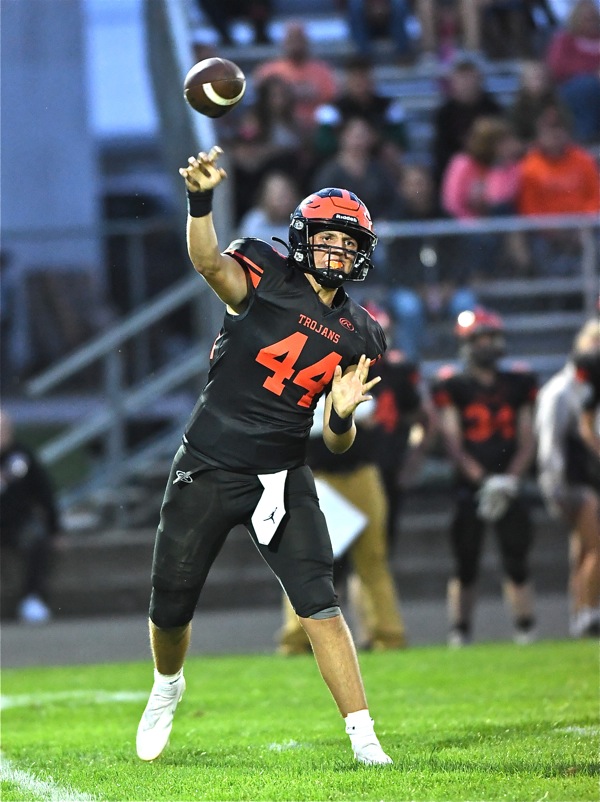 Springfield's Bryce Schondelmyer (shown last year playing for Arcanum), threw for 3,298 yards and 45 touchdowns before transferring to the Division I Wildcats.  He plays in the Div. I state semi-final game tonight, against Moeller, in Piqua.  (Press Pros Feature Photos)
Among the week's most interesting sports highlights…consider the risk played by Springfield quarterback Bryce Schondelmyer, who left Arcanum for Springfield and a chance to show people that his skills were good enough to play against, and beat, anyone…if he had the chance.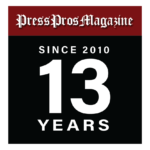 Piqua, OH – Springfield quarterback Bryce Schondelmyer never made it public that he wanted a bigger football challenge than his three years as quarterback of the Arcanum Trojans (Div. VI, Western Ohio Athletic Conference) could provide.
He never campaigned, never touted himself on social media, and never put himself above teammates and the goal of simply winning games at Arcanum.  He let his strong right arm, his 6'3″ height, and 200 pounds do that for him.
But when we wrote about the affable Schondelmyer prior to his junior year at Arcanum, there were readers who wrote to us and were kind enough to remind, "He's playing against Mississinawa and National Trail."
He finished that junior season with 3,298 yards and 45 passing touchdowns, marks that won't soon be threatened in the fledgling Western Ohio Athletic Conference, a largely Division VI and VII conference made up of schools from the now abandoned Cross County Conference, who split away after the 2020 season.  And Schondelmyer believed he was faced with a similar decision – a personal decision if he was serious about playing football beyond graduation.  How to get taken more seriously as a high school quarterback who could throw the ball 70 yards and put up those kind of numbers?  He chose to transfer to Springfield and play for the offense-happy Wildcats of the Div. I Greater Western Ohio Conference, coached by former Trotwood mentor, Maurice Douglass.
The move has been a good one for Schondelmyer, who currently stands at 4,120 yards passing for the Wildcats, and has guided Springfield to a 12-1 mark and 480 points scored against the likes of Wayne, Trootwood, Centerville, and Miamisburg…their lone loss coming against Kettering Fairmont, 24-21, on September 23.  His 4,120 yards includes an average of 319 yards per game, and he's thrown for 43 touchdowns.
Of course, for every glass half full, there's a consequence.  The Arcanum Trojans he left behind this year fell to a record of 3-7 and didn't make the post-season playoffs, leaving some to question the motives of both quarterback and family, who sold their house and moved to Springfield.  Schondelmyer's father, Jason, was the long-time coach of the Trojans and he resigned that position prior to the 2022 season.
But in a day where there's no guarantee that opportunity is going to find you, regardless of your talent, few can actually blame the talented and personable Schondelmyer for taking the gamble of betting on himself.  Seeking to prove that he's good enough to play at the next level, he's now within a win tonight against #1 seed Moeller of taking Springfield back to the OHSAA Division I title game next week in Canton.  Springfield lost last year to Lakewood St. Ed, 23-13.
What he's done is simply this.  When people say you're not good enough based on the numbers against your present competition, modern culture dictates that you go pound on some bigger doors – seek a better job, in adult vernacular.  His current prospects to play next year include names like Dayton, Valparaiso, and a couple of mildly-interested Mid American Conference looks.
But there are no bigger doors than that of Archbishop Moeller in Ohio football, so if he can pull off a win tonight at Piqua's Alexander Stadium…Bryce Schondelmyer is going to get exactly the kind of consideration on the big stage in Canton next week that he would not have gotten at Arcanum.  In this day and age, how can you not appreciate that – a gamble paying off?
And…don't we like to say we enjoy good things happening to good people?  Well, there's no better kid, or one more committed, than Bryce Schondelmyer.
It has been painful this week to watch the highly-touted Dayton basketball Flyers, who struggled to score in Wednesdays loss to Wisconsin…and against North Carolina State Thursday looked like they were several good scrimmages short of being ready to begin the 2022-'23 NCAA campaign.  The trouble is, the rest of the NCAA started three weeks ago.
Their problem(s)?
They haven't had a healthy point guard, Malachi Smith, who's been out nursing an injury.  Smith is back this week, but he's not the Malachi that people talked about last year.  Now he's just Scootchie Smith's brother.
They haven't shot the ball well, and as Hal McCoy wrote about earlier in the week, resemble a team that's simply looking for the rhythm of when to take a good shot.  And who takes it?
Center DaRon Holmes II has been on the outside of the paint, looking in, compared to the force he exhibited around the rim last year – offense and defense.
Shooter Koby Brea was simply too sick with an undisclosed illness to even make the trip to the Bahamas.
And frankly, option (D) – all of the above, meaning they lack the kind of swag and confidence that comes from playing in front of that vulturous culture of the crowd back at UD Arena.
The cure?
The tincture of time.  Smith needs to play.  Brea needs to be available.  And the likes of Mustapha Amzil, Holmes, R.J. Blakney need to return to their lanes and play the kind of supportive basketball that spurred all this out-of-the-banks optimism.  People were talking about them being a Top 20 team just two weeks ago.
Now it's being asked if they can even beat a Power Five team – any Power Five team.  Suddenly, at 3-3, they get one more chance this afternoon in a meeting with Brigham Young, which won't get you style points if you win.  But it might soothe some hurt feelings before they get that next Power Five opportunity next week, when Virginia Tech hosts the Flyers in Blacksburg.
In the meantime, there are plenty of other football options this weekend…if you don't like what you see.