Head coach Ryan Day and seven players brought to interviewsTuesday spoke softly and with little meat in their words. That was their way of saying, "The talking is over. It's time to play ball."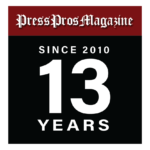 Columbus, OH – The usual pieces of red tape are crisscrossed over every single letter M on the Ohio State campus, but there were many other signals that "The Game'' has arrived and that it's okay to hate for at least a week without being penalized by going to hell.
Seven Buckeye players were trucked out Tuesday afternoon to speak to the media about the Michigan game, and all of them sat several feet behind microphones on tables and mumbled their way through interviews.
Their words were inaudible unless one was 5 feet away, and very much bland to nearly worthless.
There is absolutely no bulletin board fodder for UM to put up.
And, get this, Heisman Trophy candidate quarterback CJ Stroud, the most important player on the roster, was not even brought into the Woody Hayes Athletic Center to speak.
Head coach Ryan Day didn't so much as grin during his 25 minutes behind the podium.
This is war, baby, and it will commence at 12:14 p.m. on Saturday at Ohio Stadium. Fox will broadcast.
The Buckeyes are 7 ½-point favorites to make it 30 straight Big Ten victories at home. This is the first time since 2006 in which the participants are undefeated and ranked in the top five.
Because of COVID-19 infections, The Game wasn't played in 2020. That means this will be the first Ohio State-Michigan game in Columbus since 2018.
Where was tight end Cade Stover that season?
"I was sitting in the living room watching with my parents,'' he said. "I was in high school.''
Stover, who usually has witty and insightful things to say, didn't say much else.
Linebacker Tommy Eichenberg mumbled, "I'm excited.''
It's hand-to-hand combat for Eichenberg – both of his hands are broken – and everyone else except maybe Wolverines coach Jim Harbaugh.
The man threw a lot of crap at Ohio State after last season's 42-27 upset win, including saying that Day was "born on third base.'' Jimbo tried to make nicey-nice.
"There's no need to hate," Harbaugh said. "We'll be grateful for the opponent. It's like superheroes: It's through a strong opponent that you get to find out who you are."
Asked about the comments that the Buckeyes were soft, he correctly said those words didn't come out of his mouth. They came from former offensive coordinator Josh Gattis.
"That wasn't me," Harbaugh said.
He did say that "being born on third base" comment was a touche' for Day supposedly saying that Ohio State would "hang a 100 on Michigan."
"It was definitely a counter-punch by me to the comment that they're going to hang 100 on us, et. cetera," he said. "Kind of like Sugar Ray Robinson."
Then Harbaugh spewed a lot of blah, blah and more blah.
"They have a lot of players that are really good," he said. "They've got great players, we've got great players. They've got great coaches, we have great coaches. They have players with Heisman habits, we have players with Heisman habits. Congratulations."
About the only words coming from him that could pass for cockiness or a guarantee were this:
"We know it's our toughest test of the year," Harbaugh said, "and I think we're going to find that we're made of the right stuff."
Day wasn't much better, trust us.
Michigan has the No. 1-ranked defense in the nation in allowing 241.3 yards and 11.7 points per game.
Star end Aidan Hutchinson, who was the ringleader in wrecking Ohio State's offense last November, is in the NFL. But the people who write and talk about UM say this defense is better.
What did Day say?
"Very similar (to last year), some tweaks here and that. Still very good players,'' he said. "They are playing very hard and they are one of the best defenses in the country.''
The questions for both teams are obvious: Will Michigan tailback Blake Corum play and, if so, how effective will he be? What about the availability of Ohio State's banged-up tailbacks, TreVeyon Henderson and Miyan Williams?
Corum carried once in the second half in a 19-17 victory over Illinois last Saturday. He was injured just before halftime. It had to hurt badly as he simply dropped the football for a fumble in order to grasp the knee. He was in agony.
Yet Corum stood for two hours in the cold and snow Sunday helping distribute free turkeys that he paid for with his NIL money.
The man has caught or carried the ball on 33 percent of his team's snaps and has accounted for 31.5 percent of his team's yardage. The total is 1,457 yards for a 5.9 average and 18 touchdowns.
"I think we've planned on this,'' Michigan left tackle Ryan Hayes said. "He's a great player, but I think everybody else is going to step up with him out. I think we're up to the challenge."
Whether he was trying to deke reporters with an outstanding acting job or letting something slip, Hayes intimated that Corum might not play.
"I don't think we're going to change our identity in this game just because Blake…" Hayes said, his voice trailing off. "Obviously Blake's a huge part of our offense, a huge part of our team, but I think our identity stays the same."
As for Ohio State, true freshman Dallan Hayden was exceptional when his team needed him the most in a 43-30 victory last week at Maryland. He ran for 146 yards and three touchdowns on 27 carries.
Meanwhile, Henderson again was in a walking boot after gaining 19 yards on 11 carries and Williams wasn't even on the trip.
Will the kid start?
"It's hard to say,'' Day said of Hayden. "But you can see how he stepped up last week was certainly tremendous and encouraging as we moved into this rivalry week. It was great to see him take care of the football. That's the No. 1 thing that we need. I know he's going to prepare hard to get ready for this game.''
Day said the Buckeyes will practice as if Corum is playing.
There's unreal pressure on the coach to win this one. Remember, Jim Tressel lost to Michigan once and Urban Meyer never – repeat, never – lost to TTUN.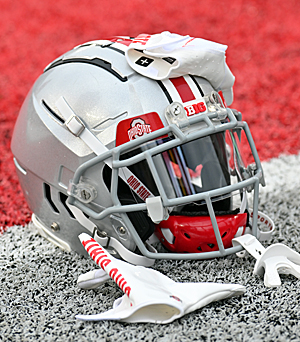 Asked about the stress, he said he is not alone.
"It hasn't changed (for any coach or player) – it has been this way for 100 years,'' Day said. "This is what it's all about. When you lose this game, it's a tough year.''
The sentiment is likewise up north.
"If we don't win this game the season really doesn't mean that much," Hayes said.
Cornerback Mike Sainristil said, "It's the most important thing in the world right now."
The feeling is mutual with the men wearing scarlet and gray. Offensive left tackle Paris Johnson reiterated what so many of his teammates have said all season when they could be heard.
"That game has been on our minds since it happened, all year and all season," he said of the loss. "It has been on our minds every day. Not much has changed."