The 3-1 Flyers are about to play the boys who ride the big bus down in the Bahamas – the possibilities include Kansas, North Carolina State, Tennessee, Southern Cal, Brigham Young, Butler and Wisconsin.  None of them will be impressed by a win over Robert Morris.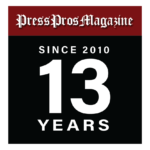 DAYTON — The University of Dayton basketball team is discovering that when you wear a target on your back some arrows are going to make a direct hit.
As a second-week member of the Associated Press Top 25 and as a team predicted to run roughshod over the Atlantic 10 conference, the Flyers are Marked Men.
They've tried to hide. They've worn white uniforms at home and on the road, they've worn baby blue at home and they've worn dark blue at home.
Do they have camouflage uniforms to better hide themselves?
They couldn't hide from UNLV in Las Vegas. After trailing by 12 points in the first half, the Runnin' Rebels held the Flyers to no field goals in the final five minutes. While their fans in Thomas-Mack Center went bonkers, the Runnin' Rebels ran the Flyers out of town, 60-52. The defeat dropped the Flyers out of the Top 25. They were 21st before Vegas happened.
That setback did not disrupt the positive vibes UD coach Anthony Grant carries about this season's team.
"We're going to find our rhythm. We're going to make shots," he said. "When we do, I think this team will really be explosive. I love the potential that we have. We have to continue to grow and understand that as a group and not get caught up in the noise. . .or anything else."
The noise to which Grant refers is about the pre-season predictions, the early-season ranking, the expectations of the fans.
The Flyers returned to the creature comforts of UD Arena Saturday afternoon to play Robert Morris, a team Ohio State plundered, 91-53, a team that was a 21 1/2-point underdog. UD won by nine, 60-51.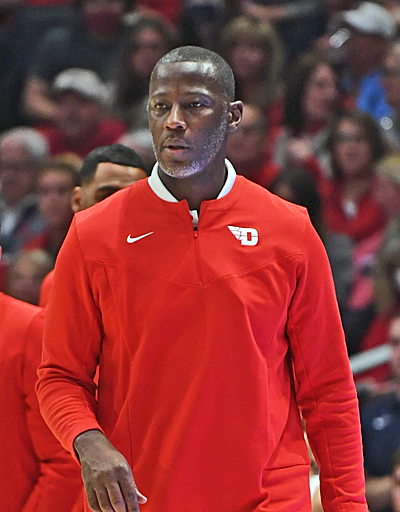 So, despite the 3-and-1 record, the Flyers have been underachievers early in the season and their degree of difficulty takes a steep incline this week.
They are in a field of basketball blue bloods in the Battle 4 Atlantis in Nassau, The Bahamas.
The field includes Kansas, North Carolina State, Tennessee, Southern California, Brigham Young, Butler and Wisconsin. None of those teams are impressed with UD's press clippings and scrapbooks.
It all begins Wednesday at 2:30 when the Flyers play Wisconsin, owner of a 3-0 record — 85-59 over South Dakota, 60-50 over Stanford and 56-45 over Wisconsin-Green Bay.
Depending upon who wins and who loses, the Flyers will play either Kansas (4-0) or North Carolina State (4-0) on Thanksgiving Day.
Kansas, the defending National Champion, is No. 3 in the AP poll. The Jayhawks were 34-6 last season and one of those defeats came from the services of the Dayton Flyers.
Mustapha Amzil hit a buzzer-beater shot that bounced high above the rim and hung in the air like a hummingbird before falling through the rim for a 74-73 victory.
Will Kansas remember that? You betcha.
North Carolina State, also 4-0, owns wins over Austin Peay, 99-50 (The Flyers remember them with not-so-fond memories, an 87-80 loss in UD Arena last season), Campbell, 73-67, Florida International, 107-74, and Elon, 74-63.
It is an ambitious undertaking for the Flyers, a team that needs to adjust its shooting sights. Making baskets at a high percentage has eluded the Flyers so far this season.
They survived Robert Morris with defense, but it was the defense, the lack thereof,  in the second half against UNLV that let them down like air escaping a punctured tire.
After missing the first two games and all pre-season practices, point guard Malachi Smith returned to the lineup Saturday against Robert Morris. His numbers weren't noteworthy due to his lengthy lay-off, but his presence on the floor is the team's security blanket.
"With Malachi on the floor, all the guys can play to their strengths," said Grant. "That's what we are trying to figure out. . .how we can help guys play to their strengths and how they can help each other play to their strengths.
"That's still a process for us, even though we have experience, guys who have played together," Grant added. "Basketball is a game of rhythm. You have to have a rhythm that you are used to things.
"Today (Saturday) was different from the first three games with Malachi being out there," said Grant. "At times it looked really good and at times we looked out of synch. It is a matter of us getting our chemistry together and finding our rhythm from an offensive standpoint."
Of his team's shooting, Grant said after the Robert Morris game, "In the second half we got some really good looks, they just didn't go in. That's part of the game, right? Sometimes you can't control whether or not the ball goes in."
So the Flyers begin a major early test near the blue-green waters of The Bahama Bank. And hopefully they don't approach basketball's Bermuda Triangle.

After the loss in Las Vegas, Grant told his team, "There is a lot of adversity that hits you. You guys are learning to be resilient, learning to understand who we are and what we have and what we're capable of doing.
"We don't live in the day-to-day stuff that everybody else gets caught up on," he added. "It's all a process for us and once we get our rhythm, once we get our reps together. . .and that's the great thing about this tournament. If we can get all our guys together, we get three games against highly competitive teams, no matter who we play. It will be very challenging and a chance to see where we are."