Wasting no time and taking no prisoners, Marion Local romped to a 55-0 annihilation of Allen East in the Division VI, Region 24 finals that serves notice the Flyers are peaking at the right time.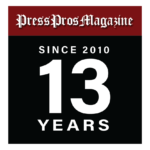 Wapakoneta, OH –  There's a continuum along which things pass from new to old, then from old to vintage, then from vintage to classic.
Pick anywhere along that progression and Marion Local's 55-0 dismantling of Allen East in the Division VI, Region 24 championship Saturday at Harmon Field fits seamlessly into place.
The Flyers' success is definitely getting old to those unable to take them down, whether that's frustrated Midwest Athletic Conference rivals, opponents in the region or those across Ohio.
The more Marion asserts its superiority, the more it appears a vintage edition capable of defending the state record 12th state championship head coach Tim Goodwin's charges claimed last season in Division VII.
If that happens, it will likely trace to what is unquestionably a classic Marion defense that not too many – perhaps not any – other units in Goodwin's career have matched in sheer dominance.
When the Flyers' kick coverage team hauled down Joseph Hoel inside the five-yard line on the game's final play, it preserved Marion's 10th shutout of the season and seventh in its last eight games.
Over that stretch, Marion has outscored opponents by a collective margin of 356-3.
"It's tough going against our defense the first time," Goodwin said. "If you haven't gone against our defense before, it's hard to prepare for in a week. I think that's because of the speed we can hit things and the execution that our experienced guys play with."
Marion's advance to play Columbus Grove (12-2) on Saturday in the state semifinals at Lima Senior was well-assured by halftime on a snowy, windy night.
The Flyers scored touchdowns on each of their six possessions before the break, turning 29 offensive snaps into 303 yards total offense.
Allen East (12-2), which entered with a 38-point per-game scoring average, gained 50 yards on 28 plays, did not have a first down until Marion had a 34-0 lead and advanced no closer to the Flyers' end zone than their 49-yard line.
Oh, and consider that Marion Local did all that while sitting out linebacker Darren Meier, who is possibly its best overall defender and among its primary offensive weapons.
"We rely on our defense to carry us," quarterback Tate Hess said. "Even though Darren is out, we have guys who can step up and carry us."
Drew Seitz is a four-year starter at linebacker and Aiden Eifert, like Meier, is a three-year starter.
Sophomore Nathan Buscher completes the linebacker corps, which is clearly the key to a unit that's allowed 10 combined points over its last nine games and has permitted only one opponent (Division VII, Region 28 champion New Bremen) to score more than seven points.
"Our defense played spectacular," said running back Kyle Otte, who scored four first-half touchdowns. "Our offense just executed. We executed on both sides of the ball. We just got things done."
After Seitz's two-yard run began the rout, Otte scored via a 54-yard catch and run of a simple swing pass at 6:16 of the first quarter.
Hess faked a handoff to Drew Lause, then flipped the ball to Otte in the right flat just as a defender arrived to tackle Hess.
Otte cut inside the pursuit, veered back to the sideline and was gone.
"It was supposed to be a read play," Otte said. "It got kind of busted. Tate made a play and got the ball to me, then I guess I made a play, too."
Nor was he finished.
Otte ended Marion's next scoring drive – a 12-play march that consumed 5:49 – with a 21-yard run.
His third TD, a two-yard run, closed a four-play possession that took 1:48 off the clock. Then Otte finished the half with a 27-yard TD catch after Hess scrambled for 27 yards on the first snap of a two-play, 17-second scoring drive.
"We're getting better every week," Hess said. "Our run game has always been good. We don't pass that much, but we're able to. It's there. We don't need to when we have so many playmakers."
Meier is expected back next week from the shoulder injury he suffered one week ago in the regional semifinal victory over Versailles.
That can't be comforting to Columbus Grove, which suffered one of its two losses in a mid-September regular season game against Allen East, 7-0.
"Darren is a big piece of our offense," Otte said. "We have guys behind him who can do just about what he can do. It's nice to have that."
Lause, a sophomore, ran well with the carries Meier typically claims, and junior Simon Partington helped out with a first-half TD run of two yards.
In the second half, Allen East threatened on its first possession, driving to the Marion 15, but Griffin Bruns turned that away with an interception in the flat and subsequent 85-yard TD return.
The Flyers substituted liberally after that, finishing the scoring with backup quarterback Justin Knouff's 22-yard scoring pass to Andrew Pohlman with 31 seconds left.
"I didn't know how this would turn out," Goodwin said. "That's the fun thing about playing these games. We don't have any common opponents and you don't know how physical the other team is.
"I thought everyone did their job pretty well tonight. I was happy with that. We played without probably our best player in Darren Meyer because we decided to let him rest. Hopefully he'll be back next week, but the kids stepped up and did what they had to do."
Listen to the Bruce Hooley Show from 11 a.m.-1 p.m. Monday-Friday on 94.5 FM Dayton and 98.9 FM Columbus.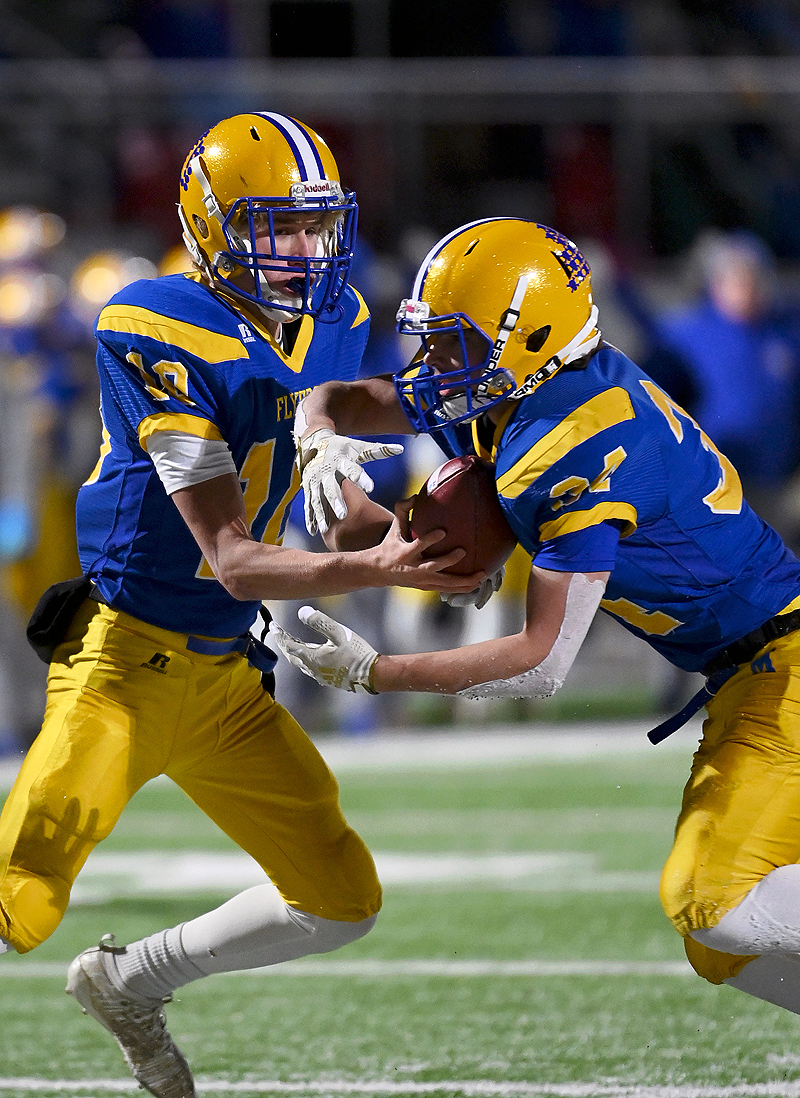 Tate Hess hands off to Drew Lause, who took the place of injured senior Darren Meier in the Flyers' backfield.