Despite making only two first downs after halftime, Gahanna excelled in all three phases to hold off New Albany and reach its first final four in 40 years.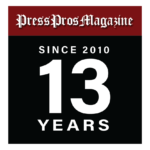 Columbus, OH – From the outset of the 2022 high school football season, Gahanna separated itself from the many other successful big-school programs in Central Ohio because, if for no better reason, it seemingly did not have a glaring weakness that could be exposed.
A balanced, big-play offense featuring an All-Ohio caliber running back and a fast, physical defense with a handful of Division I recruits certainly would make the Lions a tough out in the postseason.
True to form, Gahanna took home its first Division I regional championship trophy in 40 years Friday from Historic Columbus Crew Stadium with a 25-17 victory over New Albany that was earned simply because it was the better team in all three phases.
Informed during the postgame celebration that his team managed just two first downs after halftime, Gahanna coach Bruce Ward shook his head in disbelief, but got over the disappointment quickly.
"We knew from the many times we've faced New Albany in OCC Ohio Division play the past few seasons that this was going to be a tough game … a four-quarter game," he said. "It took everything we had on offense, defense and special teams to pull this one out. It's an incredibly tough task to win Region 3 year in and year out, and we're just glad to add our names to the list."
Gahanna (13-1) will face defending state champion Lakewood St. Edward (13-1) in a state semifinal Friday at Mansfield's Arlin Field. St. Edward was ranked No. 1 in the final Associated Press state poll while Gahanna was tied for fifth.
In many ways, Gahanna's third regional crown was perhaps its most impressive accomplishment.
In 1976, only one team per region made the playoffs when the Lions (10-1) reached the state title game. The Ohio High School Athletic Association expanded to two teams per region in 1982. Gahanna was (10-2) was eliminated by Cincinnati Moeller both seasons. In 2022, it takes four wins for teams to reach the final four.
Gahanna never trailed in this rematch of a Sept. 30 game won by the Lions, 38-24, but the outcome went down to the final minute.
On the second play of the game, Diore Hubbard broke into the secondary and raced 57 yards to the end zone.
New Albany (10-4) responded with a long drive that resulted in a 30-yard field goal by Colin Schuler.
Later in the first quarter, quarterback Brennen Ward hit Makai Shahid on a deep ball for a 64-yard TD. Shahid won a jump ball with defender Nikolas Grady and ran untouched to the end zone. A second straight botched snap on the extra-point try made it 12-3.
Aided by another long pass play of 46 yards from Ward to Tommy Newby, Gahanna scored again in the waning seconds of the half on a Ward-to-Jalen Scott 7-yard TD connection. The 18-3 halftime lead seemed secure, but New Albany wasn't about to lay down.
"We made a couple adjustments at halftime to try to shut down their run, and we were going to stay true to what we do offensively," Eagles coach Brian Finn said. "I don't care if we win or lose as long as we do it playing New Albany football."
New Albany opened the second half with a nine-play, 59-yard scoring drive capped by Christian Manville's 18-yard TD run.
But Shahid temporarily deflated the Eagles' momentum when he took the ensuing kickoff 88 yards to the house, giving Gahanna a 25-10 lead.
"When I caught the ball, I saw a lot of space," he said. "When I got to the edge, I knew nobody was going to catch me. I'm not even sure anybody touched me. It was the greatest feeling in the world."
Shahid had his first career game in the first New Albany matchup, snagging six receptions for 142 yards and two TDs.
"New Albany seems to bring out the best in Makai, who is a great athlete," Bruce Ward said. "That return was a huge play for us."
Manville, who was held to 15 yards on 15 carries in the first matchup, broke free for a 59-yard TD on a fourth-and-1 play on the next series, cutting the deficit to 25-17.
Both teams' defenses took command the rest of the way.
Elijah King made a huge sack of New Albany quarterback Luka Garver near midfield midway through the fourth quarter.
"They don't throw very often, but when it got to third-and-long there and I was kind of waiting for the opportunity to tee off," he said. "It felt amazing to make a play of that impact at that time of the game."
On another third-and-long situation, Garver was picked off by Isaiah Willis-Jackson.
"They were hard to defend because they scheme so well," said Willis-Jackson, who ran to the Gahanna stands in the final minute for a long and emotional embrace with his father. "We knew what New Albany likes to do, but they do it so well we had to make a lot of adjustments on the fly tonight."
The outcome was secured when Ward hit Brayden Sanders for 34 yards on fourth-and-5 down to the Eagles 2. Gahanna then went into victory formation.
"Ever since seventh grade, we've been talking about the opportunity to make a playoff run like this," Shahid said. "We knew we had the talent, but it was a matter of putting it all together."
Despite being stymied in the second half, Hubbard – the Central District's offensive player of the year — finished with 163 yards on 14 carries, running his 14-game total to 2,306 yards and 29 TDs. Ward, just a sophomore, completed 10 of 16 passes for 181 yards.
"Diore has shown that ability to excel all year," Bruce Ward said. "He got us going early and got us out to the lead. I'll take him running the ball for us every day of the year."
Manville capped his brilliant career with 190 yards on 27 carries, running his season total to 1,904 yards and 33 TDs. He had 820 yards and scored 12 TDs in four playoff games.
New Albany racked up 64 plays to just 37 for Gahanna and dominated time of possession roughly 29 minutes to 19, but Gahanna's big plays – and its offensive balance – were major factors in the outcome. The Eagles rushed for 311 yards but completed just one pass for 13 yards and converted just one third down play.
The Eagles were seeking their third regional title, but first since moving to Division I in 2019. They made the final four in Division III in 2006 and Division II in 2012.
"I said all year that Gahanna was the best team in central Ohio, and maybe all of Ohio, and they proved it tonight," Finn said. "They just wear you down with their defense and they're so hard to defend because of all their big-play weapons. I wish them all the luck in the world in the final four. We'll be pulling for them."