It's hard to score without the football, and New Bremen didn't touch it for nearly two quarters. Fortunately for the Cardinals, they have David Homan…and he had the magic touch that allowed his team to survive and advance past Ansonia.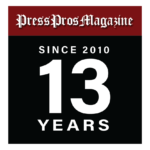 Greenville, OH – It was a heart-in-the-throat, there-goes-the-season moment Saturday night amid the swirling snow and icy wind at Harmon Field when suddenly a thought popped into the mind of New Bremen partisans.
By now, the inner warmth from the Cardinals' Division IV girls volleyball state championship triumph earlier in the day had been frozen away by November's first wintry blast.
And to compound that bone-chilling misery, Ansonia's Exzavier Moody was running free in the New Bremen secondary en route to the end zone and a fourth-quarter lead in the Division VII, Region 28 semifinals.
Senior linebacker Ben Sailer watched Moody escape to eradicate the Cardinals' 20-16 advantage and had a thought that likely spoke for many on his sideline – both those in uniform and those bundled against the elements.
"They had the ball almost the whole third quarter, so I really wasn't all that upset about it," Sailer said. "They gave us five minutes to come back and score, so I thought that was pretty nice, actually."
That's not a typical mindset teams take when their state championship hopes hinge on a score-or-your-season-is-over possession, but it's the approach New Bremen holds because of its winning culture and the maestro who conducts the offense.
Senior quarterback David Homan showed why when he led the Cardinals on a subsequent 74-yard, game-winning touchdown drive that survived two fourth-down predicaments and finished with Sailer catching a nine-yard touchdown pass with 51 seconds left.
The resultant 26-22 victory moves New Bremen (10-3) into the regional finals Saturday night against Fort Loramie (11-2), a 35-19 winner over Minster in the other Region 28 semifinal.
We don't know where that game will be played yet, but we know with certainty that the Cardinals will hop on Homan's back for the ride there and beyond.
That's how it's been the past two seasons, during which his dynamic play-making has delivered the Cardinals from constant danger.
"It was good that we had enough time for our kids to be able to make some plays," New Bremen coach Chris Schmidt said. "Heck, those last few plays, I wasn't even calling them as much as Dave Homan and Ben Sailer and some of those seniors in the huddle were like, 'Hey, I think we've got this.' Or, 'Let's run that.' I have such faith in those guys."
Top-seeded Ansonia (11-2) countered Homan's 57-yard touchdown run less than 90 seconds after kickoff with a foretaste of the numbing precision it would rely on all night.
The Tigers drove 74 yards in 18 plays over the next 10:17 to take the lead, 8-7, while consuming all but the last 11 seconds of the first quarter.
"That was the fear coming into the game," Schmidt said. "Can we get enough possessions or will they chew up clock?"
Hunter Schaefer's 21-yard TD put New Bremen back on top, 14-8, but his 67-yard scoring run after an Ansonia three-and-out got wiped away by a holding penalty.
Another holding call erased a Homan TD pass of 44 yards to Grant Dicke, and a third missed opportunity vanished when Evan Eyink couldn't quite corral a possible pick-six that fell harmlessly to the turf.
Spared the Cardinals extending their lead, Ansonia took the second-half kickoff and drove 80 yards in 19 plays, eating all but the last 33 seconds of the quarter before quarterback Ian Schmitmeyer scored on fourth-and-goal from the one.
Another New Bremen holding call, this one on the defense, converted an early third down for Ansonia on the possession it punctuated with Keegan Weiss' two-point run for a 16-14 lead.
Homan faced third-and-six at his 39 three plays into the Cardinals next possession. Rolling left and toward the sideline, he outran a defender with the angle on him, twisted his torso and fired 14 yards downfield to Dicke.
Later on the march, Homan lofted deep for Sailer on the right sideline, connecting for 26 yards to set up Shaefer's go-ahead five-yard run for a 20-16 edge at 8:33.
That seemed the perfect allowance of clock for Ansonia's plodding, but powerful attack to budget for a game-winning TD.
But a chop block call on New Bremen's kickoff shortened the field for the Tigers, and Moody's 34-yard run at 5:44 left Homan more than enough time to respond.
"I didn't really wish we had taken more time, I just wished we had been able to get a stop after that," Ansonia coach Adam Hall said. "We had them on fourth down twice on that series, so we were close. We just needed one more and we didn't get it."
Homan started the rescue mission with a 16-yard run, then found Schaefer with a swing pass for 13 more.
On fourth-and-five at the Ansonia 40, Homan rifled a quick strike to Sailer over the middle for 20 yards.
"Their linebackers were firing up pretty hard," Homan said. "They were pretty concerned with our running game and taking out Hunter Schaefer first. Ben and I talked during the game and he told me the seam route and the crossing route was going to be open, so that's what we ran."
Three plays netted eight yards, and again the Cardinals stood a fourth-down failure from defeat as they conferred during a timeout.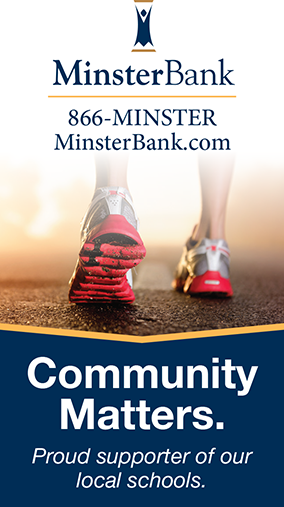 Schaefer had made both his extra-point attempts, but the ball this time sat on the far right hash, and falling snow throughout the second-half heightened the risk of a game-winning field goal attempt from 29-yard field goal.
"I said, 'How do you feel?' and he kind of gave me the look like, 'I don't know,' " Schmidt said. "So, I was like, 'OK, let's run it behind our seniors. We actually thought about it the other day in practice. We said, 'If we're going to need a yard or two, let's get behind you seniors and go get it.'"
So, Homan took the snap and fell in behind Eyink at right tackle, Sailer at tight end, H-back Dylan Bambauer and Schaefer's escort from his running back spot.
The senior convoy plowed just enough space for Homan to get the first down, and two plays later he found Sailer alone again over the middle for the clincher.
Forced to pass, and dogged by a holding penalty on its first play after the kickoff, Ansonia couldn't get a first down before the clock expired and New Bremen's advance toward what it hopes will be a second state title in three seasons was assured.
"It really did feel like whoever was going to have it last with enough time was going to have a good chance to win it," Schmidt said. "I'm just glad it was us. And I'm glad I get another week to coach these guys."
Listen to the Bruce Hooley Show from 11 a.m.-1 p.m. Monday-Friday on 94.5 FM Dayton and 98.9 FM Columbus.