Fort Loramie quarterback Caleb Maurer did a little bit of everything with two passing TDs, two rushing TDs and even a TD reception as the Redskins dealt the Minster Wildcats a season-ending defeat.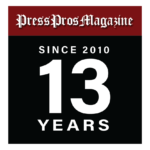 Sidney, OH – There might be an iconic name for it like the "Philly Special." Fort Loramie quarterback Caleb Maurer paused when asked if the play – this version a hand off to a running back, reverse to a wide receiver and pass to the quarterback – has a special name.
Maurer paused when answering … electing to not reveal the play call while the Redskins' season continued. It was the only time Maurer hesitated in the Division VII, Region 28 semifinals on Saturday night.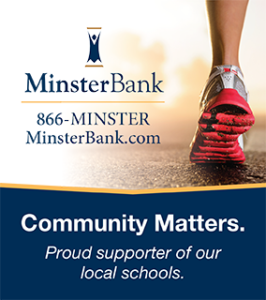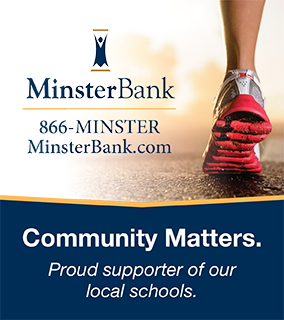 Maurer threw for two touchdowns, ran for two and caught the Redskins' final TD of the night … capping Fort Loramie's 35-19 victory over Minster in the midst of a swirling snow and blustery wind at Sidney High School.
This was the second meeting between the rivals separated by a three-mile stretch on State Route 66. And like that first one, this one ended with another Redskins' victory. But it wasn't truly decided until that special play with 11:52 left in the fourth quarter.
Fort Loramie led 28-19 and had second-and-9 on Minster's 9-yard line. On the first play of the fourth quarter, Maurer handed off to a running back who then handed off to receiver Christian McGee for the reverse. McGee, with a defender trying to wrap him up around his waist, lofted a left-handed pass toward Maurer, who had rolled out of the backfield toward the end zone.
Maurer hauled in the TD pass as a Minster defender face-guarded him and a second challenged from behind.
"We have another guy that we're comfortable with throwing," Maurer said. "I knew the situation and we needed a play. Playing our rivals. Momentum swing. It was a big play."
It was the second time Fort Loramie ran the play this season. The first? That season-opening 39-27 win against Minster way back on Aug. 19.
"It went for zero yards," said Maurer. "It worked this time."
Much of what Fort Loramie (11-2) did against Minster worked on Saturday night…excluding a series at the end of the first half that helped Minster pull to within 14-13 with six seconds left.
Minster actually outgained Fort Loramie 351-346 in total offense and ran 14 more plays. What the Wildcats didn't match the Redskins in was finishing drives.
After taking a 7-0 lead on the game's opening possession, the Wildcats' next three possessions ended on turnover on downs on the Redskins' 29- and 25-yard lines and a punt.
"We do know a lot of these guys. A lot of us are friends with them so it's always good to beat them," Fort Loramie senior Isaac Raterman said of the friendly rivalry. "It's always a great rivalry. (Minster) came to play tonight. They were definitely a different team than we played at the beginning of the season."
A third-quarter score pulled Minster within 28-19 midway through the period. After Fort Loramie responded with that special drive, Minster countered with a drive of its own to the Redskins' 5-yard line. It ended there with a fumble that Loramie's Thomas Hoying pounced on.
Minster's next three drives ended on turnover on downs and Dylan Sanders' interception.
"Our kids did a great job. Our kids played hard. Just too many mistakes in a big game," Minster coach Seth Whiting said. "Some self-inflicted wounds. That's okay. That's going to happen. We couldn't be more proud of our kids and how hard they played."
The Wildcats (8-5) dropped their final two games of the regular season to New Bremen (45-21) and Versailles (36-6) before rattling off a pair of playoff victories against Fort Recovery (50-22) and Mechanicsburg (45-21).
"We're elated for our kids in the way they finished the season," Whiting said. "For a group of kids who were told they were going to win only two games this year they played pretty well."
There's reason to be optimistic for more wins next season, too. Sophomore quarterback Brogan Stephey needed just six plays to drive Minster 73 yards for the game's first score. Stephey carried four times for 67 yards, including the final rush for a 29-yard TD.
Stephey completed 17-of-35 passes for 217 yards and a TD, an 18-yarder to Connor Schmiesing. He also rushed for 123 yards and two TDs on 17 carries.
"We knew they improved. They had a hell of a second part of the season," Raterman said. "That Stephey kid, he's a heck of a player. He's going to be really good for the next few years."
"(The defense) made stops when we had to have them," Loramie coach Spencer Wells said. "That's a good offense over there. Give Minster credit. They do a lot of good things. Proud of our defensive staff they made some great adjustments. We got some turnovers when needed. That was the key to the game no doubt."
Maurer completed 10-of-16 passes for 181 and two TDs. He carried 15 times for 130 yards and two TDs. Both of his TD passes went to Logan Eilerman, who finished with seven catches for 133 yards.
"It's a wild rivalry," Maurer said. "We know a lot of each other. We talked a lot coming into this game. This games means a lot. We knew they wanted to play us and we knew we had to get the job done."
Fort Loramie's next challenge is New Bremen for the D-VII, Region 28 championship. The teams play Saturday at a site to be determined. New Bremen (10-3) advanced by outlasting Ansonia, 26-22.
The Redskins' schedule has prepared them for this moment. Games against teams like Minster (twice), Versailles (26-21 loss), Newark Catholic (27-9 loss), Lima Central Catholic (35-34 win) have prepared Fort Loramie for this moment … a victory away from the state semifinals.
"Credit to our schedule because it's prepared us so well," Wells said. "We handle adversity so well now. There's no surprise. That's been a benefit the last couple years, playing the type of schedule we've played. Our guys never blinked."