Senior day at Welcome Stadium meant 205 yards for Jake Chisholm and a fifth straight win. And upsets in the western reaches of the Pioneer Football League put the Flyers in a win-and-they-get-in-the-playoffs position next Saturday at Davidson.
By Jeff Gilbert For Press Pros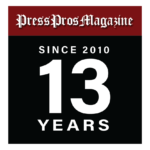 Dayton, OH – Far, far away in Des Moines, Iowa, while the Dayton Flyers celebrated a snowy senior day victory, an upset was happening. Surely the news of it started popping up in text messages on the UD campus.
The Flyers, hoping for a chance at an FCS playoff berth, had done their part Saturday with a 49-27 victory over Morehead State. If the snow that covered Welcome Stadium hadn't melted by the end, snow angels would have been the perfect way to celebrate.
A week from now the Flyers might get to celebrate their first playoff berth since 2015 in a much warmer Davidson, N.C. Their Pioneer Football League finale at Davidson became a playoff game for the Flyers when Drake upset Butler 27-24 on a 22-yard field goal with eight seconds left. Win next week and the Flyers are in.
Butler had to lose this week or next for the Flyers to have a chance because the Bulldogs have held the tiebreaker advantage from the moment they beat the Flyers 31-0 six weeks ago. So for the Flyers to  suddenly control their fate is exactly what head coach Rick Chamberlin wants on the final Saturday of every season. When he spoke after the game, he didn't know Butler would lose or even trailed at halftime.
"We're in that position now," he said. "Whatever happens with those other teams, OK. We're going to go down and play our game, do our very best, and if it works out, that'd be outstanding to play in the playoffs."
UD, Butler and Davidson each entered Saturday 5-1 in the Pioneer Football League. Now the Flyers (8-2 overall) are 6-1 and Butler and Davidson are 5-2 because the Wildcats, playing even farther west, lost 31-14 Saturday evening at San Diego. If the Flyers lose to Davidson, they can't win a tiebreaker because in that scenario they would have losses to Davidson and Butler.
One of them will go to the playoffs because 7-0 St. Thomas can't earn the league's automatic bid. The FCS newcomer must go through four years of transition from Division III before it becomes playoff eligible.
UD senior linebacker Ben Schmiesing from Piqua, who also didn't know Butler was behind at halftime, was asked about a possible playoff berth.
"It would mean the world," he said. "We just love being around each other. So getting a chance to do it for one more week that's all we can ask for."
Saturday's victory felt like an all-we-can-ask-for experience as well.
On the fun scale, they got to play in the snow. The field was mostly covered at kickoff. Snow had been pushed off the five-yard intervals and the numbers after the morning snowfall stopped. But right before the 1 p.m. start, big flakes returned and stayed until the second quarter.
"I told the guys before the game this is what you dream of as a kid – a snowy day," Schmiesing said. "You're competing at the top of your division. You're trying to win a championship. This is what everybody dreams about. We all had a lot of fun in it for sure."
On the brotherhood scale, senior day celebrated 29 student-athletes who made it through the COVID-19 era together. While players flooded the transfer portal around the PFL, Dayton's roster remained mostly intact.
"The amount of guys that we didn't lose because of COVID is something very unique to this program, especially because we didn't play in the spring or in the fall of 2020," senior running back Jake Chisholm said. "It just goes to show how special this place really is. Guys want to stay here."
Sophomore H-back Cade Beam, a Tippecanoe graduate, appreciates what the seniors mean to the program.
"The fact that they've stayed together through so much has contributed to the bond that this team has and the overall success," he said.
On the have-yourself-a-day on senior day scale, Chisholm produced the third-best rushing day of his career. He gained 205 yards on 34 carries and scored touchdowns on runs of four and six yards. He rushed for a career-high 268 in 2019 against Morehead and 226 last year against Davidson.
"What a running back," Flyers coach Rick Chamberlin said. "I said it at the start of the season he's the best running back in the PFL, there's no doubt. There were some holes there that helped him, but then there were some others he made quick moves, made guys miss, bump off of him."

The Flyers have won five straight and Saturday's game resembled most of their wins this season: a back-and-forth, close affair for a half, then a put-away second half.
Chisholm rushed for 110 yards on 13 carries as the Flyers took a 12-7 lead into the second quarter. Redshirt freshman quarterback Shane Hamm scrambled 53 yards to set up his 10-yard touchdown pass to senior Sam Bubonics on third and goal for the first score. Chisholm carried on eight of 10 plays and gained 64 yards on a 65-yard drive and scored on the Flyers' second drive.
But the play after the Flyers' first score and another one in the second quarter were a continuation of big-play oops plays that are bugging Chamberlin.
Morehead running back James Louis sprinted up the middle for two one-play touchdown drives of 72 and 67 yards. The second put Morehead (2-8, 1-6) up 14-12 with 10:39 left in the first half. Schmiesing said the snow was not to blame for letting Louis make plays like Bo Jackson.
"That was all on us just not executing," he said. "That's the story of every big play we give up."
Chamberlin saw those plays, and another one-play drive, a 72-yard touchdown pass in the fourth quarter when the game was out of reach, to be troubling recurrences for what otherwise have been good defensive performances.
"It was blown gap integrity," he said of the runs. "We were supposed to have a guy in each of those gaps that he ran through. And we're a very disciplined team, we build a wall. If there's a crack in the wall, the running back's going to find it. And then we're in a coverage that our safeties are out wide. It's a direct shot.
"When it comes to passing, it's all about your eyes, your body positioning, and that's exactly what happened."

The score was 14-12 because Sam Webster missed an extra point for the first time this season with a direct hit off the right upright. The Flyers went for two the second time, but Hamm was stopped on a run up the middle. The Flyers got those two points back with a safety to tie the score. Morehead fumbled a punt at the 2-yard line that was recovered by the Eagles in the end zone.
The Flyers led 21-17 at halftime and built the lead to 42-20 halfway through the fourth quarter. Beam capped the run with consecutive touchdown catches of 5 and 21 yards.
"This day always means just a little bit more for the seniors," said Beam, a sophomore. "And it was great for me to just be a part of that and be able to get a win for them on their senior day."
Hamm did his part for the seniors, too. He rushed and scrambled for 112 yards on 13 carries and completed 12 of 18 passes for 112 yards and three touchdowns.
So much to celebrate and to play for next week. But the snow? Yeah, that might have been the best part.
"That was the first snow game of my career, and it was a cold one," Chisholm said. "When you get tackled on that snow it definitely makes it a little colder, but it was one I'm gonna remember forever."