Milton Union used a fast start, five first half touchdowns, and four turnovers, to smother Brookville and cruise to a running clock win in the Division V regional semi-final.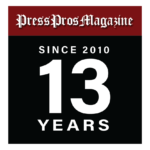 Xenia, OH – From day one of their August camp Milton Union coach Bret Pearce declared that the strength of his football team…the one with all those returning seniors (18 of them)…was his offensive line.
"They grew up together, they've played together since they were in pee-wee football, and they're still very close to each other,"  said Pearce.  "We'll be as good as those guys up front."
Friday night, in a span of about twenty minutes, that offensive line laid waste to a good Brookville defense, allowing for 266 total yards in the first half…and 106 yards and a touchdown, individually, for tailback Michael Elam…on their way to a 38-0 halftime lead, and ultimately, a 38-6 win over the #6-seed Blue Devils.
"We've all been together for a long time,"  said Elam, post-game.  "The line trusts the running backs, the running backs trust the line.  Their defensive line (Brookville's) was a good one, but we just outperformed them."
The entire second half was played with the running clock, shortening the carnage and putting a lid on more yards and more points, but in that 24 minutes of first half football Milton answered at least some of the questions from those who have wondered what they might do when they played someone other than Bethel, Troy Christian, and what was perceived to be their only true threats from the Three Rivers Conference this year, Northridge and Riverside.  Milton blew both of those teams out…51-0 (Northridge), and 51-7 (Riverside).
"Yeah, it did feel good tonight because we haven't had any challenges (since Valley View in August),"  said wideout and defensive back, Cooper Brown.  "They (Brookville) were talking bad about us all week, and we used that as motivation.  We were pumped."
Prior to Friday night Milton had used that line and a bevy of talented skill position players to outscore opponents 477-60.  But to their credit, the best Brookville team in a decade came intent on threatening the #2-seed Bulldogs, who had run roughshod since their win over Valley View back on August 26 (24-14).  Brookville was known to be efficient on offense, able to run and control clock, and pursue the football relentlessly on defense.  They weren't apt to crack, and the only blemish on their 11-1 record was a Week 6 loss to that same Valley View, 28-14.
Like Cooper Brown, the crowd was pumped.  Milton filled the home stands at Xenia's Doug Adams Stadium;  and Brookville pretty much occupied all the seats on the visitors side.  The Blue Devils won the toss and deferred, choosing to make a statement with their defense on the game's first possession.
It didn't work out that way.  Milton took the kickoff and promptly marched 65 yards – highlighted by a 38 yard throw and one-hand catch by Blake Brumbaugh – and with just 2:02 off the clock Jordan Foose ran it in from eleven yards out to give Milton the 7-0 lead.
OK, then, Brookville figured.  Now we go to work.  Only, on the fourth play of their ensuing drive Conner Gibson picked off a pass from Brookville quarterback Keegan Mehr and set up the 'Dogs with good field position at the 50 yard line.
Two minutes later Blake Brumbaugh scored on a sweep from 6 yards out to lengthen the lead, 14-0.
Still, it was no time to panic when you're the #6 seed, and the Blue Devils went back to work with their third drive.  This one ended quickly, and disastrously, as Mehr and a running back ran into each other, the ball popped out, and defensive end Connor Yates fell on it for Milton.  More good field position, and a bit of that feeling that misfortune was becoming a pattern for Brookville.  But, Milton couldn't gain a first down and resorted to a 38-yard field goal attempt by Mason Grudich that made the score 17-0, still with 2:36 left in the opening quarter.
Another kickoff, and another Brookville drive, but with time running out on the quarter Mehr was again intercepted at midfield, giving Milton another point-blank opportunity to start the second quarter.  They took advantage of it, and that quickly!
First, Michael Elam took a handoff, his left tackle applied a crushing block, and Elam squirted for 24 yards down the sideline and inside the Brookville red zone.  Moments later he charged through a wide-open gap in the middle of the line to score, making the margin 24-0.
Disaster was now rapidly approaching for Brookville, as on the next drive Mehr again fumbled the handoff attempt, Milton again recovered…and on first down quarterback Nate Morter found Cooper Brown in the end zone for a circus-like, one-hand catch for another score from 44 yards out…31-0!
It couldn't have gotten worse for Brookville, the turnovers, and the fact that the Blue Devils didn't get a first down until well into the second quarter.  But it did.  Another possession, another turnover, and Milton found its way inside the 20 yard line one more time with 13 seconds left in the half.  On third down, Morter again found Cooper Brown for a sliding catch in the end zone to increase the deficit to 38-0.
For all intents, that's how it ended.  Aided by a running clock for the entire second half, Milton came out, ran the ball while the clock ran, and the third quarter was over in the blink of an eye.  After 266 yards in the first half, the Bulldogs would manage just 87 in the second half to finish with 353 yards.
Michael Elam had those 106 yards in the first half, and finished the game with only 13 in the second half, for 119 total, and a touchdown.
Cooper Brown scored twice on passes from Morter, Foose scored, and Blake Brumbaugh had a rather quiet night with four catches for 60 yards, and had one run for a score.
Brookville had nowhere near that kind of offensive fortune, but did manage to avoid the shutout late in the fourth quarter when tailback Tim Davis finally broke through the line and secondary for 60 yards, only to have Blake Brumbaugh run him down at the five yard line.  Two plays later, teammate Grady Lamb crossed the goal line with their only points of the game.
How good is the character of this Milton football team?
"A lot of guys wouldn't have taken the trouble to make that tackle with a 38-0 lead,"  Bret Pearce said of Brumbaugh's touchdown-saving tackle.  "But that's the kind of player he is."
Their line was again dominant, highlighting in Week 12 what Pearce had proclaimed before even Week 1.  It showed, without much argument, that Trevor Brazina, Ethan Lane, Connor Yates, and others are the true alpha factor of this team, while Morter, Brumbaugh, Elam, Foose and Brown are the omega guys.
"We had watched a bunch of film, and we knew what they were doing,"  said the 6′, 230-pound Brazina, afterwards…who talks the game as well as he plays.
"As a line we just talk a lot, communicate.  We've been together since the second grade.  We're brothers.  We trust each other.  We know that we're all going to execute and do our jobs.  We're in the weight room every day.  Going hard, pushing each other to get stronger…to go out on Friday nights and kick butt."
That kind of effort, that attitude…and yes, call it character…has won the respect and confidence of Bret Pearce.
"These kids have put in the work to make themselves good football players, physically.  And then they put in the work during the season to understand their position,"  says Pearce.  "And when you understand your position, when you understand the scouting report, you trust the guy on your left and right…then you can play with confidence.  Because it's not just about you.  They know that they don't have to make every play, they just have to play their part.  These 18 seniors have a lot of trust in each other.
"The way we started tonight had a lot to do with that confidence.  They know they can do it, and there'll come a point when our backs are against the wall, when we can look back that this game, say this is what we're capable of, so let's go out and do it."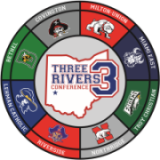 As it turned out, they'll meet the #1 seed, Valley View, again…in next week's regional final, as good a matchup as to be found in Ohio football this year in Division V.
"We're not thinking about that now,"  grinned Pearce, when asked about the rematch.  "We're going to celebrate tonight's win on the bus ride home."
Taken literally, that's about 30 minutes of celebration for what will be their first regional final appearance in a decade.  It says a lot about their trust, their confidence, and character.
And a lot about a mission!