In four sets New Bremen cruised past Convoy Crestview to earn their way to Saturday's Div. IV final, and a hoped-for third OHSAA state title in volleyball.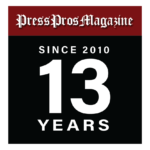 Fairborn, OH – When Paul Brown was coaching the Bengals he was fond of using the phrase, "Act like you've been here before."
He had no patience for nervousness – hesitation.  "You're getting paid to be a professional,"  he'd say.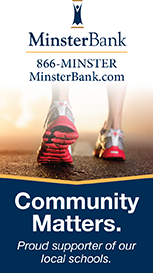 He had no tolerance for end zone celebrations.  "I hope this isn't your first, and last, time you score,"  he once reminded a rookie.  "But if you keep doing that the next time you score will be for Denver."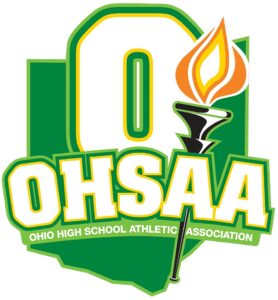 Paul Brown would no doubt have appreciated the New Bremen Cardinals, who came out Thursday afternoon and played with the cool and confidence of a professional, eliminating Convoy Crestview from the state Div. IV volleyball tournament 25-8, 25-18, 23-25, and 25-10.
They made an impression in advancing to Saturday's championship round, seeking a hoped-four third OHSAA title in volleyball in their fifth trip to the Final Four since 2017.
"They have so much experience here,"  said Crestview coach Tammy Gregory.  "We knew it was going to be a battle, but I have to give it to them.  They're athletic, they're aggressive, they have an amazing setter…they have a lot of weapons."
They used those weapons quickly, jumping out to a huge lead in set 1 before cruising to a 25-8 win.  Serves were searing across the net, handcuffing Crestview players, and any ball that got returned found its way to immediate harm in the person of Olivia Heitkamp, Rianna Paul, and Megan Reinhart.  Heitkamp finished the afternoon with a match-high 22 kills.
It was much the same in the second, as New Bremen kept up the pace, the pressure, and played with a seeming joy, knowing they were the best team on the court – confident of the outcome.
The two teams had met in August.  New Bremen won that match, but Crestview had done some inventory.  Falling behind 6-1 in the third set, Gregory called a timeout and circled the wagons.
"We just said that we have to win this set if we're going to extend the match.  We've been an up-and-down team all year."
They came out of the timeout, definitely on an 'up', and proceeded to tie, 13-13, and beat New Bremen down the stretch, 12-10…extending the match to at least one more set.
But in the three-minute timeout between sets Diana Kramer and her team hit what she later called the 'reset' button.
"That's what we call it,"  said Kramer afterwards.  "I like short phrases because they have impact.  They won the third set, but we were still confident. There's a difference in feeling confident and being confident.  When it's a 'feeling' that can go away.   But I was confident.   I'm sure some people felt that Crestview had the momentum and would come back on us.  We just reset things."
They finished with a flourish, much as they started in the first set.  Heitkamp loomed large with her ability to hit hard and accurately.  Melina Schrader would add significantly to her match-high 35 assists for the day.  At one point there were a pair of 5-0 runs, interrupted only by an errant shot or a serve.  They were that confident – that efficient.  Someone in the post-game interview room mentioned the word…intimidating.
"We were confident today because our whole community was here,"  said Kramer.  "People had to take off work, take a personal day, but they were here because of the name across our shirts – NEW BREMEN.  This means something to us, and it means something to our town.  It's humbling.  This is a dream, and when it becomes a reality it's an unbelievable feeling."
"We just try to stay energized,"  senior Megan Reinhart said.  "It's really hard to lose when you can start like we did.  This is a big stage, but I feel our tournament run has helped us because we had to play Marion Local and Fort Loramie, and either one of those matches could have been a state tournament game."
They will return to the Nutter Center on Saturday to play Monroeville for the Division IV title.  The Eagles, from Huron County, earlier knocked out Newark Catholic in straight sets.  There are no strangers at this tournament, Diana Kramer knows all about Monroeville and their 24-4 record, and mentioned that the dream isn't quite realized….yet!
"I know Kendra (Snook), she's a tremendous coach,  and Saturday will be a heckuva' match,"  she added before enjoying a day off to rest and prepare.
They left the arena a walking metaphor for the well-known soap ad – perfectly comfortable in their own skin!