Just three weeks after breaking his leg, Coldwater senior Marcel Blasingame came off the bench in the second half Friday to ignite a stagnant offense, erase a 3-0 halftime deficit, and lead the Cavaliers to a comeback 14-3 regional win over #5 Huron.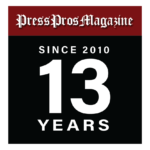 Coldwater, OH – It was something you read about in novels, to be honest.
What faint-of-heart heroes dream about, but in their boldest moment would never actually attempt.
You break your leg, have surgery the following day to repair the fibula with a plate and eight screws, and three weeks and three days later the doctors tell you it's OK to begin working out again…cautiously!
Then, in a high school football game – a playoff game with your season on the line, when the opposing team has smacked you in the mouth and there's nothing going on, offensively – you come off the bench in the second half, rally your team, erase a halftime deficit, and lead them to a 14-3 win that was so stunning, so special, as to leave tears in the eyes of those who witnessed it.
Seriously, this is not something that Mitch Albom wrote, but he could have.  It was so special as to deserve that kind of award-winning touch;  and something that actually happened Friday night in #4 seed Coldwater's 14-3 win over #5 Huron in the Division V regional semi-final.
In a see-saw defensive battle that saw Huron score on a Cameron Manner 25-yard field goal at 4:26 of the first quarter…in a first half that saw Coldwater rush for just 76 yards, and gain another 59 yards through air…that saw two promising Cavalier drives short-circuited by Huron interceptions of sophomore quarterback Braylen Harlamert…that saw a magnificent effort by the Cavalier defense that kept them in the game…seven punts, combined, in the first half…yes, this actually did happen.
Marcel Blasingame, who broke his left leg on October 14 in the first half of the Versailles game, and who had surgical repair two days later with a plate and eight screws, came off the bench Friday night and made Cavalier Stadium buzz when he walked onto the field to direct the opening drive of the second half.
"It's kinda' crazy,"  he would admit afterwards.  "Three weeks ago I broke my leg.  I broke my leg!  I had to get surgery two days later, and I never would have thought it would have been this fast.  I mean, I'm not a 100%, but when they needed me and called my name, I was ready to go."
"He came out of the locker room early at halftime and was running around on it before we even came out,"  said coach Chip Otten.  "We had talked about it, and I asked him if he was sure he wanted to do it.  He said, 'Yep, I can do it.'  We didn't run him like we would normally do, but it really seemed like he lifted everyone."
To give credit where it's due, Coldwater's defense made it all possible, stifling an impressive physical Huron team with a 2,000-yard passer in Dylan Hohler, and a bruising tailback in Andrew Delaney.  The Tigers' offensive line was  strong, bigger, and yet for the first half Hohler, Delaney and crew would manage just 44 yards on the ground, and 77 yards in total.  As it turned out, Manner's field goal amounted to the only points they would score for the game.
More, that same defense turned away Huron twice inside the red zone following interceptions of Coldwater quarterback Braylen Harlamert.  Twice on fourth and three, instead of asking Manner to put points on the board with field goal tries, they elected to go for the first down, or the touchdown.  Both times Coldwater held and kept Huron out of the end zone.
But the offense needed a spark, and no one, with the exception of Chip Otten and Marcel Blasingame, had any idea that that spark might come in the form of Blasingame's return to the field on such short notice.
"We were absolutely surprised to see him on the field,"  said Huron coach Sam Hohler.  "We didn't think he was going to play.  But obviously he gave them the spark they needed.  He did a couple of things there that really got 'em going.  Coldwater is a terrific program, and having your best player come back like that in a crucial time was really huge for them."
It seemed miraculous.  The line began firing off the ball with more enthusiasm and drive.  The pace of things was quicker.  There was an air of confidence, and will, that hadn't been there in the first half.  Taking the second half kickoff, the Cavaliers moved the ball immediately, with three successful run plays by Jack Ebbing and Braylen Harlamert.  In eight plays they moved the ball 80 yards, and at the 8:30 mark of the third quarter they got off the schneid when Jack Ebbing finally creased the Huron goal line from one yard out;  and that play was set up by a nifty pass and run connection between Blasingame and Cody Depweg who barely missed scoring himself.  Ebbing did…on the succeeding play.
The defense even picked up on the change, sacking Hohler on the ensuing drive and forcing him to make a miracle escape of his own on third and 15…a chuck and heave down field that resulted in the first down with yards added – 15 of them – for a roughing the passer call.  Now Huron was again knocking on the door of the Coldwater goal line.  But again they could not score, as on fourth down, instead of kicking to close the margin to 7-6, they went for the first down, only to have the pass broken up by AJ Harlamert.
Coldwater took over, but on the second play Blasingame rolled to his right, could not find an open receiver, and tried to guide the ball towards the sideline in the direction of Braylen Harlamert.  He didn't see Dylan Hohler, the quarterback-turned-defensive back, who stepped in front of Harlamert to pick it off, again setting up the Tigers with field position and opportunity.
And once again Coldwater's defense held on fourth down, giving the ball back to a relieved, and wiser, Blasingame to start the fourth quarter.
You've no doubt guessed by now about how this fairy tale is going to end, but not before the highlight of the night.  With the ball on his own 30 yard line Blasingame looked for an open receiver, found none, and out of instinct tucked the ball and took off past the linebackers downfield with no one near him…for 31 yards and a first down that broke the back of the Huron defense.
"My heart was in my throat,"  said Otten.  "I was thinking get down…get down…do a slide…don't take a hit."
It was Hohler, Huron's quarterback, who chased him down, and while everyone held their breath Blasingame bounced up and collected the huddle for the next play.  A few moments later, at 5:35, Cody Depweg blasted across from two yards out to make the score 14-3.  The brothers Grimm, who made a living writing fairy tales, could not have claimed one better.
One more possession for Huron, who in desperation mode, went to the air.  That produced the exclamation point to the story when defensive back Curtis Duerr beat Huron receiver Beau Harkelroad for the ball thirty yards downfield, and with the change of possession Coldwater's offensive line, Ebbing, Harlamert, and Depweg ran out the clock.
"That was pretty impressive," added Huron coach Sam Hohler.  "You don't see many high school kids do something like he [Marcel Blasingame] did.  It showed a lot about him, his character, and the toughness of the Coldwater program."
The Cavaliers finished with 394 total yards, compared to the 135 they managed in the first half…277 of it on the ground, compared to the 76 they got before Blasingame made his entrance.  The defense held Huron to just 176 total yards, and no touchdowns!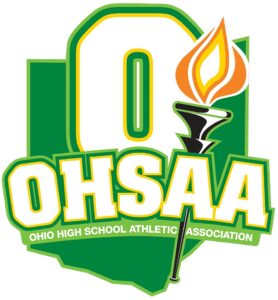 "Our defense rose to the occasion,"  said Otten.  "We had a tough time with their quarterback.  He could run,  and he could throw a little bit.
"And we challenged the O-line…they didn't play very well in the first half.  We made some adjustments, some technical things, and really…we said let's just go right at 'em and see what happens.  Jack Ebbing (18 carries, 125 yards) and Cody Depweg ran great in the second half."
Chip Otten will remember this.  They'll all remember this – a game so improbable as to be accounted for with many of the greater moments of past championship seasons.  That night when……….
"Our guy who had surgery three weeks ago, came off the bench and did it,"  said Otten.
"He went in and did it."