Sophomore quarterback Andrew Leonard completed 22 of 26 passes for 272 yards and three touchdowns – two to Alex Okuley – and Olentangy Liberty avenged a 2021 playoff defeat on the same field to Dublin Jerome.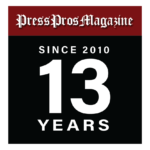 Dublin, OH – During the aftermath of a hard-fought Division I, Region 2 quarterfinal, veteran coach Steve Hale emphatically declined to comment on whether his Olentangy Liberty team viewed the game at Dublin Jerome as a grudge match. The Patriots' 2021 season ended with a first-round, 21-7 playoff defeat on the same field.
After a decisive 28-14 smackdown of the region's No. 1 seed, some of Liberty's players weren't exactly taking the same high road as their coach.
"When we saw the bracket and found out we were playing Jerome, we were really excited," Patriots senior receiver Alex Okuley said. "After the way things ended last year, yes, there was definitely some motivation…some drive there to come back and make things right."
Added senior defensive lineman Luke Fleet, "We all remember what happened last year. Of course, this was a revenge game. We really wanted to take it to them."
Hitting on all cylinders from the get-go, Liberty did just what Fleet and Okuley suggested. The Patriots dominated the line of scrimmage on both sides of the ball and played their usual solid but unspectacular, mistake-free brand of football.
While Jerome amassed plenty of computer points by beating a slew of quality opponents, many skeptics maintained that a continual run of close games (six games decided by a touchdown or fewer and nine games within 10 points) and a spate of key players lost to season-ending injuries made the Celtics ripe for an upset. Bouncing back from an 0-3 start, Liberty, most felt, was certainly better than its regular-season .500 record suggested.
"I'm just really happy for these kids," said Hale, who founded the program in 2003 and is widely regarded as one of the best coaches in central Ohio. "They've battled through a lot to get to this point. We took our lumps against some really good teams early. We lost (a share of) the league title. There have been some injuries to key players. But despite all of this, the guys have completely bought in and just continued to get better every week."
Eighth-seeded Liberty (7-5) advances to face fourth-seeded Perrysburg (11-1) Friday at a neutral site. Perrysburg, a 24-8 winner over Olentangy Berlin, has won 11 straight since dropping its season opener to Jerome, 24-21.
Driving the ball at will with a balance of crisp passing and effective running, the Patriots did not punt on the way to a 28-7 halftime lead.
Its eight-play, 71-yard opening march was capped with a 3-yard touchdown run by sophomore Ryan Schapker, who was filling in for injured Jake Struck.
Jerome (9-3) answered with an eight-play, 80-yard drive of its own, with Luke McLoughlin scoring on a 10-yard TD run.
But Liberty pieced together another eight-play, 80-yard scoring drive, then followed it with a 72-yard TD pass from Andrew Leonard to Okuley and a second Leonard-to-Okuley connection of 14 yards.
"I mean, they just came out firing on offense, and we dug ourselves a hole we couldn't get out of," Jerome coach Brett Glass said. "We just couldn't get anything going consistently. Liberty did a great job."
Just 5-feet-10 and 170 pounds, Leonard loomed large in the outcome. He completed 22 of 26 passes for 272 yards with three TDs.
"I just felt amazing tonight," said Leonard, who came in with 1,997 yards passing with 14 TDs and 10 interceptions. "The ball was just coming out right. Our coaches did a great job putting together a great plan. We came in ready to run the ball with run-pass option, but we adjusted to what they showed us defensively and attacked them with short passes."
Okuley, a first-team All-Central District choice, made four receptions for 112 yards with two TDs. He escaped a defender and took a short pass to the house. On the second score, he used his 6-3 frame to advantage on a perfectly thrown fade pass.
"We didn't look that great early on in the season, but we just kept growing as a team and trusted each other," Okuley said. "We were focusing on how many guys they were putting in the box.
Give it to Leonard. This was one of the best games he's played all year. He was spot-on tonight. He started the season as an inexperienced sophomore and has just grown so much."
Evan Nelson also caught a touchdown pass and Schapker did the heavy lifting with 83 yards on 19 carries.
Liberty's defense also was rock solid. Except for yielding a 75-yard pass play from Zakk Tschirhart to Marek Tzagournis early in the fourth quarter that made it 28-14, the Patriots employed an umbrella defense that limited the Celtics to short passes.
"Those guys were really running to the ball well," Hale said. "They kept everything in front of them most of the night."
The Patriots turned in two pivotal fourth-down stops to secure the momentum. In the second quarter, Jerome called consecutive timeouts, first lining up in the I-formation, then showing four wideouts. Fleet nailed Luke McLoughlin for a two-yard loss.
"Everyone just did their jobs and believed in one another," Fleet said. "Going in, our plan was just to hold them to nothing more than five yards."
In third quarter, with Jerome facing third-and-1 near midfield, McLoughlin was stuffed for no gain on two consecutive plays. Blake Hajjar made the tackle on fourth down.
Liberty outgained Jerome 384-235 in total yardage.
The Patriots took a 6-5 lead in the series between the schools, which are located nine miles apart.
Hale, who has guided Liberty to the playoffs 15 times in his 20 years, will try to weave his magic one more time. He took a team with a 6-4 regular-season record in 2016 to its first of three straight regional titles.