Dayton scored 28 straight points in the first half, Jake Chisholm scored four touchdowns and the Flyers stayed in hunt for a PFL title with a 52-28 victory.
By Jeff Gilbert for PressProsMagazine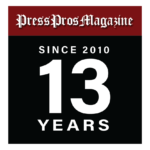 Clinton, S.C. – Lots of good things continued to happen for the Dayton Flyers on their trip south on Saturday. But two Saturdays from now, when the Flyers take the field for their final game at Davidson, that will be the real test of how good.
"We always say if we can go into the last game of the year with a chance to win a title, it's been a good season," coach Rick Chamberlin said.
The Flyers kept the dream alive Saturday with a 52-28 victory over Presbyterian, the only team unable to win a Pioneer Football League game this season.
Chamberlin's team is 5-1 in the PFL along with Butler and Davidson. They are all chasing 6-0 St. Thomas, which defeated Valparaiso 34-7. The Tommies are expected to win at Stetson next week, but they go to Butler for their finale. If Dayton and Butler win out and St. Thomas' only loss is to Butler, the three teams will share the PFL crown.
One of the good things that happened Saturday was a program milestone. The Flyers won their 700th game to become the ninth school playing at the FCS level to hit that mark. The others are Yale, Harvard, Penn, Princeton, North Dakota State, Dartmouth, Delaware and Lehigh.
Chamberlin has been a part of 400 of those Ws as a player, assistant coach and head coach. They haven't all come easy, and despite the final score Saturday, Chamberlin didn't think this one did either.
"It wasn't easy," he said. "I felt like we played well at times, but they never gave in."
If there's a defensive deficiency causing Chamberlin consternation, it's the big play. Butler hit the Flyers with a 75-yard touchdown pass in a 31-0 victory. Last week Valparaiso threw a 67-yard touchdown, and the week before Stetson threw a 75-yard touchdown.
On Saturday, on the first play after the Flyers took a 7-0 lead on Shane Hamm's 10-yard pass to Jake Chisholm, the big play appeared again. Dominic Kibby threw – you guessed it – a 75-yard touchdown to Nate Hayden. Kibby added touchdown passes of 67 and 31 yards.
"Defensively we did well, but we again had two blown coverages that led to a touchdown," Chamberlin said. "And then we had a mental breakdown on technique from a corner, and they scored a touchdown. We've just got to stop giving up those long touchdowns. That keeps teams in the game."

Otherwise, Chamberlin didn't find much fault with the 24-point victory. After it was 7-7, the Flyers scored four straight touchdowns for a 35-7 lead. Chisholm scored on runs of two and seven yards, Alex Hirschfield returned Ty Stylski's blocked punt 16 yards to the end zone and Michael Neel scored on an eight-yard run.
Chisholm had his second straight 100-yard game with 156 and three touchdowns on 24 carries.
Chisholm continued to move up UD's career lists. His four touchdowns moved him into second place on the career list with 43. Pat Hofacre scored 53. He is now third in rushing yards with 2,967 yards, trailing his immediate predecessors, Tucker Yinger (3,757 yards) and Connor Cacsor (3,581).
"Jake Chisholm was his usual self, making big plays for us running the ball," Chamberlin said. "I thought our offensive line controlled their D line the whole game."
Hamm made his fourth start since Dante Casciola's season-ending injury. In addition to his rushing, he threw for 55 yards on 6-of-14 passing and had an interception returned 67 yards for a touchdown to cut the Flyers' lead to 35-21 early in the second half.
"He made something out of nothing a number of times," Chamberlin said of Hamm's scrambling abilities.
But the pick six was a clear reminder that Hamm is a redshirt freshman.
"We had momentum, and he just threw it too fast," Chamberlin said. "He didn't look before he threw it. And the guy broke, and he was gone."
Other than the big pass plays, Chamberlin was pleased with the defense. They held the Blue Hose to minus-9 rushing yards and sacked Kibby six times, all by different players. Linebacker Nathan Arthur made seven tackles, including two for losses and a sack. Logan Dalton had an interception.

The front four dominated. Joe Durham batted down two passes and recovered a fumble. And Sam Schadek got a sack for the third straight game.
The Flyers dominated special teams play. In addition to scoring off the blocked punt, Sam Bubonics returned four punts for 70 yards and Luke Brenner returned three kickoffs for 103 yards to create good field position.
Lots of good things, indeed. And maybe a really big one is yet to come.