A week after an awful collection of blowouts across the state, the top seeds begin to step forward in Week 2 to prove, or state their case, for regional relevancy.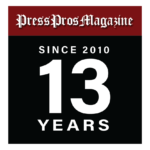 Truth or dare, if you're a die-hard high school football fan, how did you rank opening week of the playoffs?
If you're one who believes that everyone deserves a T-shirt…then you got your wish.
If you're a traditionalist, you might have held your nose at some of the outcomes.
Just on the Press Pros scoreboard alone, covering southwest, west-central, and the Ohio Capital Conference games…36 of the 75 games listed finished with a running clock, 30-point margins of victory, or more.
Wonderful for the money changers in the temple. Questionable for schools #12 seed or lower who made those long bus trips to find out what they already knew. If you're 3-7, you're 3-7 for a reason. You don't need more proof by playing Lakewood St. Ed or Marion Local.
This week it gets competitively better with the field cut in half, and the contenders begin to emerge to state their case that the #8 seed just might find a way to get to the regional final.
The Friday Night 'Picks' playoff version is sponsored, as always by the Nidec/Minster Corporation, in Minster, who for years have supported good things for the people of Auglaize County and their future. They're always looking for good people at Nidec…and they may be looking for you.
This week, fewer games, better games, and frankly, more challenging games to pick. Last week we improved our seasonal record with a perfect 13 for 13 (first time ever in the playoffs). This week, unfamiliarity with many of the middle seeds makes it more of a challenge.
Starting with….
Catholic Central @ Ansonia…The Tigers didn't let us down last week, crushing Riverview Academy with their running game (one of the 36 running clock games), and came out of it in good shape to take on the 7-3 Irish from Springfield this week. I expect the same outcome, just by fewer points. Ansonia will control time of possession, and win. Tigers, by two scores.
Southeastern @ Fort Loramie…It took Loramie a while to settle in against St. Henry last week, but when they did, they covered our prediction of a three-score win. Southeastern has rebounded well to win four in a row after dropping four in a row in mid-season (against their league's best teams), and that's going to haunt them again this week. Loramie will be the best team they've played so far. Redskins move on, by three scores.
New Bremen @ Riverside…New Bremen dropped in the seedings with their Week 10 loss at Delphos St,. John, but that's of little consequence when you consider they bought a week's rest for quarterback and all-everything contributor, David Homan. Riverside had some nice moments during the regular season, but when it came down to playing Milton Union, Northeastern, and Ansonia, those moments became hard to find. A reader from Logan County wrote this week to say, "I guarantee you'll pick New Bremen."  Outside of Blake Brumbaugh (Milton) the Pirates haven't seen a player like David Homan, if he's healthy. Don't hold it against me, but you're right..I'm taking New Bremen, by two scores.
Minster @ Mechanicsburg…Confessing, I'm a big fan of what sophomore quarterback Brogan Stephey has done for Minster this year, and will do for the next two years. But I'm also enormously respectful for the football culture at Mechanicsburg, and their ability to take teams who rely on the passing game out of that element because I would expect them to really get after Stephey and force him to make plays under duress. Mechanicsburg is 9-2, with quality wins over West Jefferson and Kenton Ridge…but they're not the 'Berg of the past. Minster is one of those rare teams that's getting better with each passing week. Stephey has a lot of weapons, and last week the 'Cats finally got their running game off the ground with scatback Connor Schmiesing. No one in high school football can defend the passing game for the entire 48 minutes, and I'm counting on Stephey having enough moments to make the difference. I'm taking Minster to move on, with a tight, one-score win.
West Liberty Salem @ Marion…West Liberty Salem coach Dan McGill knows what's coming. This won't be Fairbanks, or Cedarville, or Triad. This will be like taking on the United Nations for the 6-5 Tigers. No teams named Tigers has beaten Marion for a long, long time. We looked it up. It won't happen this week, either. Marion…by four scores.
Twin Valley South @ Versailles…Likewise to the West Liberty-Marion game, it's been a while since a team of Panthers has beaten Versailles. TVS got here with by putting up 70 on Williamsburg last week, but strength of schedule becomes their achilles heel this week. Versailles (8-3) is simply too strong and seasoned. Tigers and all that experience win…by three scores.
Preble Shawnee @ Milton Union…This will be a better game than you might imagine, just because Preble has enough weapons to make teams honor those weapons. Likewise, so does Milton Union, who has the best collection of senior talent of any school in west-central Ohio. Preble can both run, and pass…but Milton has the numbers to prove they can do it better. Here's the caveat: Preble might be the toughest physical challenge outside of Valley View that Milton has seen. That will make a difference. But the 'Dogs still win…by two scores.
Trotwood @ Tipp…Trotwood has won six straight after suffering a reeling start at the beginning of the season. And it's telling to look at the teams that beat them – Winton Woods, Kettering Fairmont, and Springfield…teams that can control the ball and dictate the pace of the game. Tipp has become such a team, and may be one of the better devised defenses that the Rams have faced. After replacing those 19 starters from a year ago, Matt Burgbacher is now playing with house money. Trotwood has more athletes, but Tipp just wins football games. This game could be tight enough to where a quality kicker will make the difference. That's cliche', of course, but Jackson Kleather is one of Ohio's best for Tipp. I believe in what's going on at City Park. I'm taking Tipp, by less than a score – aka, Jackson Kleather!
Piqua @ Edgewood…#6 Piqua against #3 Edgewood in a rematch of 2021, in which PIqua hung on to win that game at Alexander Stadium. This year the tables would seem to be turned in Edgewood's favor, with an experienced team led by senior running back Tavionne Crosby (5'11", 215 lbs) who led the Southwest Ohio Conference in rushing and touchdowns (1,316 and 20). Crosby is a load who put up 146 last week against Lima Senior. That said, the Cougars won't throw it much, but they can. But what they will do is milk the clock with Crosby and their run game, forcing Piqua to do the same and make the most of every possession. Lot of similarities in the two teams, hence last year's 28-21 score in which Edgewood lost. This year, at home, I think the odds are in their favor – that and Tavionne Crosby. I'm picking the Cougars to win in one of the weekend's best games…by two scores
Huron @ Coldwater…A Division V match that's rich with statistics.  Coldwater has been at or near the top of MAC standings in both offense and defense all year.  And Huron, from the Sandusky Bay Conference, can say the same with a quartet of linebackers that rank in the  top ten of league tacklers…and a quarterback, Dylan Hohler, who at 6'4″ and 190 pounds has thrown for 2,100 yards and ran for 702 more.  Coldwater, however, is accustomed to dynamic playmakers in a league with David Homan and Brogan Stephey, but for a third week in a row will be without their own, Marcel Blasingame.
Huron is 9-2, but not enough is known about 9-2 against…who?  Two of their nine wins came against winless teams, and five others came against .500 teams.  So the Tigers are averaging 45 points a game.  Conversely, they're giving up 30 a game.  The bigger concern here is how to get it done without Blasingame, because the two teams appear to be a mirror image of each other.  Braylen Harlamert has made quick progress as a fill-in, but while they're obviously a competitive football team, it's hard to put Huron in the same category, defensively, with Marion Local.  We'll see soon enough.  When you consider the Bay Division of the SBC, it's not better than teams Coldwater's already played.  Realistically, the greatest motivation might be to win one more week in the hopes they get Blasingame back for the regional semi-finals.  Another Coldwater advantage…a three-hour ride to play an opponent you know nothing about – uncertainty of the unknown.  We know a lot, and yet, being high school football, we don't know enough.  This could be a shootout, and if it is, at home…why not Coldwater?