The reigning Atlantic 10 Conference Rookie of The Year started all 35 games and led the team in minutes played.  Now he's back, in the media spotlight, and ready to become a "man among men" in the A-10.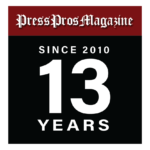 Dayton, OH – The thing that grabs the attention of University of Dayton basketball fans about DaRon Holmes II is that when he takes the floor, he plays with a smile as wide as the Great Miami River across the street from UD Arena.
He enjoys himself. He enjoys playing basketball. He enjoys playing for the University of Dayton. He enjoys his 'Deuce' nickname in honor of the II at the end of his name.
The enjoyment isn't felt by the opposition. For one thing, Holmes puts on his own private block party. He blocked 81 shots last season, most ever in the history of the storied UD program.
And his play is a quick evolution. The first few games last season, Holmes was so green cows might have munched on him. He was pushed, and shoved, and grabbed.
But it was evident he was a diamond needing a polish job. He was a four-star recruit and the highest ranked recruit ever to haul their luggage to Dayton.
He learned fast, quickly claiming the area around the basket as his private yard and squatter's beware. He improved so much that by season's end he was named the Atlantic 10's Rookie of the Week four times, which paved the path to the A-10's Rookie of the Year award. He also was named to the A-10 All-Defensive team.
Valuable? Like an heirloom watch. He started all 35 games and led the team in minutes played.
He led the balanced UD scoring at 12.8 points game with 65% shooting (second nationally in percentage), but showed his learning curve by averaging more than 20 points the last five games of the season.
Defense? Holmes plays defense as if the guy he is guarding stole his class ring and Holmes is going to get it back. And he goes up for rebounds as if jumping over a bonfire and he isn't about to get his posterior scorched.
You want dunks. Holmes dunks it more than a guy with a bag full of Dunkin' Donuts and a full coffee pot. Point guard Malachi Smith was ever-alert for a lob to Holmes for a flush.
This year, Holmes is on the Karl Malone watch list, given to the nation's best power forward.

And it is fortunate for Flyer Fans that Holmes isn't interested right now in the finer things in life. He said a major school's representative, a school from the Power Five, came after him over the summer, offering more than gold, myrrh and incense if he would enter the transfer portal and sign with them.
Under the NIL (name, image and likeness) rule, independent organizations not part of a school, can offer princely sums to athletes to enroll at their school.
"Chasing the money isn't worth it, I'd rather have the love. Loyalty means something to me," said the 6-foot-10 native of Goodyear, Ariz.
To Holmes, team camaraderie and loyalty means more than a wad of hundred dollars bills in his pocket.
"We're like a big family," he said of his team. "And I think our fans can see that. As a team, we're all connected and we learn from each other."
But it remains to be seen if Holmes is around after this season. . .for his junior and senior seasons. The NBA already is sniffing around and his name is high on their draft whiteboards.
Meanwhile, Holmes remains the big man on campus right now and figures to be an even bigger man on the basketball floor, a pre-season All-Atlantic 10 player.
And he can expect rapt attention from the opposition, double and triple team defenses when the ball is fed to him near the basket.
As Capital University Coach Damon Goodwin said after Holmes manhandled his smaller in stature players during an exhibition game, "He is a man among boys. And he is going to be a man among men in the A-10."
Off the floor, though, Holmes is personality personified. Last season, before his first collegiate game, he was walking up the tunnel from the floor to the lockerroom. I was just arriving and was walking down the ramp.
As our paths started to cross, Holmes stopped, stuck out his hand, and welcomed me to the game. He had no idea who I was and why I was there. He was just being friendly.
Anyway, Flyer Faithful. Enjoy him this year. Even though he doesn't worship the green, there is a good chance he'll be wearing some NBA colors after this season.