What Wednesday night's regional semi-finals lacked in drama…they more than made up for in executionary excellence.  New Bremen and Fort Loramie swept back Jackson Center and Russia to claim a berth in Saturday's Division IV regional championship.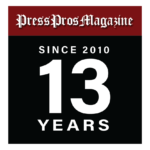 Englewood, OH – Both winning coaches, New Bremen's Diana Kramer and Fort Loramie's John Rodgers, expressed their appreciation Thursday night following their respective triumphs that put them in Saturday's OHSAA Division IV volleyball regional finals.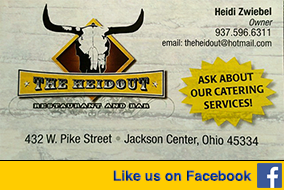 One, they expressed their gratitude over their teams playing their best when it mattered the most.
Two, they expressed empathy for the fact of how hard it is to get this far and see it all come to an end, as was the case for Jackson Center and Russia.
"You hope you're going to play well if you get to this point,"  said Rodgers, following Loramie's straight-set win over Shelby County League rival, Russia.
"You work on it, and work on it, and work on it…and tonight, the girls' attitudes changed.  This week they were a different group in the gym.  Some small changes, and small adjustments, and they just never wavered from that.  And that's a sign of growth, and I couldn't be more proud of them and my staff for that.
"I feel for them (Russia),"  he added.  "I feel for the seniors because seniors are important to a coach, and when that last game comes it doesn't matter at what level it comes.  It's difficult.  So I do feel for them, but volleyball teaches you a lot of life lessons.  It's very beneficial to their kids, and our kids, and their journey in life."
In the evening's first match the state's #1 team, New Bremen (25-1), put on a clinic at the expense of Jackson Center.  Kim Metz's Tigers were former two-time state champions with a young group that made big strides this year, finishing with a regional round flourish and 19-7 record.  Kramer's Cardinals swept past them in straight sets, 25-15, 25-20, and 25-13…largely on the offensive power of Olivia Heitkamp, who was not only powerful, but surgical in her skill to hit the ball hard and place it where she wanted.
New Bremen was simply the better team, athletic, polished, and confident behind their #1 ranking.  Leading by as much as ten points in the first set, Jackson nonetheless kept scrapping to edge closer, only to see New Bremen go on a 5-0 run at the end to close out the game.
The second game was closer, Jackson's biggest deficit being six points, and again, at the urging of coach Kim Metz the young Tigers closed to 22-20…only to see a missed serve, a missed tip into the net, and a big kill by Heitkamp close out that game.
In the third set, Jackson Center actually grabbed the early lead, 4-3, but didn't have it for long.  New Bremen went on a 12-6 run that saw Heitkamp gain confidence and power with each succeeding kill…and all things clicking from her teammates to enable her.  They closed out the set, 25-13, in little more than an hour.
"We started strong, and I felt we were in control,"  said Kramer afterwards.  "They did close it to 22-20 in the second set, and sometimes you have to push the 'reset' button, and we were able to do that after a timeout.  And if we can continue to do that, control the ball on our side of the net, I like our chances.
"That (Jackson Center) was a well-coached team, they never quit, and they've got a couple of really nice outside hitters.  But I liked our aggressiveness, our serve, and athleticism.  I thought we played well."
Olivia Heitkamp, a 5'11" junior, did most of the heavy lifting, finishing with 18 saves on a night when she's rarely been better.
"The thing is, so many people notice her for her offense,"  said Kramer.  "But she can't do it alone.  Our back line was passing well, and Melina Schrader was doing a fabulous job of putting her in position to make those plays."
Heitkamp didn't miss many, taking full advantage of the work by Schrader and the rest of her teammates.
"I loved it tonight…I love it when the crowds are into it,"  said the Cardinals' junior.  "When the community all comes out, even the other team's fans.  It's just so much fun."
And more fun awaits on Saturday because in the second match of the evening Fort Loramie (21-6) took that straight-set example from New Bremen and closed out rival Russia's season, 25-15, 25-18, and 25-15.  Playing the rubber game between the two teams this year (they previously split in league play), Tuesday's match was for the chance to play in the Finals next week.  But Loramie, on this night, played like New Bremen – better, more athletic, and more precise in their execution, a demonstration of the growth that John Rodgers had cultivated throughout the regular season.
Russia got off to a struggling start, and 'out of system' in the first set…the volleyball term meaning that they just weren't in synch.
The Raiders regrouped in the second set, a close encounter through the first fifteen points that saw five ties, with Russia taking a 15-13 lead over Loramie.  But at that point the Redskins went on a 7-0 run to push the score out to 20-15, and finished things quickly, at 25-18.
The final set was a demonstration of Fort Loramie's quickness and ability to get to balls, keep points in play, and to put shots just out of the reach. It took its toll on Russia defenders.  Loramie finished with a flourish, as Summer Hoying ended the match by putting a shot over the net that fell to the floor in between Russia defenders.
Russia finished 21-6 for the year, and once again failed to get beyond the regional round of the tournament…a goal that coach Aaron Watkins was emphatic about back at the beginning of the year.  Wednesday his disappointment was evident, but the odds are long for anyone in west-central Ohio volleyball, facing what's arguably the best concentration of Division IV  talent in the state.
"It's such a mental game,"  Watkins said quietly of his season ending prematurely again – and the challenge of volleyball.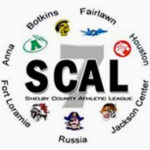 Now Loramie  and New Bremen will meet Saturday afternoon at Northmont High School for the right to advance to next week's OHSAA Finals.  Except for a difference in experience, the two programs have more similarities than differences.  Rodgers hopes that the momentum of Wednesday is something he can carry over to the regional final, two days hence.
"I've seen it happen before,"  said Rodgers.  "And I'll let you know Saturday.  I've had teams where I just get out of the way, and they just…go.  Sometimes it's at the end of the year, and sometimes it's in the middle of the year.
"But I hope we can, because this team is very capable of beating New Bremen – capable of getting into the Final Four."