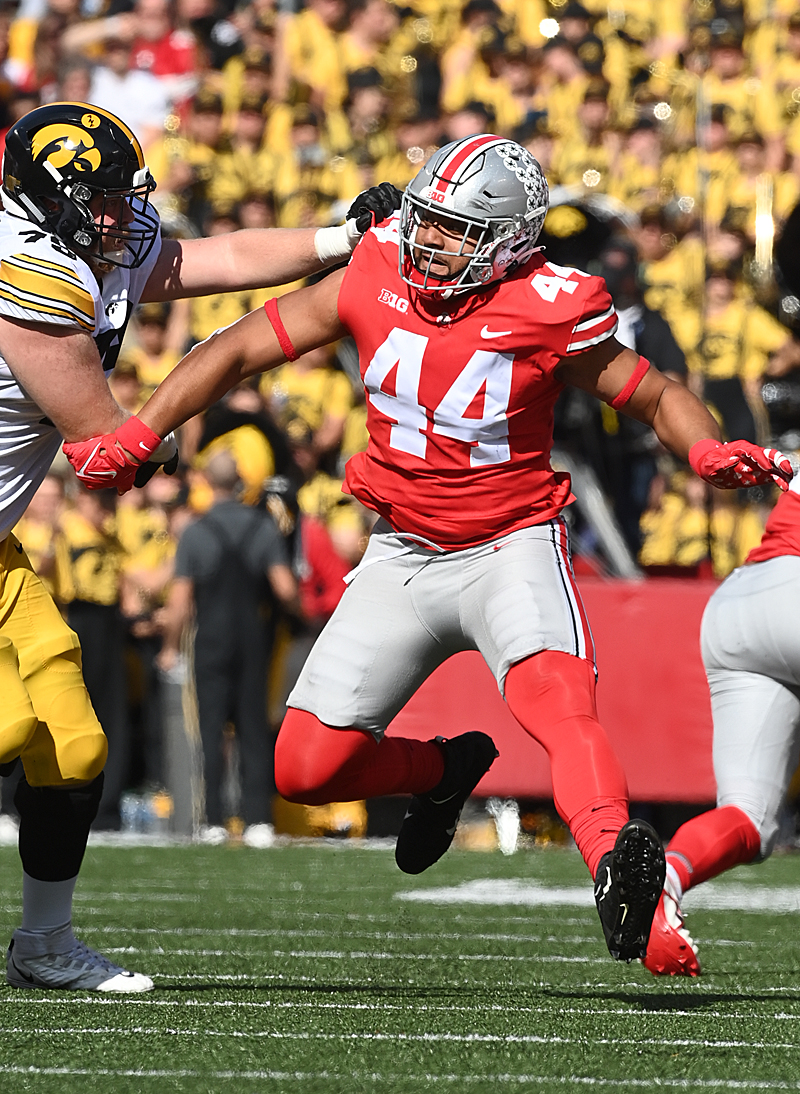 JT Tuimoloau (above, #44) had a game for the ages (Penn State) with two interceptions, including one for a 14-yard touchdown, a strip sack and fumble recovery and a pass deflection that was intercepted by Zach Harrison. (Press Pros Feature Photos)
Ohio State is ranked No. 2 in the first College Football Playoff rankings, but the lone goal is to take down 1-7 Northwestern to keep or improve that status. He doesn't care about "Tunnel-Gate" or any other outside noise.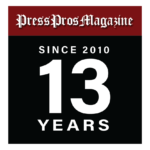 Columbus, OH – Ryan Day knew the question was coming and that it was only a matter of time until it would be dropped at his feet like a stink bomb.
You know the subject matter.
"The Tunnel'' fiasco, in which eight Michigan State players mugged at least two Michiganders after Saturday's game, has been on every college football fan's mind and lips.
Wolverines coach Jim Harbaugh thinks that this isn't a boy-will-be-boys incident and that the guilty Spartans should be prosecuted.
It's one of the ugliest game day incidents in Big Ten history.
Day wasn't biting on that bait.
"Now I'm going down a bad road,'' the Ohio State head coach said with a wide smile. "I'm not going down that road. I'm not going to comment on that.''
These last four weeks of the regular season are when the Buckeyes, under Day's advice/orders, are planning to be as vanilla as the extract that mother puts in her baking.
"We've always said it's about us, so why does that change this week?'' he said. "Last week, going into Penn State it was about us and our preparation. Let's just focus on us and getting better. I think the second thing is, you have to continue to do what you are doing and get better every week. If you don't, you show weakness and you set yourself up for problems down the road. For us, our goals are still our goals and is we don't maximize every single minute of the day this week then it doesn't matter. Listen, it's a Big Ten matchup and it's on the road. We've got to go play football and we want to play at a high level. It's shouldn't matter who we are playing. It starts with energy (in practice and meetings).''
How riveted is Day?
Asked whether he would watch the first reveal of the College Football Playoff rankings Tuesday night, and he was quick to say no. He had a reason for not tuning in. He would be working. But, yeah, he certainly does think his team needed to be in the top four.
Ohio State (8-0) is a 38-point favorite to make mush of Northwestern (1-7) at noon Saturday at Ryan Field in Evanston. ABC will televise.
They will go into that game ranked No. 2 behind Tennessee and ahead of No. 3 Georgia and No. 4 Clemson in the CFP. Michigan, by the way, is fifth.
Committee chairman Boo Corrigan said the Volunteers victories over Alabama and LSU boosted them over the Buckeyes. What landed Ohio State second, he said, is "the explosive nature of their offense,'' especially in Saturday's 44-31 win at then-No. 13 Penn State.
There is a lot to embrace from that game. Day raved about how tight end Cade Stover and defensive end JT Tuimoloau prepared and played against the Nittany Lions.
Stover caught six passes for 78 yards, including a 24-yard touchdown, and just as importantly blocked two defenders on TreVeyon Henderson's 41-yard touchdown run.
"Cade was unbelievable on Saturday,'' Day said. "It was his leadership on the sideline. He never wavered. He has been like that all along. He does a lot of the dirty work that tight ends do. He embraces that. But he has a lot of versatility and it's making him more and more valuable every day. He is becoming more and more of a weapon. He was a mismatch against the linebacker in that game and CJ found that matchup several times. He's blocking at a high level and running routes at a high level and he can protect. If you do those three things, every team in America will want you.''
Tuimoloau had a game for the ages with two interceptions, including one for a 14-yard touchdown, a strip sack and fumble recovery and a pass deflection that was intercepted by Zach Harrison. He had six tackles that include two other tackles for losses.
There was excitement when the coaches announced that he was a Champion during Sunday night's meeting. Only players grading 80 percent or more for the game receive the honor. It's this team's version of the Academy Awards.
"It's a big deal to grade out a champion. It's a huge deal,'' Day said. "There is so much that goes into to getting on the field and grading out (more than) 80 percent to be a champion. When we call out each guy, everyone is clapping. There is a lot of energy in the room.''
Yes, everyone in the room knew that "JTT'' as he is called would be a Champion. Still, there was drama. This was his Oscar night.
"When it got to JT as player of the game, that was the longest list (of accomplishments) that we've ever had,'' Day said. We took a deep breath (to get them all mentioned). The guys really like when there's a (long) list. You could just feel (the anticipation) getting bigger and bigger and bigger and it was just one of those things where the guys were going nuts. It was one of the most historic games in college football. That's not an exaggeration to say that.''
WORKING ON A CHAIN GANG
Tailback Miyan Williams was forced to leave the Penn State game for good when his right arm, wrist or hand – Ohio State isn't saying – struck one the yard marker poles while being tackled after a 5-yard run on the final play of the first quarter.
Day said the chain gang failed to drop the sticks when defensive back Ji'Ayer Brown ran Williams out of bounds.
"That put Miyan in a tough spot there,'' he said.
The injury, Day said, won't affect Williams' status for Northwestern.
And what is a Tuesday news conference without a question about receiver Jaxon Smith-Njigba's status? Put together his appearances against Notre Dame, Toledo and Iowa and they might not add up to a full game because of a hamstring injury.
Day said he is returning to his policy of not talking about injuries in depth and that the availability report that is made public an hour before kickoff will be the only mention of injuries.
But it's not a total blackout on the subject.
"Absolutely,'' Day said with regard to his confidence of Smith-Njigba playing again this season.
It has been a tough go mentally for Smith-Njigba.
"He's beating himself up a little bit. He's been better this week,'' receivers coach and passing game coordinator Brian Hartline said. "He wants to play in the worst way."
FACTS OF THE MATTER
The Buckeyes are tied with Oklahoma in having scored 20 or more points in a Division I record 69 straight games. The Sooners' streak was from 2016-2021. Southern Cal is third at 63 and Oklahoma State fourth at 58. . . The last two times Ohio State and Northwestern met was in the Big Ten championship game in 2018 and 2020. . . The last regular season meeting between the teams was a 52-3 Buckeyes victory in 2019. . .The series is 64-14-1 in favor of Ohio State. . .Day is 28-1 in conference games. . . Offensive coordinator Kevin Wilson coached in the same capacity for Northwestern from 1999-2001 under the late Randy Walker.