Any concern about Brogan Stephey's late-season injury has gone away much easier than Minster will now that its sophomore QB is back and has a running game to go with his throwing abilities.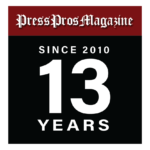 Minster, OH – When strong-armed sophomore quarterback Brogan Stephey banged knees with a defender in the penultimate game of the regular season, a depressing deja vu intruded upon Minster's five-game winning streak.
But all here-we-go-again flashbacks to the Wildcats' 1-9 struggles of last season are now superfluous stress, given Stephey's bounce-back Friday night in Minster's Playoff opener and an added bonus his injury appears to have prompted.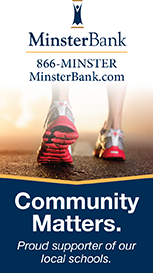 Using Stephey's four touchdown passes and his six-yard run for another score that inaugurated the runaway, Minster breezed to a 50-22 win over Fort Recovery and a second-round game Friday at third-seeded Mechanicsburg (9-2).
The 'Burg will have a lot more on its scouting report than just Stephey's right arm , however, since running back Connor Schmiesing's 206 rushing yards against Fort Recovery commands its own considerable attention.
"Our running backs hadn't broken through yet, so that was an emphasis all week," said Schmiesing, a 5-6, 155-pound scatback who scored twice on the ground and via a 40-yard catch and run. "We needed someone to take control of the backfield. We can't rely on Brogan after that knee."
Stephey looked pretty reliable, too, with 11 carries for 51 yards, including a six-yard scamper that put Minster on the board three minutes in.
It's his throwing, however, that earned first-team All-Midwest Athletic Conference honors, and there's little doubt Stephey can still do that given his assault on Fort Recovery's secondary.
He completed nine of 15 attempts for 206 yards, with TD passes of 34 yards to James Niemeyer, 20 yards to Chase Couse, 40 yards to Schmiesing and 15 to Devan Wuebker.
"With Brogan back there, everyone is more confident," Schmiesing said. "The team is clicking way better."
New Bremen throttled the Wildcats, 35-6, once Stephey departed, and head coach Seth Whiting kept his QB sidelined for the regular-season finale at Versailles, a 35-6 defeat, as a precaution.
"He was all right," Whiting said. "We just didn't need the hits on him."
Fort Recovery (3-8) seldom got close to Stephey all night because of the dominance Minster displayed up front.
"I don't know if it mattered so much who had it for them," Indians coach Brent Niekamp said. "Their line did a great job. That was really the difference in their ability to run. They got so much movement, even when we fit things up well. They would gain four, five or six yards because of their ability to move the front."
Whiting emphasized that necessity all week, knowing any extended Playoff run will come down to augmenting the Wildcats' passing skill with a better rushing performance than has been their norm.
"We had not run for 100 yards all year, other than Stephey did a couple times," he said. "It was a point of emphasis all week to be incredibly physical. We try to challenge our kids' toughness a lot. We really wanted to see them be physical tonight and they were."
Fort Recovery shocked Minster with a 58-yard touchdown pass from Cale Rammel to Troy Homan on its first snap after Stephey's rushing TD gave his team a 7-0 lead.
But after that, Niemeyer got free for his TD and then intercepted Rammel and ran it back to the Indians' 18.
Couse's scoring catch at 2:36 of the first quarter made it, 21-6, and then Schmiesing provided the highlight of the night.
After bursting free for a 16-yard touchdown run and 28-8 lead with 4:53 left in the half, he took a throwback screen on Minster's next possession and turned up the left sideline.
As Fort Recovery pursued, Schmiesing veered right around a defender, veered right again and eventually found freedom for a 40-yard score, having covered nearly the entire width of the field to reach the end zone.
"I was laughing the whole time," Stephey said. "That's what he did in junior high. He looked like a video game. He was running across the field, making everyone miss. That's just what he does. He's fun to watch."
Likewise, even though Minster's journey is far from over, Whiting took some satisfaction in his team winning a playoff game to validate the perseverance his players have shown.
"I don't spend time dwelling on wins and losses very often, but I'm really happy for our kids," he said. "I know last year was rough to deal with,  the injuries and other things going on.
"New coach, new program, and things rolled downhill quickly with the injuries. I think most people probably figured we were a 3-7 or 2-8 team this season. Our kids used that all off-season. That was their edge to have a chip on their shoulder and work."
The win ended quite a week for the Whiting family, one that began with the birth of their third son, Trace Quinton Whiting, on Sunday night.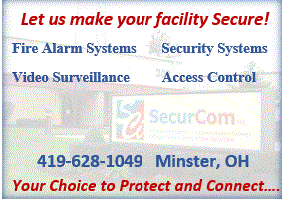 "I have an unbelievable wife," Whiting said. "Most head coaches will tell you, 'It's hard to have this job if you don't have an incredibly understanding wife.'  Family will always take precedence, obviously, but we were excited he came on a Sunday. 
"My wife said the same thing when she started having contractions on Saturday night. She said, 'Hey, this is great. This won't disrupt anything practice-wise.' That's where her brain was.
"She's healthy. He's healthy. Now we have three under three, so that will be interesting."
Listen to the Bruce Hooley Show from 11 a.m.-1 p.m. Monday-Friday on 94.5 FM in Dayton and 98.9 FM in Columbus.