The three-headed backfield monster of Colton Powers, Griffin Johnson and Nascere Smith proved too tough to handle as 11th-seeded Marysville knocked off sixth-seeded Coffman in an evenly-matched Division I, Region 2 playoff game.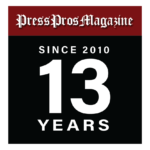 Dublin, OH – After a remarkably clean, evenly-played Division I, Region 2 football playoff game Friday, coaches Brent Johnson of Marysville and Geron Stokes of Dublin Coffman spoke with great respect about one another and the stamp they have branded on their respective programs.
In six years as head coach, and five more as defensive coordinator, Johnson has meticulously molded Marysville into a physical, ground-and-pound team, placing a great emphasis on winning the line of scrimmage on both sides of the ball. In just his second year at Coffman, after building a small-school powerhouse at Minster, Stokes is trying to ingrain many of the same qualities into his players.
On this night, 11th-seeded Marysville imposed its will on sixth-seeded Coffman just a little bit better and a little longer to come away with a 28-24 win over a long-time nemesis one community down US Route 33. During a sporadically-played series dating back some 52 years, the Shamrocks owned a 26-3 lead over the Monarchs, including eight straight mostly-lopsided wins from 2012 to 2019 when they both played in the Ohio Capital Conference Central Division.
This marked Marysville's first win over Coffman since 1982, and it couldn't have come at a better time.
"I told you guys all week that blocking and tackling would win this game and, sure enough, it did," Johnson said while addressing his players afterward. "You guys just kept swinging, didn't you?"
The momentum changed dramatically in this entertaining contest as Coffman (7-4) erased a 21-7 second-quarter deficit to finally grab its first lead, 24-21, with 9:45 remaining on a four-yard touchdown run by Carson Cox. The momentum was clearly in favor of the home team as Marysville (7-4) was forced to punt on its first two drives of the half.
"It wasn't a matter of us changing up anything," Monarchs quarterback Brady Seger said. "We just had to get back to basics and do what we do best. Coach always tells us that if we go hard for 48 minutes and do what we're supposed to do, we're going to be tough enough to come out on top. Those first two drives of the half, we just shot ourselves in the foot and let them take control of the game."
The Monarchs took it back with a clutch 11-play, 80-yard scoring drive. Usually relied on as a game manager and ball-handler in a fast-paced wing-T offense, Seger ignited the march with a 33-yard pass over the top of the defense to Micah Walls.
The three-headed backfield monster of Colton Powers, Griffin Johnson and Nascere Smith did the rest. On a pivotal fourth-and-3 play, Powers picked up 14 yards. Smith finished it with a 6-yard run to the end zone on an inside handoff.
"We weren't in many close games last year (during a 12-1 regional final run), but we've won a couple this year, so this isn't completely new to us," Powers said. "It was just a matter of fighting for every yard and beating them at the line of scrimmage. We switched a few things up on that final drive to keep them on their toes, and one was the pass play we hit. All I can say is we put it together when we needed to. This is the toughest, hard-nosed team I've ever been around."
With 3:43 remaining and all three timeouts in its pocket, Coffman still had a chance to counter. But Marysville's defense stepped up in a big way, forcing quarterback Quinn Hart into four straight incompletions, the latter coming on fourth down at the 39.
"We gave up a lot of yards to them from late in the first half on, we just needed one stop at the end and we got it," Johnson said. "I know some people in the community were saying that it had been a long time since we'd beaten them, but these kids don't know anything about that," Brent Johnson said. "Their older brothers and parents might have mentioned something to them about it, though, to get them riled up."
Powers, a younger brother of Ohio State freshman linebacker Gabe, rushed for 123 yards on 16 carries with touchdowns of 16, 10 and 5 yards. Johnson had 95 yards on 15 rushes. The swift-footed Smith added 91 yards and the winning score. All told, Marysville racked up 317 yards on the ground, averaging close to seven yards per carry.
The game featured just three punts, three penalties for a combined 20 yards and no turnovers.
The Monarchs jumped out to the early lead with classic drives of 76, 77 and 88 yards.
With Daven White (98 yards) and Hart (87) getting huge holes to run through, Coffman fought its way back.
Hart hit Columbia-bound tight end Braden Dougherty in the back of the end zone for a 20-yard TD connection on fourth-and-16 with 18 seconds left in the half to change of the tenor of the game.
But Coffman managed just three points on two productive drives to open the second half, and those missed opportunities would come back to haunt the Shamrocks.
Marysville will travel to third-seeded Centerville (9-2) for its regional quarterfinal game Friday.
"The bottom line was we couldn't get stops when it mattered," Stokes said. "What did they get on us, like 600 yards rushing? Those three backs just ate us alive. We were a mess defensively, and that's on me. We got out-toughed. I got out-coached. Our kids fought hard, but it was a just outcome. Hopefully, we took something away from tonight. This was a brutal reminder that as a program, we need to get tougher and more disciplined to win games like this."