The Flyers showed their fourth-quarter mettle again with key plays on offense and defense…improve to 6-2 overall and 4-1 in the Pioneer Football League with 31-24 win over Valparaiso.
By Jeff Gilbert for Press Pros Magazine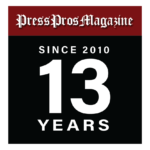 Dayton, OH – Everybody loves a good pancake. Pick any topping, pick any syrup and you'll find a taker.
And a well-timed pancake block? Now you're really cooking.
Nothing makes a running back lick his lips more than a defender being flattened in front of him. He sees nothing but delicious green turf. And the end zone, if he can get there, is the whipped cream on top.
On Saturday at Welcome Stadium, Jake Chisholm and the Dayton Flyers enjoyed the sweetness of a pancake block when it mattered most.
At the end of a back-and-forth tussle, the Flyers were driving toward the hope of a game-winning field goal. Shane Hamm had just completed a five-yard pass to Derek Willits to set up third-and-one at the Valparaiso 23, and time was running out. The Flyers rushed into formation. The Beacons did, too, but seemed unsure of what the Flyers would do.
The snap went to Hamm. The handoff went to Chisholm. Four-fifths of the offensive line stood up the on-their-heels Valpo defensive line. Chisholm hit the hole between the center and the left guard. Suddenly there was a defender – the only one with a chance to stop the play – sliding to the hole. But one of Chisholm's linemen flattened him – like a pancake – and Chisholm leaped them both and sprinted the rest of the 23 yards for a touchdown with 18 seconds left.
The touchdown broke a tie and lifted the Flyers to a thrilling 31-24 victory, avenging a rare loss at Valpo (4-4, 3-2) last year and keeping them in the hunt for a Pioneer Football League title at 4-1 and 6-2 overall. St. Thomas remains in first place at 5-0.
But who made the block? It all happened so fast.
"We were just aiming for a field goal, then we had some great blocking up front, and I jumped over a guy that got pancaked," Chisholm said. "I don't really remember."
Yes, it was one of those linemen who toil in anonymity. The big fellas mostly get mentioned when the penalty flag calls them out. "Gotta watch the film," coaches often say when asked about such things as key blocks.
Film study – a video on Dayton's football Twitter account and photos by UD photographer Erik Schelkun – after the game and interviews were over revealed that right tackle David Tkatch rode a defensive end down the line and pancaked him in the hole that Chisholm ran through. By now, Chisholm surely knows it was Tkatch.
For the unfamiliar, of which there are many, Tkatch wears No. 53 and is a 6-foot-2, 291-pound senior from Harmony, Pa. Had Chisholm, Hamm or head coach Rick Chamberlin known it was Tkatch they surely would have had good things to say about him.
As it was, there was plenty of praise for Chisholm, whose touchdown put him over the 100-yard mark to 103 on 18 carries. This week Chisholm was named one of 15 finalists for the Campbell Trophy, otherwise known as the academic Heisman.
"That shows you why he is a Campbell trophy finalist," Chamberlin said. "He's an outstanding student, 3.98 in pre-med, and he's a heck of a football player. Not many players could have made that run that Jake made scoring that touchdown."
The winning 68-yard drive of nine plays consisted of six runs and three passes. And Hamm was ready for it.
"That's why we all play football," he said. "Ever since we're little kids, we dream of that moment. Two minutes, three minutes whatever is on the clock. This is on us now."

The drive began with 2:57 left, so there was time to run. The Flyers' strategy was to get into position for a field goal and leave Valpo little to no time to respond.
Hamm ran for six yards and threw three yards to Luke Brenner to start the drive. Hamm ran again for three yards and a first down, then threw incomplete to Brenner. But Brenner drew a pass interference penalty and the Flyers were at the Valpo 45.
After an incompletion, the Flyers had 1:16 left. Hamm went up the middle for four yards, then scrambled for nine yards. Chisholm got the next four yards to the 28. Dayton called time with 35 seconds left. Then the pass to Willits, then the Tkatch pancake and the Chisholm touchdown.
"I was just trying to get a yard," Chisholm said. "Then there was nobody there, so I just took it all the way."
The field goal possibility would have given Michael Denning, a senior from Lehman Catholic, a chance to be the hero. He was filling in for Sam Webster, who was sick all week and didn't practice. Denning kicked a 24-yard field goal at the end of the first half to give the Flyers a 17-14 lead.
On Dayton's previous drive, Denning missed a 29-yard attempt with 5:50 left that would have broken the tie.
"I had confidence in Michael," Chamberlin said. "But when we were back near the 50 and started moving, I told Sam – his leg is stronger than Michael's – if it's a long one, we're going to have you kick. But when we got up close, I said Michael would be doing the kicking."
The final touchdown was the dessert for what had been a full meal of football on both sides. The Flyers were like a short-order cook on their opening drive, scoring on their first possession for the first time this season. Hamm hit Joey Swanson for 30 yards and Michael Neel ran for 30 yards to set up Chisholm's 11-yard touchdown run with 12:21 left in the first quarter.
On Valpo's third play, Cole Hildebrand returned an interception for 30 yards and a 14-0 Dayton lead. Valpo, however, led by redshirt freshman quarterback Michael Appel from Springboro, rallied the Beacons with touchdown passes of 67 and 12 yards.
After each team's filling first course, there wasn't much action until Valpo opened the second half with another Appel-led drive to take a 21-17 lead. From there, the Dayton defense surrendered only a field goal to start the fourth quarter and began to put pressure on and sack Appel.
Senior tackle Sam Schadek from Upper Arlington led the charge with three sacks to raise his season total to five. Schadek explained that the Flyers expected the Beacons to run more, which made the play-action pass plays effective and held the line back. As the game progressed, Schadek and friends got more aggressive and flattened Appel.
"Getting sacks is one of the best feelings for D-lineman," Schadek said. "There's passes all the time, but there's only a couple plays where the D-lineman gets a sack. So it being such a low percentage of when you do get a sack, that's what makes it so much better."
With Hamm starting for the third time since Dante Casciola suffered a season-ending injury, the Flyers' offense has evolved into a heavy running attack. Hamm rushed for 129 yards on 25 carries, including 79 yards on scrambles. He also completed 12 of 19 passes for 137 yards and threw three interceptions.
Hamm and Chisholm have mutual respect for each other as runners.
"He's a magician and reminds me of some of the stuff that Jack Cook used to do when he was here," Chisholm said of Hamm. "Some of the stuff where you thought it was a for sure sack and then he's able to weasel his way out of it and make a positive gain. Anytime he's got the ball in his hands, he can do something special."
"His vision and his grittiness," Hamm said of Chisholm. "He takes some hits and I'm like, 'Oh, that was a hard hit.' Pops right back up like nothing happened. His vision I admire. I don't know how he sees some of the cutbacks and makes people miss. He's just hard to get down on the ground. He uses his leverage very well."
Leverage was never more apparent than on the winning touchdown. And a lineman named Tkatch (and of course Brian Stevens, Colin Koennecke, Dylan DeMaison, George Fanelli) – might get treated to a steak dinner.
Or a stack of pancakes.