Quarterback Braylen Harlamert clicked on all cylinders in the backup role, and the rest of the Coldwater Cavaliers returned to predictable form in a 41-7 win in the opening round of the Division V playoffs.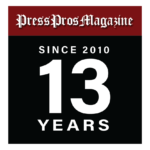 Coldwater, OH – Coldwater coach Chip Otten breathed deeply and exhaled afterwards, a man relieved to see things return to normalcy – the best-laid plans, you might say.
His junior quarterback, all 5'10" and 150 pounds of him – Braylen Harlamert – had just delivered as much as one could humanly hope for in a backup role, leading the Cavaliers to a dominating, crushing 41-7 win in the opening round of the Division V playoffs Friday night.  Playing for the injured Marcel Blasingame, the MAC's top rusher and 4th-leading passer, the Cavaliers' version of 'mini-me' had just rushed for 135 yards and two touchdowns, and passed for 89 yards and another score to lead his team to at least one more week of playoff football.
"You never know after you get your butt whupped the week before,"  said Otten, failing to hide a smile.  "Going into the tournament you don't know if you're going to be able to rebound.  You know, you're thinking you didn't win the league, we lost to our rival, but sometimes the kids bounce back better than the coaches do.  Kids are very resilient.  Tonight we got our mojo back."
#4 Coldwater was playing the #13 seed, North Union, a team you don't hear much about out of the Central Buckeye Conference.  Their top player, Owen Davis, is going to Purdue, and at 6'2″, 216 pounds, looks every bit the part of being a Big Ten recruit.  Their quarterback, Cayden Lassiter came into the game with both rushing and passing credentials.  So playing an unfamiliar opponent, no one knew what to expect following last week's 35-0 thumping at the hands of Marion Local.
Braylen Harlamert gave Otten, Coldwater – everyone – a lift on the their first play from scrimmage.
After forcing North Union to punt on the game's opening possession, Coldwater took over the ball on their own 27 yard line.  On the first play, Harlamert found a crack in the line, slipped through, and raced 73 yards untouched for a touchdown to give Coldwater the lead, 7-0.
"It felt like I squeezed through a little hole,"  he said after the game.  "I looked up and there was nobody there.  I just kept running."
They kicked off, of course, North Union got the ball, couldn't move with it, and punted again.  Coldwater took over on their own 47 yard line.  Like Deja vu all over again, on the first play Braylen Harlamert dropped back, and his cousin Evan Harlamert started downfield from his split end position, running a deep post route.  Braylen launched a perfect strike that hit Evan right in the hands, in full stride, and he outran North Union safety Trey Bossaller the final 15 yards for a second touchdown in as many plays…14-0, Coldwater.
"I haven't thrown that much, I'm just trying to get back into the rhythm of throwing and developing my arm, and Evan ran a great route,"  explained Braylen.  "It definitely helps when a receiver runs under a good ball like that and scores a touchdown."
"I didn't think Braylen had it in him,"  smiled Evan, a year older, and nearly a foot taller at 6'3″.  "I thought I would have to turn around and jump for it.  But when I looked up it was right there.  I caught it in stride and high-stepped away from the defender into the end zone."
Two plays, and two touchdowns.  Just four minutes into the game, it was a detrimental blow to the  competitive heart of North Union.
"Those two big plays right at the top of the game were big, allowed them to steal the momentum,"  said Wildcats coach Nick Hajjar.  "We settled in a little bit after that, but the big plays hit us in the mouth.  Even with the injuries (to Blasingame and Luke Sudhoff), they're an excellent football team."
And leading 14-0, they played like it.
The offense would go on score four times in the first half – on a Braylen Harlamert 29-yard run at 3:54 of the second quarter;  and Jack Ebbing would make the deficit 28-0 before halftime with a 2-yard run.
Defensively, Owen Davis is a good football player, but Coldwater's defense didn't seem to notice, swarming the Wildcats' rush leader, holding him to 58 yards on 17 carries for the game, his longest just 20 yards.  Beyond that, he had little help, just 6 additional rushing yards, and 9 of 22 from Lassiter through the air, for 86 yards, and a mop-up touchdown against the Coldwater reserves with a minute in a half left it the game.
Coldwater added a 31-yard field goal by Justin Kaup at 8:07 of the third quarter (31-0) that kicked in the running clock, then tacked on a second Ebbing touchdown from 17 yards at 1:44 to swell the score to 38-0.
Kaup reprised his 31-yard kick with an even longer one, from 41 yards, at 5:19 in the fourth to push the margin to 41-0.
North Union's only score came on their final possession, a pass from Lassiter to Trey Bossaller of 52 yards to close the scoring at 41-7.
It was a good win, a complete win…Coldwater controlling every phase of the game.  Led by Braylen Harlamert's contribution of 224 total yards, the Cavaliers outgained the Wildcats by a margin of 357 to 150, and 256 of those Coldwater yards were on the ground.  Jack Ebbing rushed 11 times for 99 yards.
"We got off to that good start,"  said Otten.  "On the first play we saw how their safety was creeping up (Harlamert's touchdown run), and we said, 'OK'.  We ran a 'fly fake' on that play and decided to run it again [on the next possession], and Evan ran a great route and Braylen put it right on the money.  Both of those guys are good baseball players so you know they can throw.  It's just a matter of getting it on target."
They had that familiar Coldwater spring in their step afterwards, a symbol of the resilience that Otten had spoken about earlier.  Kids do bounce back – forget a bad game – and tend to dwell on the here and now, drawing off the latest positive reinforcement.  Otten hopes that along with getting some banged up contributors back in the lineup, Friday's win can carry them far enough for Marcel Blasingame to return.  Just two weeks after breaking a bone in his leg, earlier Friday he was back on a treadmill doing some light running.
"No question that tonight's win gives us added confidence,"  added Otten.  "We just got Jack Broering back.  Cody Depweg had a sore shoulder after last week and he was feeling better tonight…and Marcel was on the treadmill today.  If we can keep everyone else healthy, and add a few others…and our kicker had a good night tonight with a couple of longer kicks, and that adds to his confidence…so yeah, all the phases were there tonight."
And how many more wins will it take to have Blasingame back in the lineup?
"I wouldn't expect him next week, that's too soon,"  said Otten.  "We're hoping one more win, and the following week we could have him back.  That would be awesome."
Next up…Huron, the #5 seed, who advanced Friday with a 35-14 win over Edison.  You can wish for more, and better, but that's football.  For now the band-aids and spare parts are stepping up, stepping in, and playing like Coldwater.  They're still an excellent football team.
So says Nick Hajjar.