(Editor's Note:  When he won the Division II state title in 2006 Bill Nees thought he'd be winning those titles for years.  He hasn't, but he continues to do the work necessary to win, and to imprint the kids he coaches with life lessons that will serve them continuously.  A popular read when we first posted this profile on Nees in 2019, we offer it as an encore this week as the coach of the Piqua Indians, a regional finalist in 2021,  prepares for another playoff run,  and pursuing the dream once more.)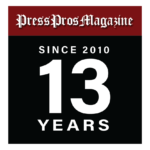 Piqua – He's outlasted, and outdone, the legacy of his predecessors, George 'Buck' Wertz, Chuck Asher, and Steve Magoteaux, the most notable of Piqua football coaches before his arrival in 1992.
He'll tell you that he's outlasted the Wing-T offense, tight ends in modern football, and outside linebackers…testimony to how the game has evolved during his 196 career wins (196-100) at Piqua.
He'll tell you how he's outlasted long-time rival and Troy's all-time winningest coach, Steve Nolan…then explain how meaningful the impact of their time together has been on both his personal development, and his legacy as a coach.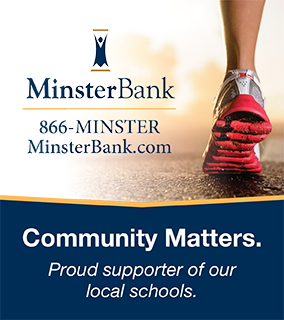 He'll tell you about the irony of life and coaching.  "When I started out I was the new kid on the block,"  Nees said this week.  "Now I've gone the gamut.  Things have flipped around on me."
But except for thinning hair, Bill Nees isn't much different than he was when he started – committed, energetic, determined to fulfill his own expectations, he's still 'all in' with everything he does.
"He's always been old-school,"  says friend and former Miami Valley football official, Steve Partington.  "There's a story about Bill when he was right out of college, when he was teaching at Graham and living in Piqua.  He got up one morning and his car wouldn't start…and he ran all the way to Graham High School to get there in time to teach – 15 miles.
"But as an official you always appreciated Billy because he was totally committed to coaching.  He never interfered or got in your way.  He was as thorough and prepared as anyone you could name.  When the game was over he'd be watching film for next week's game within thirty minutes."
It's been a notable year for what some coaching colleagues now call the 'Dean' of area coaches.  He was inducted into the Baldwin Wallace Football Hall of Fame over the winter.  He played both offensive and defensive line for the Yellow Jackets on their 1978 Division III national championship team.  His coach at BW was Lee Tressel, father of former OSU coach Jim Tressel.
This past June he was inducted into the Miami Valley Football Coaches Hall of Fame.  And along with that…the Ohio High School Football Coaches Association Hall of Fame.  A devout family man and father of Travis, Alex, and daughter Emma, he has seen his two boys follow in his football footsteps.  Alex is a junior cornerback at Ashland University, and Travis will coach as one of his Piqua assistants this fall, something that visibly pleases the old 'ball coach' if you ask him.
27 seasons in one place is significant, because in this day NO ONE stays at one school as a head coach of anything for 27 years.  No one puts up with anyone that long in today's culture.  They're either too fixated on winning or they don't win enough.  They're either too tough, or not tough enough.  There's a million reasons why communities don't like coaches anymore, but Bill Nees, despite the odds, has come through it.
"I don't know if I could do it again,"  he admits.  "But I've always taken coaching one year at a time.  I always give myself a one-year contract and ask myself at the end of the year if I'm excited about doing it again.  And every year I've been excited about doing it again and getting better.  We jump in the weight room, I'll come up with a couple of new ideas, I'll get a good coaching staff around me, and we go after another year.
"But I do think if you maintain high expectations, if you're fair with people, if you're honest with them, if you have reasons for what you do, if you can keep personalities out of it…I think you can still survive pretty well.  One thing about Piqua is we've got tough kids.  They want to work, and they just assume that you're supposed to do mandatory things to be better.  They don't realize that somewhere out there coaches are begging kids to get out of bed in the morning to go lift, do extra work, and be good citizens.  They just take it for granted that what we do in Piqua is what you're supposed to do."
He's seen a lot.  He's accomplished a lot – state runners-up in Division II in 2000, then six years later he won the Division II title over Pickerington Central with a stellar group of athletes that included Brandon Saine, Justin Hemm, Phil Collier, and Dusty Snyder.
But he's seen the down side of football on this same journey.  Since that 2006 season the Indians have been just above a .500 program (.550, 66-54), a hard pill to swallow for what looked to be a tenure of continued success after that lone title season.
"We won in 2006 you think, OK, there'll be ten straight years of this, but it just doesn't work that way,"  says Nees.  "But once you do win it, every year I come in believing that this is the year when we get it going again, and I feel that way this year.  We've only got ten seniors on the roster, but they're good.  We've got a good junior class, a really strong sophomore class that was 10-0 last year…and some of those guys are going to be pushing this year…and a freshman class that's been undefeated since I think they were born.  So yeah, I think we're going to be pretty good."
Rival coaches in the new MVL (Miami Valley League) concede…Piqua is well-equipped to knock off Troy as recent title winners of what was the Greater Western Ohio Conference North Division.  "If had I had what Bill's got I'd hang around for a few more years,"  says one.
"He's got great talent coming on,"  admits new Tipp coach, Matt Burgbacher.  "They're going to be good this year, but I think they're going to be REALLY good for the next two years."
And that fact of the new league – a bit of back to the future, if you will – is another factor that has Nees motivated for at least another year.
"I think it's a great thing, at least for the northern schools, because of the rivalries and meaningfulness of the games.  No more of those long cross-over games and long junior high trips during the week.  I wished it would have been that way when my kids were playing.  Now we're close and the teams have known each other for a long time.  This is gonna' be good."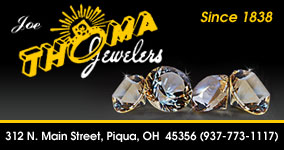 He credits his longevity to his family, his assistants, a supportive administration…and the kids that have played for him.  And yes, Bill Nees credits Lee Tressel, for whom he once played at Baldwin Wallace, and a man that marked him for life.
"You took him for granted at the time,"  says Nees with a laugh.  "Like, our school colors were brown and gold at BW and you swore you'd never go around dressed in school colors.  Now I go around all the time wearing red, blue and white. You tell yourself you won't speak in cliches', like Coach Tressel did, but you catch yourself doing a lot of the same things."
And, he credits all those years of coaching against Steve Nolan…for keeping it real, interesting, and never dull.
"We were both at the height of what we were doing for many of those years.  We were both up there and accomplishing a lot, and at the expense of each other.  And in all those years there were just a couple where it didn't matter what he did, we were just going to smoke 'em.  And there were a couple of years when we got smoked.  But the rest of the time we knew so much about each other – he was Wing T and I had a split back offense – but always something a little different, a little the same.  One year he'd do something and we'd go, 'Oh my God, he did that six years ago.'  And one year he told people that he didn't know what we'd run on offense because we'd run every play from the previous seventeen years – that we had no identity.  And he was right.  I think we're always going to be connected because we coached at the same time – a great rivalry between two great football programs."
He makes no mention whatsoever of how much longer.  He's on that one-year deal, and he still has his sense of humor.  Sometime this fall Bill Nees will get that ceremonial cake commemorating 200 careers wins at Piqua. "We'd better get 200,"  he cracks.  "If we don't there's something seriously wrong."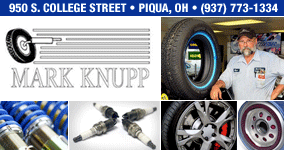 But the bigger question might be:  Will Bill Nees outlast high school football as we know it, with concerns about safety, declining numbers, and cultural evolution?
"I don't know if this answers that question,"  he starts.  "But we've got good numbers at Piqua.  We've had the highest numbers of kids in our summer camps.  We've been ahead of the curve as to OHSAA and reduced practice times.  We try to keep everybody healthy.  We don't do 'Oklahoma' drills on the first day of camp anymore, because you can't coach like you used to.  But as to the future of high school football…I don't think about it that much, although I would be concerned as to some of the smaller schools.  Because, when you don't have enough kids it's hard to play."
But they don't have that problem in Piqua.  Interest has never been higher – higher than it was in Wertz's time, Asher's time, and Magoteaux's time.  Bill Nees has outlasted, and outdone them all.
The 'Dean' is still here;  and he's looking for more.