The Shelby County League flexed its volleyball muscle Tuesday as Fort Loramie and Russia each advanced in straight-set fashion to the weekend district finals in Division IV.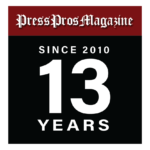 Troy, OH – Most of those who showed up to watch expected #2 seed Fort Loramie (20-6) to upend #9 seed Franklin-Monroe (15-11) in the first match of Tuesday evening's Division IV district semi-final round at Troy High School.
Likewise, they expected #1-seed Russia to take out the #10 seed, Sidney Lehman, in the second match.
Loramie coach John Rodgers hedged when asked about it afterwards.  He wasn't so sure.
"Every round of the tournament is a new environment for these girls,"  said Rodgers.  "I'm not going to say that we're a young team, but there's a lot to take in when you're a young player.  The emotions are high, and a team like Franklin-Monroe…they just came out and went for it.  And that's what you expect teams to do when you get to this level.  They're going to go for it, and you've got to play."
It did, in fact, take them a while.  FM came out going for it, led by 4 twice early in the first set, before Loramie finally shook the cob webs and began to find their gait and tied the game at 14-14.
From that point, the Redskins went on a 10-1 run, rained shots from the front, middle and back, and set the tone for the rest of the match with a 25-15 win.
It's a game of momentum, as we've written so many times, and Loramie carried that 'mo' into the second set, led by 10 points until FM had a late spurt to cut the eventual margin to 25-17.
And as young teams can do when they get that warm fuzzy feeling of confidence, they quickly dispatched the Jets in the final set, 25-11, to raise their season total of wins to 20, against just 6 losses.  Not bad for a 'young' team!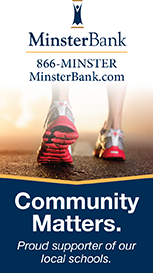 And then…there is such a thing of being so young that you're fearless, and oblivious to the threat of losing.
"In our case it might be the opposite,"  said Rodgers.  "They're aware.  They're Fort Loramie athletes and they've been around this kind of thing for years.  And now it's their turn, and they don't let each other down.  They're playing hard, there's no doubt about that.
"But you can't simulate this kind of pressure and environment in practice, either.  The only way you get to experience it is to actually experience it."
As is their custom, they spread things out statistically.  Avery Brandewie (9 kills), Summer Hoying (8 kills), Victoria Mescher (8 kills) and Katrina Berning (10 kills) shared the load offensively.
"It's just one of those things…even though we won I think they still felt they struggled.  I think we'll learn, and get better as a result of that,"  added Rodgers.  "Even though we have a short amount of time to get better….we'll get better."
In the evening's second semi-final match, Russia, the #1 seed (20-5), came out sluggish for the first twelve points of the first set against #10-seed Lehman (14-11), but ignited behind the hitting and blocking of senior all-state candidate Kate Sherman to overtake the Cavaliers and win the set, 25-20.
Russia was simply too big, and too powerful for the Carolyn Dammeyer's Cavs, taking the second set in similar fashion, 25-16, and wrapped up the shutout with a third set win, 25-17.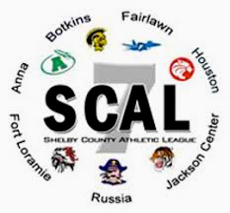 Russia moves on to play the winner of Wednesday's semi-final match between Fairfield Cincinnati Christian and New Miami in a Saturday district final in Troy.
Fort Loramie already knows who it will play – Covington – the #5 seed (17-8).  The Buccaneers advanced out of the sectional round by defeating Fairlawn in straight sets on Monday.