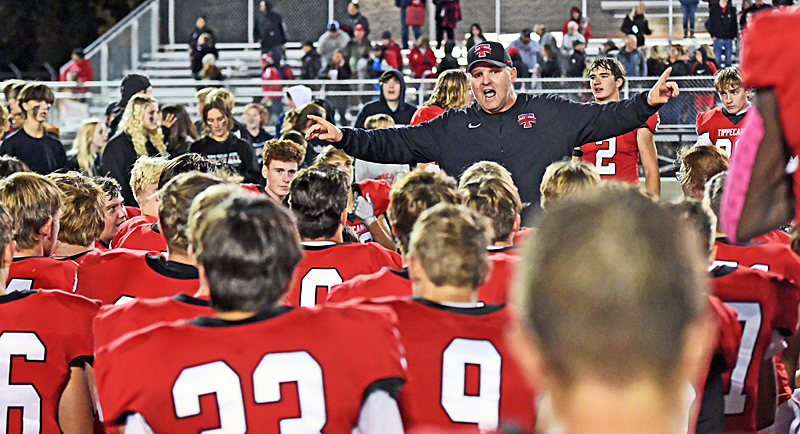 Matt Burgbacher – Tipp City Head Football Coach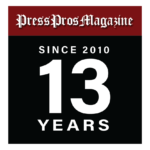 In a culture of coaching where the public asks too often, what have you done for us lately, and without regard for…'treat it good while you've got it'…you cannot overlook, take for granted, or appreciate too much the investment, commitment, and record of third-year football coach Matt Burgbacher, who just led the Tipp City Red Devils to a 9-1 record, the Miami Valley League (North Division) title, and the #3 seed in Region 12, Division III for next week's opening of the 2022 OHSAA state football title chase.
And…he did this one year after losing 19 starters on offense and defense due to graduation, following an 8-2 season and another berth in the state playoff chase.
"That probably isn't going to happen very often, lose that many starters off your football team and do what this team's done [in 2022],"  said Burgbacher.  "It's a tribute to the kind of kids we have at Tipp."
It's also a tribute to the coaching record, personality and perspective of Matt Burgbacher, this week's Who's Hot honoree on Press Pros.
He's been successful at every stop of his head coaching journey, taking over the Fort Loramie job eleven seasons ago and immediately made the Redskins a consistent playoff contender in Region 28, Division VII.
From there he moved to Troy in 2016 to replace Scott Brewer, restoring the Trojan program to a 35-7 record and consecutive playoff appearances in four seasons.
Then in 2019 he surprised everyone in Miami County and Miami Valley football by announcing that he was resigning to move to Tipp City, where he graduated, played, and coached with his father, Charlie, before taking the Fort Loramie position.
"It just felt right,"  he said at the time.  "Being an alumni and having the opportunity to lead the same program my dad did for 26 years is very special to me.  I wanted to go home."
He took over a 5-5 Red Devil program that was suffering on the field and from a lack of participation (56 kids), and moved those numbers immediately.  In 2020 the Division III Red Devils improved to 7-2 with a Covid-altered schedule.  In 2021 he improved again, to 10-3, winning playoff games against Mount Healthy and Kettering Alter.  And in 2022, he feels that the future of the program is a matter of 'anything-is-possible', both short-term and long.  He's building, having dressed more than 90 kids this year, freshman through the senior class.
"We work hard, but we have fun,"  Burgbacher smiled as he explained recently.  "But most of all, we let the kids know that they're all important.  Any contribution they can make on the field is something that can help us win."
And who can argue?  Their lone loss in 2022 came against 1o-o Xenia (#2 in Division II, Region 8) in a game that Tipp surged to go ahead in the fourth quarter, then lost (27-22) on Xenia's final possession of the game."
"Disappointing, but we learned from that game,"  says Burgbacher.  "We got better.  Our kids got better, competitively."
Without question, considering subsequent wins over Troy (21-7) and favored Piqua (23-20).
In an era where no one coaches at one school for 26 years anymore, like Charlie Burgbacher did, there's all the reason in the world why Tipp City should at least consider Matt Burgbacher, along with 'treat it good while you've got it!'
At Press Pros, we're fortunate to have him as this week's 'Who's Hot' subject, with congratulations and best wishes for another playoff season.
Peace of mind is as easy as the relationship you have with your local bank, and the St. Henry bank is small enough to know you, and big enough to serve you.  The St. Henry Bank joins Press Pros Magazine in recognizing this week's "Who's Hot" honoree…Matt Burgbacher from Tippecanoe High School.