Many took for granted that a rebuilding season was in the cards for Upper Arlington. But featuring grit, cohesiveness and an all-for-one, one-for-all approach, the Golden Bears are 8-2 heading to the post-season.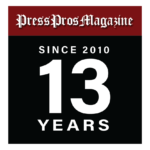 Hilliard, OH – With only three starters back from an uber-talented 14-1 team that made it all the way to the Division I state semifinals in 2021, not a whole lot was expected from Upper Arlington this fall. Except, that is, from the players and coaches donning the black and gold.
"The goal when you're building a program is to put in place a work ethic and belief system that regardless of the talent level, you feel like you're going to succeed," third-year coach Justin Buttermore said. "This team may not have a lot of superstars, per se, but I'm fine with that. We just have a lot of guys who make others around them better … guys who just do their jobs."
A rebuilding season obviously wasn't an option for this Golden Bears team, which – in typical workmanlike manner – beat rival Hilliard Davidson 24-6 Friday in the regular-season finale, securing a share of the Ohio Capital Conference Central Division championship with Dublin Coffman. UA (8-2, 4-1) will head into the Region 3 playoffs with a top-three seed and a realistic chance of advancing deep into the postseason again.
"After losing 19 starters, obviously there were a lot of question marks surrounding this team, but the mindset around here is not focused around rebuilding," senior quarterback James Hayek said. "There were a lot of guys who worked their tails in the offseason for the opportunity to come in and win starting spots. Even those of us who didn't play a lot learned plenty from watching last year's team, the most important thing being to play with no fear. We saw what our players were capable of doing against teams like Pickerington Central and Lakewood St. Edward."
Pickerington Central coach Jay Sharrett spoke often about the value of younger players getting four or five extra weeks of practice along with big-game experience, even if much of it was spent on the sidelines. Buttermore, who also guided Dresden Tri-Valley to a state title game in 2017, agreed whole-heartedly with that assessment.
"There's no doubt that experience carries over," Buttermore said. "Our returning kids came to camp with something to prove. They knew they were the ones responsible for stepping up and filling those roles and making plays, and they've taken that to heart and owned it."
While it's impossible to replace generational star skill position players such as running back Carson Gresock, quarterback Simon Monnin and receiver Sam Cannon, Upper Arlington has done it with a bevy of role players on both sides of the ball. The offense goes through Hayek, an efficient passer and capable runner. The defense has allowed just 10.6 points per game.
The win over Davidson (4-6, 2-3) was, for the most part, a microcosm of the season. Hayek completed 12 of 19 passes for 147 yards and a touchdown and rushed for 69 yards on 13 carries, including a pair of 1-yard TD runs. With leading rusher Connor McClellan sidelined by injury, Hayek did most of the heavy lifting.
"We started off a little slow (losing its opener to Pickerington North, 18-13), but we knew it was going to be a week-by-week process with so many inexperienced players and we've really come together as a team," Hayek said.
UA broke open the contest when Hayek connected with Wallace Swiney on a 40-yard TD pass with 3:37 left in the third quarter to make it 24-0. Swiney, a 5-foot-6, 148-pound sophomore who didn't see any varsity time in 2021, made six catches for 90 yards.
"I just came out this season competing at my position and hoping to contribute," Swiney said. "I just built a connection with James. We just have a lot of trust in each other. The long touchdown on the post play was a perfect example. He trusted me to get behind the defender and he put it out there for me to catch."
Averaging just under 13 points per game, Davidson came out with a strong drive that stalled when quarterback Johnny DiBlasio was sacked by Steven Ye for a loss of six yards on third-and-7. Ye led the Bears' defense with three sacks and two tackles for loss. Tommy Janowicz and George Gerber each recorded six solo tackles.
UA responded to the defensive stop with a 13-play, 95-yard scoring drive that chewed up more than six minutes.
"They're tough to get off the field," Buttermore said. "They're able to do some unique things in the offense they run, and the fact that we were able to get that stop on the first drive was key."
Davidson coach Jeremey Scally called the opening drive "a big indicator of things to come," adding that the Wildcats' character has been revealed all too frequently when adversity strikes.
"Davidson football continues to beat Davidson football with mistakes," he said. "Our kids look like a deer in headlights sometimes."
Holden Miliken kicked a 49-yard field goal to make it 10-0 midway through the second quarter.
UA tacked on another score just before halftime after Davidson muffed a punt at its own 35.
The Golden Bears held the Wildcats without a first down in the entire third quarter.
Midway through the fourth quarter, DiBlasio hit Mikey Clark on back-to-back passes of 35 and 30 yards, the latter a touchdown, to help Davidson cap a 97-yard drive and avoid the shutout.
For reasons unknown, this rivalry of abutting Columbus suburbs didn't begin until 1991. Although Arlington has won the past four meetings, Davidson still leads the series 20-9, built largely during the Brian White era from 1999 to 2019 when the Wildcats won two state titles. Except for Olentangy Liberty, no other central Ohio team owns a winning record against UA in its rich 96-year history.