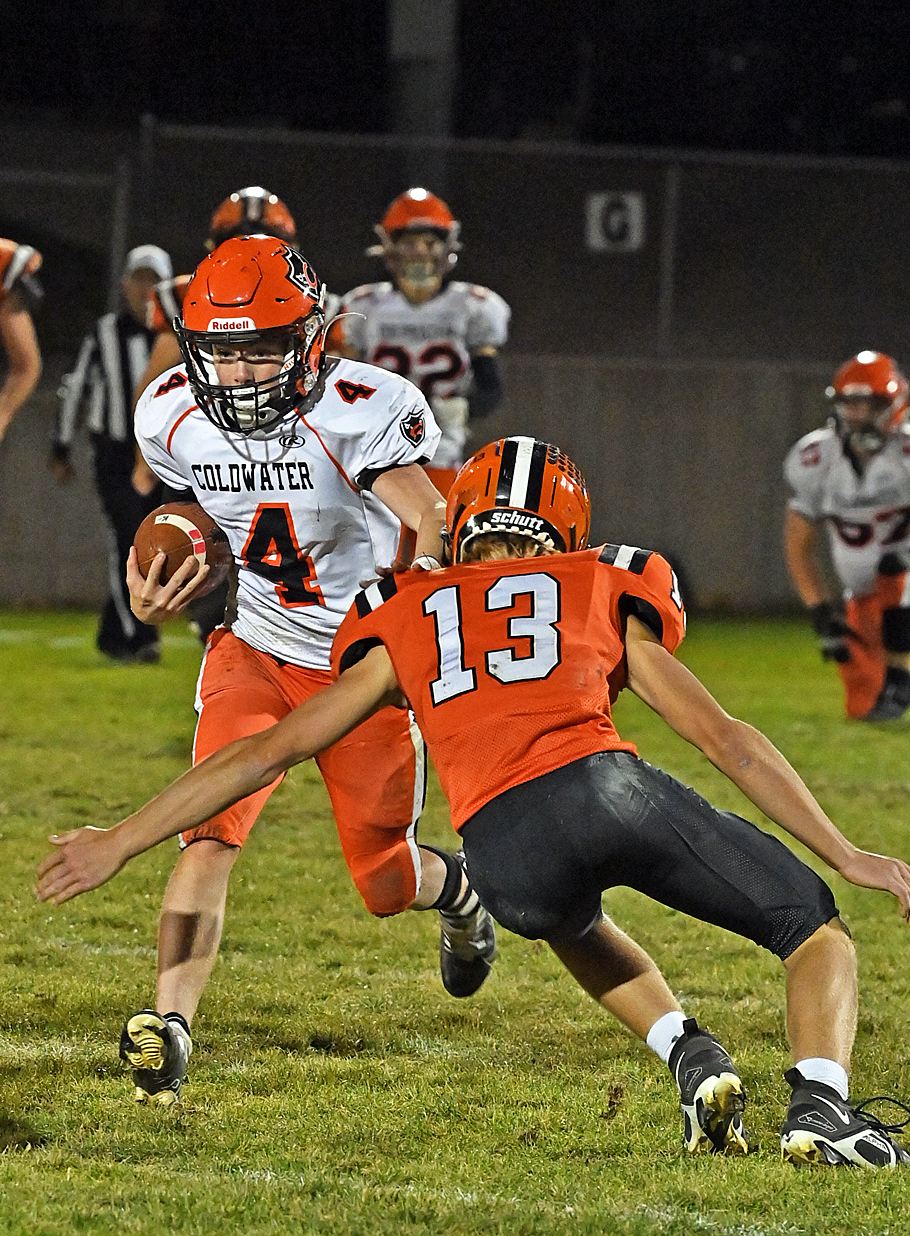 Braylen Harlamert – Coldwater High School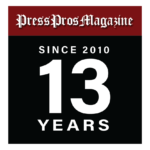 We'll never know how things would have unfolded had Braylen Harlamert's first pass Friday night at Versailles not bounced off the arms of a defender and directly into the hands of teammate Blade Buscher for a touchdown.
"As soon as I threw it, I saw that it was behind him and I was scared," Harlamert said. "Fortunately, Blade came down with it. That gave me a big boost going forward."
Big enough for Harlamert, Coldwater's leading receiver this season, to step in for injured starting quarterback Marcel Blasingame and direct the Cavs to a 35-34 overtime victory.
That kept the Cavaliers unbeaten entering their Friday home game against unbeaten Marion Local.
Coldwater is atop the state's Division V rankings and Marion is No. 1 in Division VI. Both teams are 9-0 overall and 7-0 in the Midwest Athletic Conference.
But while Coldwater-Marion is unquestionably the game-of-the-year in the MAC, the matchup won't include Blasingame, quite possibly the player-of-the-year in the MAC.
He had surgery Sunday morning to repair a broken bone in his lower left leg and will be out for, optimistic projections say, three to four weeks.
What Coldwater will have in Blasingame's spot on Friday and going forward through the early stages of the Playoffs, is Harlamert, this week's Who's Hot recipient for his amazingly-clutch performance against Versailles.
The 5-10, 155-pound junior completed 12 of 21 passing attempts for 163 yards and two TDs, and rushed 21 times for 76 yards and two more scores. He also ran for a two-point conversion and completed a pass for the tying two-pointer with 1:48 left to force overtime.
Harlamert also threw two interceptions, so it's not like everything went his way.
Rather, he and the Cavs overcame a significant amount of adversity to defeat a high-quality opponent in Versailles, the defending Division V state champion, whose only losses this year are to Marion Local, New Bremen (No. 3 in Division VII) and Coldwater.
Besides the gut-punch of Blasingame's departure, the Cavaliers survived a subsequent run of 21 straight Versailles points, a 28-20 fourth-quarter deficit, a must-have late touchdown drive of 91 yards and a convert-or-lose-the-game two-point conversion in the final two minutes.
Oh, and Coldwater had to stop Versailles' two-point play to pull out the win.
"I think a lot of us being able to do that came from our huddle," Buscher said. "After Marcel got hurt and Braylen went in for him, everybody was super positive. We all had his back. Honestly, we didn't know what the outcome was going to be. We were just going to fight to the end."
Harlamert's switch from receiver to QB – a position he estimated last playing "maybe 20 plays in junior high" –  forced Buscher to move from his normal inside receiver position to outside receiver.
Perhaps that's why, having caught just one TD previously this season, Buscher caught both a seven-yard TD and a 42-yard scoring pass from Harlamert on Friday, when he made four of his seven catches for the season.
It figures Harlamert would be looking for the guy in the spot he played previously. But he also spread his completions around to three other receivers, including one to his twin brother, A.J., for the two-point pass that forced overtime.
"I thought he did a great job for a guy who hadn't played much (quarterback) this season," Versailles coach Ryan Jones said. "Particularly in a tough situation on the road, he played really well."
Coldwater coach Chip Otten went with Harlamert because of a season-ending injury to Blasingame's backup and because putting the Cavs' jayvee QB, an untested sophomore, in against Versailles seemed untenable.
"We didn't feel like we could put our sophomore in there," Otten said. "Braylen is a competitor and a tough little dude. He understands football pretty well. We say, 'Braylen, Can you run this? Can you run that? Yep, I've got it.' "
He did, indeed, have it, which left Harlamart pondering afterward what the comeback win said about his team going forward.
"'We're here to stay," Harlamert said. "That's about it. We're here to stay."
Peace of mind is as easy as the relationship you have with your local bank, and the St. Henry bank is small enough to know you, and big enough to serve you.  The St. Henry Bank joins Press Pros Magazine in recognizing this week's "Who's Hot" honoree…Braylen Harlamert from Coldwater High School.