Following its 51-0 victory at Northridge on Friday night, Milton-Union set up at Week 10 showdown with Riverside for the TRC title. Behind a standout offensive line, the Bulldogs ended the Polar Bears' shot at an upset with four first-half TDs and a 47-yard field goal.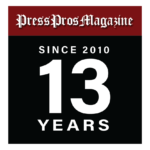 Dayton, OH – Two teams undefeated in the conference. One league championship.
That's the scenario for the Milton-Union Bulldogs and the Riverside Pirates next Friday night.  A winner-take-all scrap for the Three Rivers Conference title.
Both teams know what's at stake. And for the Bulldogs' offensive line … what's at steak. To the winner goes the spoils. For Milton-Union's offensive line that means meat. Texas Roadhouse. Outback Steak House. Even the hometown IGA meat counter. They're not finicky when it comes to steak.
They are, however, hungry and ready to eat.
The Bulldogs offensive line helped pave, power and produce another Milton-Union victory on Friday night, their ninth-straight this season. Milton-Union overwhelmed Northridge 51-0 on the road behind six rushing touchdowns by four different players.
The defense did its part with the 'Dogs fifth shutout. Milton has surrendered a miserly 40 points total this season.
"We just plan on going 1-0 every single week," senior lineman Trevor Brazina said. "Just keep fighting to try and go 10-0."
Northridge presented the most recent challenge. Northridge came in with one loss … a 28-22 setback to Riverside in Week 6. The Polar Bears (6-2, 3-2 TRC) were hobbled in the backfield with leading rusher Jeremy Henry's ankle injury. Henry, with three rushing attempts the last three weeks, still ranks second in the TRC with 887 yards on 85 carries (10.4 yards per carry) and nine touchdowns.
Northridge senior quarterback Jayden Kelly (ranked No. 3 in yards rushing in the TRC with 768 yards) and senior Taron Hill (No. 6 with 422 yards) found little room against Milton's defense. Unofficially, the Polar Bears finished with 21 yards rushing on 21 carries and had 29 yards of total offense.
In the first half Northridge's eight drives ended in one interception, one lost fumble, five punts and the end of the half. Milton-Union's 31-0 halftime resulted in a running clock the second half. Northridge's three second-half possessions resulted in 11 plays run.
"Great team. They're at the top right now and they're loaded," Northridge coach Bob Smith said. "I hope they go deep. They've done well."
The Polar Bears entered this week ranked No. 12 in the Division IV, Region 16 computer points. The top 16 teams in each region qualify for the postseason so the Polar Bears still have a shot at extending their season next week with a win against Lehman Catholic.
"We'll keep fighting," Smith said. "We'll get after it next week and see where it falls. That's all we can do. I'm proud of the kids. Just one of those nights."
They're not alone in that. Milton-Union (9-0, 5-0 TRC) has outscored opponents 397-40 through nine games. And while players like do-it-all Blake Brumbaugh, quarterback Nate Morter, running backs Michael Elam and Jordan Foose and receiver Cooper Brown – and even kicker Mason Grudich who booted a career-best 47-yarder on Friday night – are used to seeing their names in the scoring column or in stories … the linemen are not.
And they're just fine with that.
"When we see each other working and (our teammates) scoring touchdowns we're right behind them high-fiving them," Brazina said.
"They're not cocky about it. They're humble," senior tight end Connor Yates said of the guys accumulating the stats. "They congratulate us each time they score and thank us.
"We love being around each other, playing for each other each down. We don't take each day for granted."
That includes next Friday and that showdown with Riverside. Milton-Union has received its share of attention this season with stories by local media, a Thursday night game on television and Friday night's game of the week designation by a local TV station. The Bulldogs aren't letting it inflate their egos, especially the Trench Gang. That's the nickname the offensive linemen go by.
"For the next week all I see is practice, practice, practice," senior lineman Colton Hultgren said. "We put it all on the practice field."
Added senior lineman Jake Brown: "It's going to be hard. We just have to go out and work."
They did Friday night against Northridge. And the beneficiaries were the Bulldogs' backfield. Elam rushed for 88 yards and two touchdowns. Foose had 60 yards and two TDs. Brumbaugh added 30 yards and a TD. Ian Coffey chipped in 28 yards and another TD late in the second half. Morter also lofted a TD pass to Cooper Brown.
"We come to practice every day and work really hard," junior lineman Kyler Fuller said. "It showed on the field today."
Milton finished with 220 yards rushing and Morter threw for another 41 of the Bulldogs' 58 yards passing. Milton's yardage was limited by excellent field position in the first half. Milton's first five drives started inside Northridge territory at the 30, 21, 32, 37 and 24-yard line of the Polar Bears.
"We have a saying that the skill guys get all the awards. We get the steak dinner. It all starts with us," senior lineman Jesse Kurtz said, patting his stomach in anticipation of a lineman's end-of-the-season reward.
"We're having a lot of fun this season," senior lineman Ethan Lane said. "This (Friday) is for all the marbles."
And steaks.
"This is why you do this," Milton-Union coach Bret Pearce said. "This whole season has been fun because these kids are so great. They lead and they're willing to be led. They work hard and they're just a fun group to coach."