Two guys, David Homan and Hunter Schaefer, rush for 419 yards and six touchdowns, and that was just the beginning of Minster's problems in a 45-21 loss to New Bremen.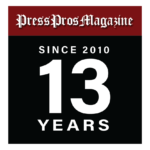 New Bremen, OH – Minster coach Seth Whiting might have wished for a mulligan, except there's no crying in baseball…and no mulligans in football.
But when you're down 21-0 with three minutes left in the first quarter you might be prone towards thoughts of revising the rules.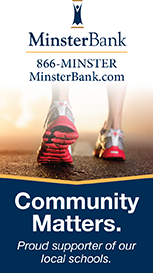 The New Bremen Cardinals (7-2) jumped out to a quick 21-0 lead on Minster (6-3) Friday night, led 28-0 by halftime, and by the time Minster got over the glare of big-time Friday Night Lights football in the second half – and actually outscored New Bremen 21-17 – helluva' idea, and what could it hurt?  How 'bout a mulligan?
It was New Bremen's 'senior night' , it was Minster's most relevant opportunity of the season to garner attention for their 6-2 turnaround, and the stands were full to see how two of the surprise teams in 2022 Division VII football would stack up against each other.  Minster was coming off four wins in a row after a 1-2 start, quarterback Brogan Stephey was filling the skies with footballs and passing yards, and a new era of confidence and good feeling was cuddling Whiting's Wild 'Kittens'…and that's no knock.  It's just a roster full of freshmen, sophomores, and juniors that are talented and gaining on the conference 'bigs' through impressive on-the-job training.
But New Bremen's David Homan (242 yards) and Hunter Schaefer (178 yards) put a hold, at least for a week, on the euphoria, the two of them combining for 425 rushing yards and six touchdowns that proved Whiting's young 'Cats have a ways to go with stopping the run game.
"Our offense line gave us some big holes to run through tonight,"  said Schaefer, who would rather run through a hole and pull it in after him than talk about it.  "It's easy when they can make holes that size.  Easy to make guys miss, and easy to finish things.
"We have a lot of confidence.  If we play like we're supposed to, I think we can run on most teams."
It was Schaefer who busted a 44-yard run on their first possession with less than two minutes gone to put New Bremen up 7-0.
Four minutes later it was Homan on a 1-yard run…14-0.
Two minutes later it was Homan again with an 8-yard run…21-0…and still three minutes to go before the end of the quarter.
Minster was getting nothing, offensively, and not liking it, as Stephey was hitting receivers in the hands, in the chest, and the helmet and having those passes fall to the ground, incomplete.  Punts weren't pinning New Bremen back with poor field position, either.  And field position, frankly, didn't seem to matter.  David Homan (242 yards and three touchdowns) really didn't care where he got the ball.  He and the Cardinals were piling up yards (424 total), and it was all on the ground.  Homan completed just 3 of 13 pass attempts for 20 yards.
At 4:19 of the second quarter Homan literally backed his way through the line of scrimmage, turned and saw nothing but green grass in front of him, and raced 68 yards – untouched – for his third touchdown of the half, with no one near him but the back judge.  The two of them finished one-two by the time they reached the end zone.
Trailing 28-0, a different Minster offense got the ball first in the second half and Stephey routinely drove them down the field and scored on a 7-yard pass to Devan Weubker to cut the score to 28-7.
But that wouldn't hold, as five minutes later Homan hit Aaron Thieman with a 6-yard pass at the corner of the goal line to push the score back to 35-7.
At 11:22 of the fourth quarter Stephey scored on a 6-yard run to make things 35-14.
Hunter Schaefer answered on the next possession with a 22 yard field goal…38-14…as Minster simply could not slow down the Cardinals running game.  Things got worse.
On the ensuing possession Brogan Stephey broke through the line for an 18 yard gain into the Bremen secondary and met safety Troy Homan head-on.  Stephey delivered the blow, blew Homan backwards, but fell in a heap, clutching his right knee.  He would leave the game, not return, and sat the remainder of the fourth quarter with an ice bag on that knee.  His replacement, James Niemeyer, took over and connected with Charlie Schmiesing on a 10-yard pass for a touchdown that again sliced into the lead, but it was far from enough at 38-21.
Moments later Schaefer would score the final of his three touchdowns for the game to push the advantage to a final, 45-21 verdict.
Minster had actually won the second half, outscoring New Bremen 21-17, but it was not how they finished that beat them, but how they started.
"Confidence is a big part of it,"  said Bremen coach Chris Schmidt. "We've been able to run the ball successfully the last couple of weeks so that builds confidence in the backs and the offensive line.  Our guys up front do a real good job because we're not really big, we just rely on athleticism and quickness.  Our technique is good, and we've got some good kids who can run with the ball, and that obviously helps, as well."
And on a night when it was Russian roulette for quarterbacks – Stephey (17 of 37 for 228 yards) lost for the fourth quarter and unknown beyond that, and Coldwater's Marcel Blasingame left the game against Versailles – Schmidt did question at what point he could afford to take David Homan down and out of harm's way.
"You have a lead, but then you're worried about this and that.  You want to protect your kids, but I hate to hear about Blasingame and Stephey.  That's the tough part about football this time of year.  You're trying to factor in the playoffs, getting prepared for that, and boy…it's hard.  It's hard.
He added, "But Coach Whiting has done a good job with his kids.  Last year was a rough one for 'em, they've made some big strides, they're going to be a handful in years to come."
Homan's 242 yards rushing was not a school record for a game, by the way.  He already owns the record with an even bigger night earlier against St. Henry with 353 yards.
And relative to preparing for post-season football, New Bremen will be no worse on Saturday than 5th in Region 28, Division VII, and no one, anywhere, in Division VII can likely boast a better 7-2 record.  Battle-hardened as they are, the Cardinals are going to be formidable in November.
"Obviously, when you look, our two losses have come against the #1 team in Division V (Coldwater) and the #1 team in Division VI (Marion Local),"  said Schmidt.  "But that's the part about being in the MAC.  Week in and week out, you're grinding through, and if you can do it and stay fairly healthy, that prepares you for the playoffs.  We've got one more, and as long as Coach Schulte is coaching at Delphos, I'll never feel comfortable playing St. John.  So we've got to get ready now for that one and finish out the season the right way."
Minster will finish against Versailles next week, uncertain as to the status of its quarterback, but certain about the fact that it has made giant strides in one short year.  The Wildcats didn't play their best Friday, but still piled up 393 yards on a team that's going to compete, and compete tough, for a berth in the regional finals.  And hopefully, Brogan Stephey will be back in time for the playoffs because the 'Cats are going to be there, too.
And, yes…a mulligan would look pretty good right now.