Seeking their first outright volleyball title in modern memory, Russia was denied that distinction by rival Fort Loramie Tuesday, winning in four games to claim a share of the Shelby County League title.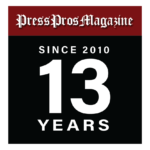 Russia, OH – No one we asked Tuesday could actually remember…when the last time Russia actually won the Shelby County League volleyball title, outright.  But they knew it had been a long time.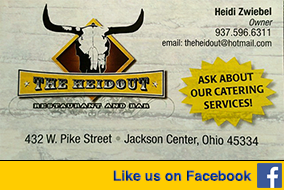 "Not since I've been here as coach…seven years,"  said Raiders coach Aaron Watkins, afterwards, shaking his head.
So it was kind of a big deal.
And it was kind of a big deal for Fort Loramie, too, despite having won several of them in the past decade;  and a Division IV state title in 2014.  It's always fun to play spoiler.  And at Loramie…it's especially fun when you can ruin things for Russia.
From the outset the cards weren't turning up for Russia, despite it being 'senior' night, and despite the prospects of an outright championship.  Loramie came out with a lot of energy, having lost in five sets to Russia in the first meeting between the two teams.  Volleyball is a game of momentum, and worse, the Redskins seized the 'mo' early with a 25-20 win in the first set, a game marked by spirited play by both teams…and a lot of long volleys.
That momentum carried over to the second, a back-and-forth tussle that little by little began to get away from the Raiders.  Loramie served well, passed well, caught Russia flat-footed with some unexpected 'dump' shots at the net, and as the lead began to grow for Loramie, the term 'out of system' became manifest.  And worse, Raider libero Jillian Chapman had to leave the game with an apparent leg injury…helped from the court.  Russia didn't – couldn't – recover and dropped, 25-17, falling behind two sets to none.
"Unfortunately, losing Jillian kinda' killed any kind of momentum we could grab on our side,"  said Watkins, later.  "But I liked how we responded.  We put ourselves in a position, even without our libero, to win the match."
They did it with a little John Wayne – True Grit – digging their way out of a 21-16 hole in the third set, just when Loramie was licking its chops over not only denying Russia the title, but doing it in shutout fashion, as well.
But Russia caught fire on the hitting of Kate Sherman and Roni Poling, going on a late run at 16-21 to win nine of the last eleven points, and forced a fourth set with a tense 25-23 win.
"I liked the way we finished – ended with some momentum of our own,"  Watkins added.  "We gave ourselves a chance, we just couldn't capitalize."
Russia's momentum was enough to make the fourth set one of ties and lead changes, but a young and learning Loramie team wasn't about to let the moment get away.
"We talk about learning to enjoy the big moments and the big games,"  said 'Skins' coach John Rodgers.  "You have to learn to live in the moment, enjoy it, and go after it.  And we're getting there, up to about point #20, and then we get nervous.  But I'm having fun watching this team grow."
They aged positively in the fourth set, pushing Russia to respond to extended points and some fabulous defensive work to save would-be points off big hits by Poling, Sherman and Cece Borchers.  Hallie Grilliot went head-long to save a point (one of 10 digs for the match);  Avery Brandewie left the court and almost into the crowd to bring a ball back in play.  Loramie was, for sure, in the moment and selling out, right up to point 20 and beyond.  Tied at 23-23, Kate Sherman had a shot at a kill that she makes 99% of the time.  It went long, giving Loramie the all-important match-point advantage.  On the ensuing serve, Loramie quickly finished it, 25-23.
"It was crazy,"  said Loramie's Summer Hoying, after the final point.  "We had to play through the ups and downs, and you're going to have some downs when you play a good team like that.  So, I think we did a good job of playing through it."
Motivation?
"We knew it had been a long time since they had won the title,"  added Hoying.  "And that made us want to beat them even more."
Russia dropped to 16-5, and 11-1 in SCL play.
Fort Loramie improved to 16-5, and likewise…11-1 in SCL play.  The two finished tied for the title, with Loramie repeating for at least a share of the title.
"Bigger things lie ahead for us,"  added Aaron Watkins, talking about the disappointment of not winning it outright.  "That's what we talked about in the locker room.  There's some hacked-off girls in there, but maybe this gives us a little edge for the tournament that we wouldn't have had.  So we'll roll with it."
For Loramie, the win adds some fuel to their fire, first with a regular season finale on Saturday with #6-ranked St. Henry (Division III), and then whatever bigger things come for them.
"First, I hope that their player (Jillian Chapman) is going to be OK, because it sucks to get hurt on senior night.  But tonight also prepares us for the tournament run,"  said Rodgers.  "So I think this match did us both a good service.  It showed us that we can play at this level and be successful, and then St. Henry on Saturday gives us a chance to see if we can finish against two strong teams back-to-back."
And yes, here's hoping that Chapman does come back quickly, that bigger things lie ahead for Aaron Watkins and Russia…and that cliches' do become manifest.  They say titles don't come easy, and they waited 51 years to finally win a second state title in baseball back in June.
No one seemed to mind.