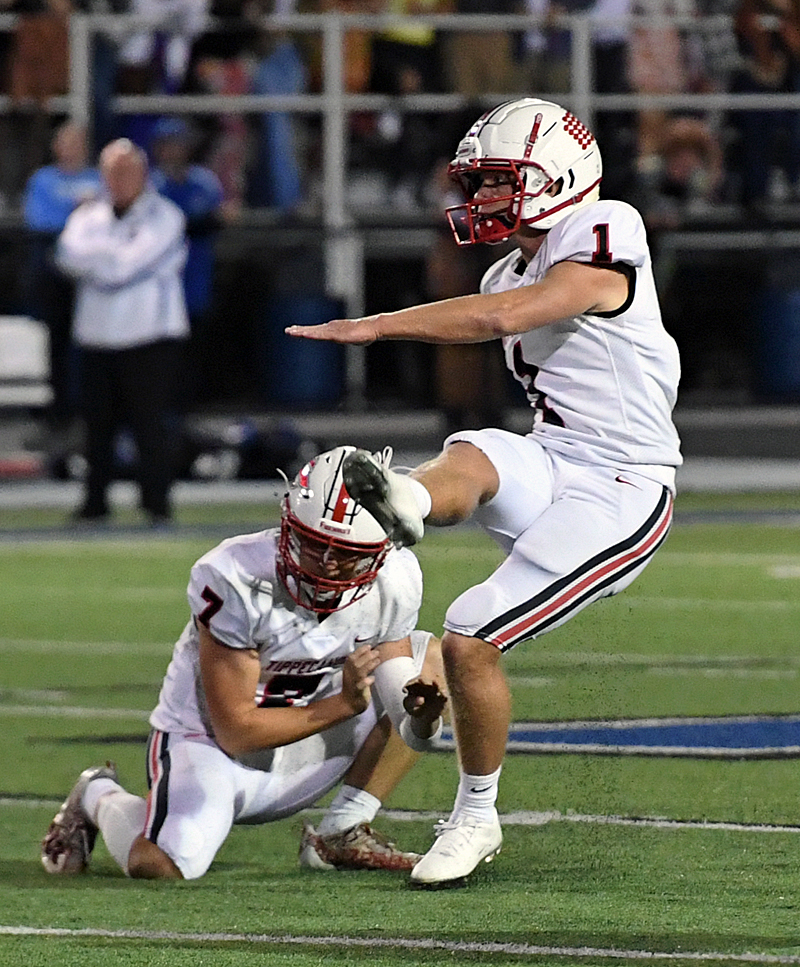 Jackson Kleather  – Tippecanoe High School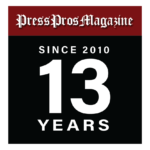 It was not only interesting, but quite telling – how Tippecanoe coach Matt Burgbacher explained his willingness to accept a first-quarter field goal in an eventual 23-20 win over Piqua.
Faced with fourth-and-1 at the Indians' 17-yard line on Friday night, and trailing by a 7-0 score, Burgbacher never waffled on going for the first down and instead sent kicker Jackson Kleather on for a 34-yard field goal.
"We have one of the best kickers in the state," Burgbacher said. "I'm not going to say he's automatic, because there's a snap and there's a hold…"
Did you catch that?
There's a snap and there's a hold, both of which could go wrong. But the kicking part – the part that's supposed to be the hard part – that part is worry-free for Burgbacher.
And why wouldn't it be?
Jackson Kleather not only made that early attempt, he also made his third 47-yarder of the season in the second quarter, a 41-yarder in the fourth quarter and all three of his extra-points.
That effort earns Kleather this week's Who's Hot honors, sponsored by the St. Henry Bank.
Perhaps the greatest demonstration of Burgbacher's confidence in Kleather came at the end of the first half, when the Tipp coach called upon his 5-10, 165-pound senior to attempt a 60-yard attempt on the final play.
It's the only kick Kleather has missed in a season where he's 10-of-11 on field goal attempts, 27-of-27 on extra-points and also averages 42.5 yards per punt.
But whether Kleather actually would have missed from 60 yards is a bit of a mystery we'll never solve, because Piqua blocked the attempt.
"They blitzed us in a different pattern than they normally would and we weren't ready for it," Kleather said. "I don't know if I could have made it or not. On a night like this, I'm pretty confident out to 57 or maybe 58. Maybe 60 with a little wind behind me."
The blocked kick bounced around, emerging from two scrums before  Kleather did the next best thing to scoring for his team – he kept Piqua from scooping and scoring by diving on the loose ball.
Kicking skill has mushroomed across the state over the past decade, with every good to moderately-good team now having a kicker capable of routinely converting PATs and hitting field goals out to 30 yards.
Kleather's talent and leg strength are exceptional, however, and he's only been kicking for about three years.
"My sophomore year is when I started," he said. "My freshman year, I saw Ben Sauls kick a 55-yarder and that broke the school record. I was like, 'I want to do that.' So I asked him and he started training me the summer after my freshman year, before he went to Pitt."
Sauls, a third-year sophomore, was All-Ohio his senior year at Tipp and is 7-of-10 on field goals this season for Pittsburgh.
Kleather played soccer for Tippecanoe his first three years of high school, but gave up that sport to concentrate on football this season.
His 47-yarder against Piqua had plenty of distance to challenge Sauls' school-record from 55, which explains why Bowling Green jumped at the chance to offer Kleather a full-ride scholarship.
"Most schools don't want to be the first to offer a kicker, so I was really excited about that," Kleather said. "I love everything about BG. It's close, which is great, and it just feels like home. They have an amazing coaching staff, which I love, and the camaraderie there just feels different."
First, though, Kleather has more kicks to make for Tipp (7-1 overall, 6-1 Miami Valley League), which with the win over Piqua has a one-game lead in the Miami Division standings.
The Red Devils are also ranked second in Division III, Region 12 behind Hamilton Badin and have clinched a top eight seed and first-round home playoff game entering their Week IX home game against Fairborn (1-7).
Peace of mind is as easy as the relationship you have with your local bank, and the St. Henry bank is small enough to know you, and big enough to serve you.  The St. Henry Bank joins Press Pros Magazine in recognizing this week's "Who's Hot" honoree…Jackson Kleather from Tippecanoe High School.